A Very Merry Drumline Battle At Century High School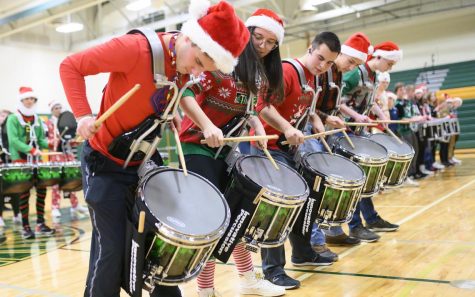 GOFA season has arrived one again at Mayo High School, and along with the month-long event come many contests, games, and promotions to raise the money. A sound that is familiar to all GOFA veterans is the tap offs and stick clicks of the Mayo drumline. In fact, it's time for the annual drumline battle that showcases the combined talent of all three of the Rochester Public High Schools, Mayo, John Marshall, and Century, along with the hype and excitement of all three student sections, and of course parents, staff, and even some alumni. 
There is no technical winner, but as all Spartans know, Mayo has dominated, putting on a clinic compared to the two others. Sadly, if you want to see the performance, it won't be at our school; this year you'll have to walk the halls of Century High School, on Wednesday December 15th. General Admission is $5.00, and all proceeds will be divided and put into each school's winter fundraiser accounts. Doors will open at 7:00 pm and the show will begin at 7:15 pm. 
Tickets will also be available in the HomeTownFan app. You can find it here:
https://rochester.hometownticketing.com/embed/all?schools=25 
If you do go, please represent Mayo well and abide by all the rules put in place. Also be sure to represent and wear all your Mayo gear to help cheer on the Spartan drumline.
Don't forget: Century High School – December 15th at 7:00 pm – $5.00.