GOFA dress-up days are here!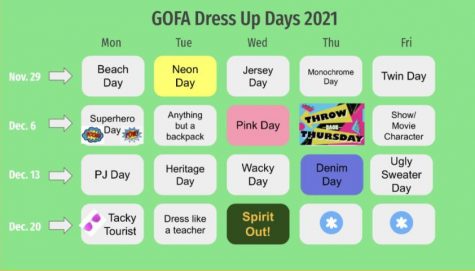 Hello Spartans, the whole month of December (and part of November) is GOFA. For all the new students, GOFA stands for "Give one for all," and it's a big fundraiser month! GOFA comes with dress-up days, one for every day of the month. The dress-up days this month have some very easy and simple themes, but there are also some that could be puzzling for students. 
Starting off on November 29th it is Beach day, so bring your shorts and a Hawaiian shirt; have some fun in the sun! 
On Tuesday the 30th it is Neon day, so bring your brightest articles of clothing. 
On Wednesday the 1st it is Jersey day – rep your favorite team in style! If you do not own a jersey bring your favorite sport clothes. 
On Thursday the 2nd it is Monochrome day, which means wear an outfit containing only one color in it. For example a whole grey outfit or whole black outfit. 
Lastly rounding out the week is Friday – Twin day! Match clothes with your friends. It could be a whole outfit or just the same shirt. If you do not have anyone to twin with, go ahead and keep it on the nose by wearing a Minnesota Twins shirt.
On the week of the 6th that Monday is Superhero day. Wear your favorite superhero outfit, a t-shirt with them on it, or if you want to wear a whole costume just make sure you are easily identifiable. 
Tuesday the 7th is a fun one; it's Anything but a backpack day. Instead of having a backpack, you can put your stuff in things like a bucket or grocery shopping bags. If you are having trouble thinking of something unique, there are plenty of videos out there about this kind of dress-up day, so check them out. 
On Wednesday the 8th, there has been a change from what appears in the graphics. The decision has been made to move PINK DAY, which would have been lost due to the District's change, giving students the day off. Pink Day has been moved to 12/14 (replacing Heritage Day).
December 9th is Throwback Thursday. Bring stylish retro clothing with fun designs and wow everyone. 
End the week in style with Show or Movie Character day. Dress up as one of your favorite characters from a show or movie you enjoy. See if your friends can guess which character you are.
The week of December 13th kicks off with PJ day. This is perfect for a Monday, because you don't have to change out of what you were sleeping in.
Tuesday the 14th is Pink Day, replacing Heritage day (see December 8th above). Wear something pink. No one will be upset if you choose to embrace "Heritage" Day, so you could wear something that represents traditional clothing from your heritage or culture. 
Wednesday is Wacky day, so wear some of the weirdest and funniest school-appropriate clothing. 
Thursday is Denim day. Break out your most fashionable pair of denim jeans and a denim jacket if you have one. 
Finally on Friday the 17th, it's Ugly Sweater day… enough said.
Rolling into the last three days of GOFA, we're getting ever so close to the winter break! Beginning on December 20th, it is Tacky Tourist day. If you have trouble thinking of ways to dress, go ahead and look up tacky tourists online. 
Tuesday is Dress like a teacher day. If you have no clue how to, go ahead and pick out one of your teachers and copy their style! Remember that it is all in fun, so do not dress in a manner that is hurtful or disrespectful.
Lastly to round out GOFA, it is a Spirit Out! Go all out with all your Mayo gear on that day. Then before you know it, it will be winter break! 
So hopefully you all have fun this month and participate in as many things as you can for GOFA. Let the dress-up days inspire you to be more giving, making you more likely to take part in some of the GOFA traditions.