New and fresh Benedicts shines over Med City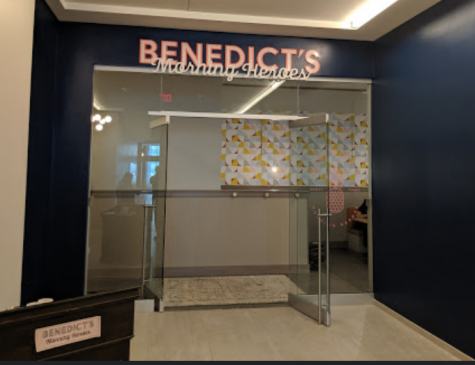 Benedict's is a hidden gem of a restaurant located on the second floor of the Hilton Hotel in Rochester MN, right above Pittsburgh Blue. It is open from 6am until 3pm, seven days a week, serving breakfast staples like pancakes, french toast, as well as the classic eggs-potatoes-and-meat breakfast and a few select lunch items.
Many things make up why Benedict's is a unique eatery that you should try. For one, everything is made in-house, from scratch, with the freshest organic ingredients possible. Manager Owen Murphy, states, "We like to maintain the highest quality ingredients because people do notice the difference. It's in the little things." Some of the unique food items include a freshly made hollandaise sauce with clarified butter, organic egg yolks, lemon juice, and Tabasco. It is whisked fresh every morning and kept at the perfect temperature, so it doesn't solidify. Sauces, vinaigrettes, salsas, meats, marinated tomato confit are just a few of the other items made from scratch.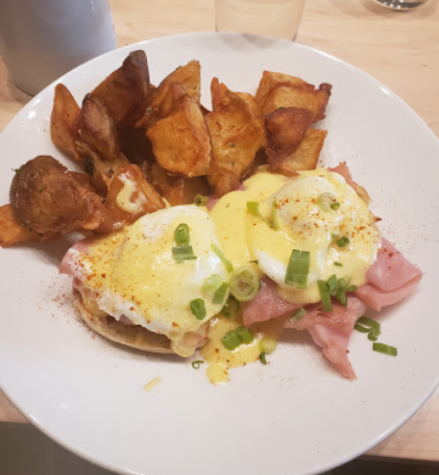 Originating from a restaurant in lower Manhattan in the 1860's called Delmonico's, Eggs Benedict is a classic dish made from layering an English muffin, Canadian bacon, a poached egg, hollandaise sauce and paprika. While many can claim originality, nobody can claim the different, delicious variations on breakfast like Benedict's. For instance, there is a gravlax benedict consisting of cured salmon, spinach, tomato confit, poached egg, hollandaise, and green onions. Another variation is a hot buttermilk fried chicken benedict with Nashville hot sauce. Employee Allison Siewert notes, "my favorite menu item is the California Benedict. The avocado, spinach, tomato confit with the spicy fresno peppers on top tastes so fresh and unique!"
While asking Allison's coworker, Rikki Lynn, about what makes Benedict's the place to work, she noted, "I've been in the restaurant business for over 20 years. If I know one thing it's that the ability of the staff to get along and work as a team is the most important. Your table is really everyone's table. We help each other out; it's about the guest first." The kitchen is a smoothly running machine, and Head Cook April Duong notes, "My boys in the kitchen are fast and no nonsense. Special requests are no problem. Many customers coming here are Mayo Clinic patients and require special diets."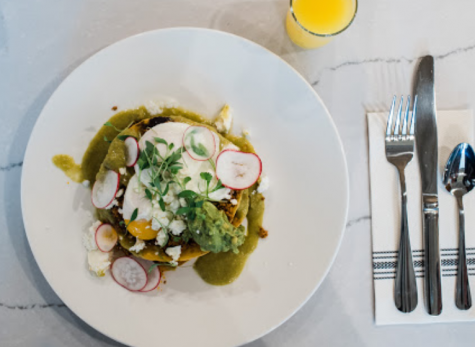 While approaching the place you'll notice the open concept of glass walls allowing light to stream in from the sunny day. There's a breakfast bar that seats around 20 people. There are small booths and large eating areas, with room enough for parties of 8 to sit. 
If you can't get enough of this place, you are in luck because owner Mike Rakun has a sister restaurant in Wayzata Minnesota. Like the venue in Rochester, food specialties include a variation on classic eggs benedict. Unfortunately, both locations are currently closed because of COVID-19. However you can still try their menu though take out and Door Dash orders. So whether you have an appointment at Mayo Clinic and need a rest or want to get friends and family together for a delicious brunch, get the gang and head to Benedict's!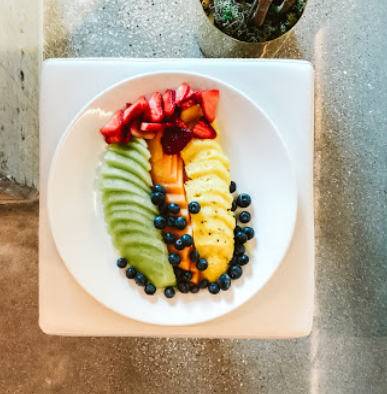 Photos courtesy of Benedicts https://benedictsrochester.com/  
Leave a Comment