Rochester Mayo One Act Team earns top honor at State!
The One Act play Icarus by Jessica Chipman, performed by Rochester Mayo High School's Mayo Stage Door, directed by Kim Hill, won the 1AA Section Championship in the MSHSL One Act Play competition. It was Rochester Mayo's second time participating in the State festival, but the first time in-person.
This was the 75th One Act Play Festival that was held in Minnesota last month. This year, the competition was held at the O'Shaughnessy Auditorium on the campus of St. Catherine's University in Saint Paul, Minnesota.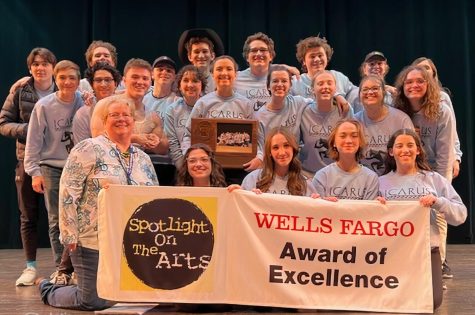 Earning a "Starred Performance," Mayo High School's One Act Team received an Award of Excellence from Wells Fargo.
The team is, (l-r, front): Mrs. Hill, Mya Baker, Shea Morrey, Lorelai Lewis, and Teagan Brown; (middle row): Tennyson Fuhrer, Luca Presa, Liam Olive, Owen Sutton, Sophie Sanchez, Julia Sanchez, Syd Brown, Vern Eich, Gabriele Kolar, Connor Morrey; (back row):  Sam DiCarlo, Rocco Ruggeri, Lukas Briese, Will Laudon, Rhys Van Ert, Thomas Stockeig, and Sydney Groehler
Mayo High School attended this year's competition with 17 actors on stage, who doubled as crew members, since there is a rule regarding a 20-person limitation for cast and crew. There were four crew members who worked on the technical aspects of the performance: the lights, the sound, the cues and the costumes. According to Will Laudon – "Daedalus" in the play -, "The director was Mrs. Kim Hill. She's an elementary school teacher online with the RPS Chargers." Laudon went on to praise her, stating that she "knows a lot about the One Act stuff," and she is "really competitive so she pushes us to the next edge." 
Then, stage managers Julia Sanchez and Sophie Sanchez were in charge of all the technical aspects of the performance. Lukas Briese, in charge of props and set, made the Minotaur head and helped prepare all the things that would be used on stage during the competition.
After auditions in late November, the team started rehearsals back in the first week of December for two hours a day. They spent their winter break memorizing lines, and for some, it came easier than others. Rocco Ruggeri shared a tried and true method for memorization that he used to use to remember lines: "Read it ten times, speak it five times, write it three times." After the break, the team started doing full runs of the show, polishing their delivery and making sure that they followed every competition rule to the letter. For the 1AA competition, they had all of December through most of February to practice for a 35-minute show.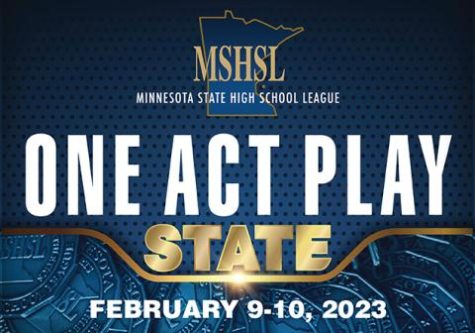 On the day of the state festival, the judges selected the team's performance at the State competition as a "Starred Performance." According to Sam DiCarlo, "Since drama is an artform, it is considered subjective," so making a judgment on which play is more superior than another is challenging, if at all possible. As a result, the judges are free to award as many teams with the "Starred Performance" title as they like. Only three of the top eight performances this year received that honor, including: Rochester Mayo, Minnetonka, Alexandria Area.
If receiving Minnesota's top honor weren't thrilling enough, there was also a great deal of excitement at the Sections, when the team competed against Kasson-Mantorville and  their big rival, Lakeville South. For several years, Lakeville South has defeated Mayo in sections. The previous year, Lakeville South defeated the team to advance to State. Many of Mayo's team members had that history in mind when they faced Lakeville South and Kasson-Mantorville, both big competitors in the Sections.
According to Sam DiCarlo, when they take the stage, most teams just bring out some pieces along with assorted props. Some sets are bigger than others, but for the most part, all sets are similar because they have to be set up within ten minutes. However, Lakeville came on stage with an entire technical team. "It was incredibly unsettling to observe how precisely they set everything up," DiCarlo said. The other teams were completely in awe, and DiCarlo admitted that their show was incredible. As a result, Mayo knew that they had to deliver on every level, every graded aspect of their performance. Ultimately, it would depend on how much the judges value all the aspects of the show, not just the technical proficiency that Lakeville demonstrated.
After all the plays ended, the teams went into the auditorium for the awards ceremony. Mayo remembered three things; they had beaten Kasson-Mantorville before; they had given their best performance that day, and Lakeville was their best competitor.
The judges agreed that Kasson-Mantorville earned second place, but it was a consolation prize. Only first place was able to go to the State. A roar of Spartan celebrations erupted, as the judges decided that Rochester Mayo was the champion and would be moving on to State.