School transitions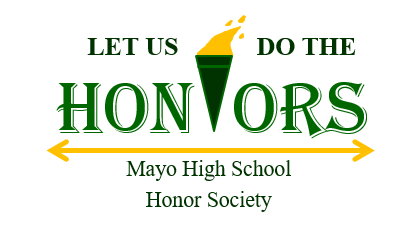 Laura Cullinane, Staff Writer
December 11, 2017
"I thought MHS was our school," says confused senior Garret Hanson; in fact, the initials symbolize the change the school is making from the National Honor Society (NHS) to the Mayo Honor Society (MHS).
Even though there is a name change, the meaning and status has not changed at all. The Mayo Honor Society has very similar by-laws, but differences include a requirement for members to earn a minimum of 20 service hours per semester compared to the 15 required by NHS.
The Mayo Honor Society website states, "We have changed our affiliation to the Minnesota Association of Honor Societies. This state run organization is prestigious and better serves the needs of our organization in regards to resources and opportunities." The switch from NHS to MHS will not affect college applications nor acceptance rates.
Mayo Honors Society advisor Mrs. Kinneberg points out that, "We have been talking about making the shift from National to Mayo Honor Society for a year or so as a result of increased dues from the National Organization and the complicated, as well as contradictory, bylaws of the national organization. To create cohesion between all three high schools and focus more on Rochester and Mayo-centered service, we decided to move away from a national affiliation. We are still a part of the Minnesota Association of Honor Societies, where our students are provided with the opportunity to go to a leadership conference in the spring.  Additionally, we met with the advisors from all three high schools and worked together to create common bylaws and expectations, which included an increase from 15 to 20 hours of service this year to develop more consistency across the three schools. The focus of all three schools is to create greater unity between the three honor societies and to create honor societies that focus on their school's needs." The organization is now better suited to students needs and will not affect any aspect of their lives.
When asked about the transition, students and faculty have differing opinions. "I feel like it doesn't make a difference. I'm just happy we have more opportunities to volunteer within the community," says MHS member Emma Firstbrook. Her opinion about the change largely sums up the common consensus about the transfer. Most students are not worried about the shift. However, MHS member Roxy McKinley states, " I am worried about the change to MHS because I feel it will affect how universities regard my applications." However, Mrs. Kinneberg assures students that universities will not care about the change.
The National Honor Society was officially established in 1921. The four main principles of NHS are as stated in their bylaws: to create enthusiasm for scholarship; to stimulate a desire to render service; to promote leadership; and to develop character in the students of secondary schools. The purpose is to recognize students who exhibit characteristics of leadership, high academic standing, honorable character, and service to others. Once inducted, students will provide leadership and service opportunities to benefit the school, the district, and the broader community. Students must be in junior or senior year of high school, have a 3.5 weighted GPA, be involved in extracurricular activities and community service, be able to provide character references, and have no significant attendance and/or discipline problems.