The continuous dash that got a little muddy
Cross Country races don't always gain a lot of attention, as they aren't the most interesting events to watch; however, the recent All City Cross Country Meet, on October 11th, at Century High School, was different: a once-in-a-lifetime meet for both fans and runners.
Usually Cross Country races are 3.1 miles long or 5 kilometers (5K) on golf courses, and they don't contain much more than lots of turns and hills. The All City Meet was completely different; several days of continuous rain and no sun to dry the ground had made the course nothing but mud. From start to finish there mud puddles created new obstacles, and muddy grass covered every inch of the course. All the muck made it a hard race to run, slowed down the runners, and left the top runners fighting even harder to place in the race. Coach Brett Carroll was even heard saying before the start of the girl's race "Take your watch and throw it out the window! Times don't matter this race. Just have fun!" During the race, mud was flying everywhere as runners paraded onward through the course, and every single athlete had mud all over their legs and back sides.
For many, dashing through the mud was a fun experience. Even with the muddy conditions, Mayo's young varsity still was able to surprise at the meet and give Century, the team that usual dominates the All City Meet every year, a run for their money. Mayo's top two runners Hadley Jensen and Hannah LaMaster were very close to taking the title away from Century at the All City Meet. At the Big 9 Conference meet this Tuesday, October 16 at Brooke Tree golf course in Owatonna, the varsity team is going to attempt to finish above Century, and be the best Rochester team in the conference.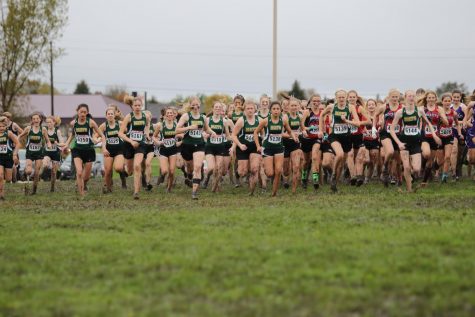 Photo courtesy of James Deppa