Opportunity for Youth to Rise and Shine 
A one of a kind event is being organized to help Black and under-represented youth explore and pursue careers in health care, sciences, and other fields. Mayo Clinic and the National Association for the Advancement of Colored People (NAACP) are collaborating to help high school junior and senior students to address racial disparities, barriers to education and employment outcomes. Using the evidence-based framework of the Reflect Inspire Strengthen Empower (RISE) program, new pathways for success for Black and underrepresented students are offered in this four-week program. Participants will receive training and will have long term mentors from Mayo Clinic.
During this multifaceted program (June 5 to June 29, 2023), a cohort of 20 students will have the opportunity to enhance their academic skills, interact with professionals in health care and get a closer look at the rigor of academic programs in healthcare and health sciences.  The program  is open for people that are underrepresented in the medical field. This mostly includes Black/African American, African Immigrant, Hispanic, Native American / American Indian, and Native Hawaiian/Pacific Islander or students who show an interest in supporting diversity and inclusion in health care. A benefit of joining the program is that the scholars or members will get a "strip of $960" at the end of the program and get a mentor to help through their process of college or anything else. 
Aliezh Rizvi, a junior during last year's program and Helen Girma, a sophomore during that same program shed some light on what will take place.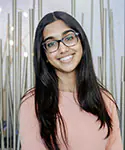 Aliezh Rizvi                     

Helen Girma
Last year, the four weeks went by very quickly, and they learned a great deal, not only from the speakers, but also from the other students in the cohort. Each day would typically start at 8 am at the Mayo Clinic campus. They would have scheduled activities that helped them explore various skills needed to succeed in the workplace. Each day the scholars, which is how they were called, explored different careers. "We would see a future pediatrician and surgeon," Rizvi said.  On other days they explored laboratories at Mayo Clinic in the Department of Laboratory Medicine (DLMP). They also explored careers in family medicine, child care. They also were exposed to the workings of the local government: "It was fun to explore careers in Rochester City Hall and learn about [the] city council," said Girma. These tours were interspersed with Zoom calls with doctors who talked about their fields and answered questions. "Before ending the day (3pm) we would reflect on what we did that day" said Girma. 
The participants are still in touch after almost a year and talk about their fun and enriching experiences. Some of them made lasting impressions. For example the presentation by Dr. Sood (Director of the Global Center for Resiliency and Well-Being) was one that stuck out the most to Girma: "He would talk about different examples on how to upfit someone such as sending happy feelings to them. Another thing I remember was that it was okay in life or crazy dreams." Rizvi  was impressed by the "presentations on self esteem and knowing you can be yourself and understand that you are different."
Of the numerous fun activities and team building the cohort participated in, both Girma and Rizvi agreed that what they enjoyed most was their participation in the podcast about the Rise program. "We had several career fairs which gave us opportunities to see many careers, and another thing we got to see is the mayor's office and how everything works to improve Rochester," Rizvi said. Girma added that, " we got to see different people and be able to network with them…we got a free yoga class, which helped me clear my mind." 
There is much that one can take away from this experience. For Rizvi, it was "learning how to get along with others that are different from you and making new connections." For Girma, it was "Being able to relax or learn leadership."  Girma shared fond memories of how one of the scholars was shy in the beginning but started to warm up as the program progressed.  Rizvi also enjoyed meeting new people and going on field trips. Girma suggested that future participants should be eager to "connect with your peers with the people in front of you and between. Don't be nervous, and take notes and network a lot."  Rizvi agreed, advising, "come with an open mind because it might just change." 
To be considered for this program students should be 
a rising high school junior and senior as well as an undergraduate student for the fall of 2023/24 semester and between the age of 16 and 21.Have a GPA of 2.3 or above.

agree to meet with a mentor every quarter for up to one year.

agree to participate in ongoing follow-up once program participation is complete.

provide an essay of no more than 500 words, tell us how RISE for Youth will help you achieve your goals and/or overcome any challenges that you have faced. 

provide a letter of recommendation from someone familiar with the student's educational experience and potential for success in the RISE for Youth Program. 

commit to providing 10 hours of community service per semester, totaling 20 community service hours in the 2023-2024 academic year. 
The program has many opportunities and things planned that help you set up for the future. If you are ready for a new future this might be the way.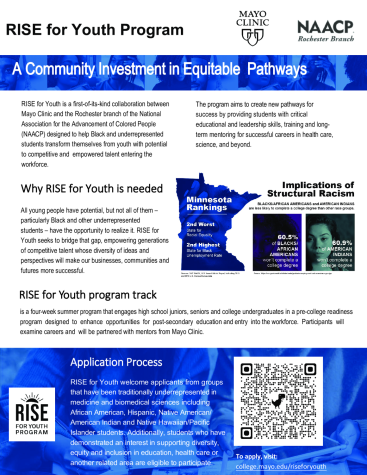 Leave a Comment