Dr. Jane Wright – An inspiration to medicine
Dr. Jane Cooke Wright helped change the world by developing the chemotherapy treatment process. Without her contributions in medical science, many more cancer patients would not be alive today. Her personal inspiration came from her father because he "set his standards high and followed his dream and became a significant figure back in the day" (Hunt). Dr. Jane Wright wanted to follow her father's footsteps into the medical field because she wanted to help many people overcome a sickness that takes many from us even to this day. After her graduation from college, she was able to join her father in his work, so she could help many cancer patients improve their lives (Hunt).
Although chemotherapy was still in the developmental stage in 1949, Dr. Jane Wright was determined to find an effective way to fight the cancers that were killing so many people. While her research began that year with her father, it continued well into the following decade and beyond; in fact, "she made numerous improvements to chemotherapy treatment including using nitrogen mustard agents to treat sarcoma, leukemia, and lymphoma" (Rogers). Because of all the testing she did and the medical experience she had, Wright "developed a non-surgical procedure using a catheter to deliver chemotherapy drugs to previously inaccessible tumors in the kidneys and spleen" (Rogers). These efforts revolutionized the treatment of cancer patients and would save the lives of an overwhelming number of people across the globe for decades to come (Hunt).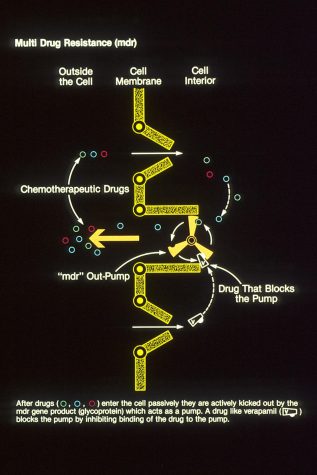 Unfortunately her father, Dr. Louis Wright, passed away in 1952, which made her become the new head of the Cancer Research Foundation. She continued to advance the research there until 1955, when she "became an associate professor of surgical research at New York University and director of cancer chemotherapy research at New York University Medical Center and its affiliated Bellevue and University hospitals" (Hunt). She began testing different chemicals on human leukemias and cancers to see if they were effective (Rogers).
Since she devoted so much of her time to research and made medicine her career choice, she climbed the success ladder so that "in 1964, President Lyndon B. Johnson appointed Dr. Wright to the president's Commission on Heart Disease, Cancer, and Stroke" (Hunt). Based on the commission's report, a nationwide network of some treatment centers was established for the diseases. Due to her success in chemotherapy and the degree to which she helped so many people, "in 1967, she was named professor of surgery, head of the Cancer Chemotherapy Department, and an associate dean at New York Medical College, her alma mater" (Hunt). During these times, there were only a couple hundred African American women who were physicians, of all these women, Dr. Wright was ranked the highest ranked. She went on to continue studying these things and instructed other doctors to learn about chemotherapy, so more and more people could learn about and benefit from this treatment option. After all of her successes, Wright retired in 1987 (Hunt). 
Dr. Wright has been a big inspiration to many people globally with all her intensive research that changed the world of cancer therapy. She changed the whole world's outlook on therapeutic sessions on cancer and that will continue to be something that helps save lives for many years to come.
Sources:  
Title: Changing the Face of Medicine
Author: Hunt, Marion, ed.
Website name: Changing the Face of Medicine
Url: Changing the Face of Medicine | Jane Cooke Wright (nih.gov)
Access date: 3/18/21
Publisher: cfmedicine.gov
Last updated: 6/3/15
Original publish date: 10/14/03
Title: Historians Pick 9 Women From U.S. History You Should Know
Author: Waxman, Olivia B
Website name: Time.com
Url: Historians Pick 9 Women From U.S. History You Should Know | Time
Access date: 3/16/20
Publisher: Olivia B. Waxman
Leave a Comment