Mia Hamm: greatness on and off the field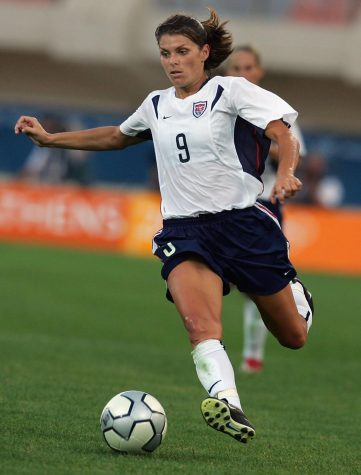 An American professional soccer player, four-time NCAA National Champion, twice a FIFA Women's World Cup champion, and twice an Olympic gold medalist, Mia Hamm is an inspiration to many women, young girls, and male athletes around the world. She has had such a huge impact on and off the field that she is most deserving to be honored as a figure in National Women's History Month.
Many great female soccer players come to mind when looking at the U.S. Women's National team, but Mia Hamm stands out from the rest: "Mia Hamm is largely considered the best female soccer player in history" (Biography.com). People talk about her in the same class or rank as Tiger Woods, Michael Jordan, and Tom Brady. She has made a great name for female athletes all over the world and was one of the first to put out the message "I can compete with the boys."
Mia Hamm's full name is Mariel Margaret Hamm. Born on March 17, 1972, in Selma, Alabama, Hamm made her debut for the U.S. Women's National team in 1987 and was the youngest player ever to join, being only 15 years old! 
Her father was a pilot, and she often traveled and moved around with her family. Her brother named Garret would continually push her to pursue her passion in sports. Hamm went to the University of North Carolina at Chapel Hill. They were so good and organized under Coach Anson Dorrance that they went on to win four consecutive NCAA women's championships. She would later graduate from North Carolina in 1994 (Biography.com).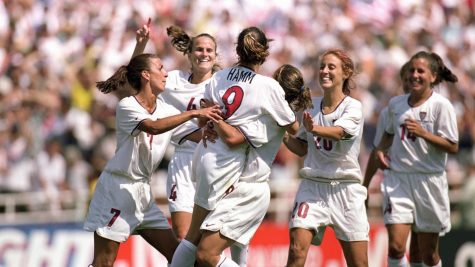 Hamm broke many records during her career and was well known for her skillful tricks and ability to finish. She was named FIFA's "World Player of the Year" in both 2001 and 2002 after having a pair of fantastic seasons. Mia Hamm also won the Women's World Cup in 1991 and 1999, and took Olympic gold medals in 1996 and 2004 with her national team. She has scored 158 international goals for her team and has had 275 international match appearances. That's more than any other female athlete. Hamm held that record until June 2013, after her record was broken by fellow American player Abby Wambach (Biography.com). 
Outside of her efforts on the national team, Mia Hamm also played for the women's professional team "The Washington Freedom" from 2001 to 2003 where she scored 25 goals in only 49 appearances.  
Mia Hamm wasn't only recognized for her talent on the field. She also had a huge impact off the field. Hamm's brother Garrett died in 1997 from a rare blood disorder. It affected Mia Hamm in many ways and inspired her to find other ways to have an impact on the community. Since 2004 Hamm has devoted most of her time to the Mia Hamm Foundation, a nonprofit that she created in 1999 to raise funds and awareness for families needing cord or marrow blood transplants. The organization also develops and promotes programs for young women in sports.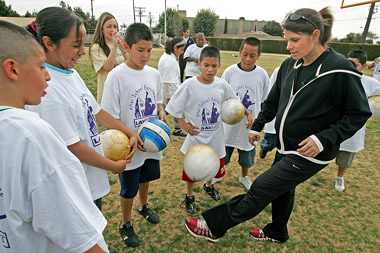 Mia has accomplished many things throughout her life on and off the field. She is a role model for younger girls. She encourages them to get out of their comfort zone and play soccer: "I was a really young, shy kid who was also from a military family, so we moved every 2-3 years. And sports was an easy way to make a connection" (Time.com). Mia knew there were many other girls like her, and after winning the World Cup in 1999 she knew she had a huge impact on the number of girls inspired to play soccer. Despite all the obstacles and being treated differently because of her gender, Mia never gave up and taught many other girls the same lesson she learned: you can "compete with the boys."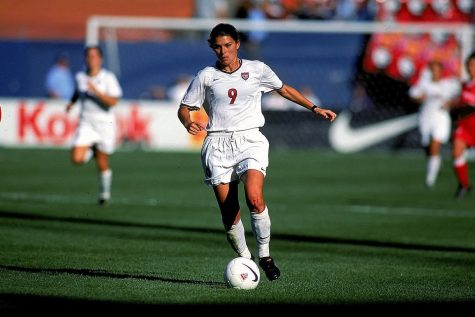 Sources 
Article Title:  Mia Hamm
Author: Biography.com Editors
Website Name: The Biography.com website
URL:  https://www.google.com/amp/s/www.biography.com/.amp/athlete/mia-hamm
Access Date: May 15, 2021
Publisher: A&E Television Networks
Last Updated : June 24, 2020
Original Publish Date: April 27, 2017
Sources
Article Title: Mia Hamm on Why Girls Playing Sports Is So Important
Author: Eliana Dockterman
Website Name: time
URL: https://time.com/3319338/mia-hamm-soccer-fifa-sports-girls/
Access Date: May 15, 2021
Publisher: time.com
Last Updated : September 11, 2014
Original Publish Date:  September 11, 2014
Images:
file name of image: Mia Hamm on Why Girls Playing Sports Is So Important
original source link: https://time.com/3319338/mia-hamm-soccer-fifa-sports-girls/
file name of image: be part of MHF
original source link: http://www.miafoundation.org/be-part-mhf 
file name of image: FIFA women's world cup 1999
original source link: https://www.fifa.com/womensworldcup/news/fifa-women-world-cup-usa-1999-502003