Marsha P. Johnson: A role model for the black LGBTQ+ community
Marsha P. Johnson set an example for not only the LGBTQ+ community but also people of color. Although not well known while alive, Johnson's life and achievements are prominent now, largely due to the fact that being part of the LGBTQ+ community is more accepted today. Marsha P. Johnson may have only lived for 46 years, but during her short life, she made changes for the better despite her difficult past and tragic ending (Biography.com, Meredith Worthen).
Born on August 24, 1945 in Elizabeth, New Jersey, Johnson was determined to be a male at birth but then started to explore the idea of cross-dressing at a young age. Due to her strict Christian family, she was punished for this and often had to hide her true self (Biography.com, Meredith Worthen). Once Johnson graduated high school, she decided to make a move to New York City, despite the fact that she didn't have the funds needed to live in the city.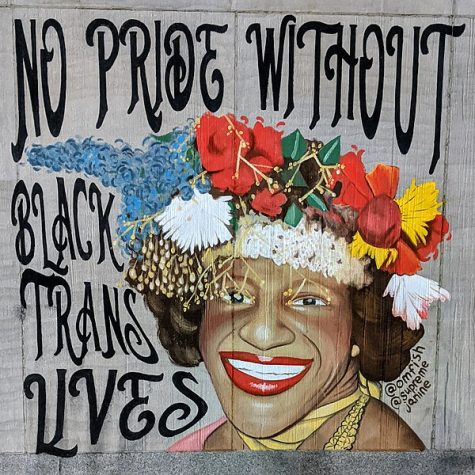 The early 1960s in New York City was a time when being gay or cross-dressing could get a person in trouble with the law. Compounding her challenges in life, Johnson earned money as a sex worker, so she was arrested several times and was often homeless, living on the street. Johnson's start into adulthood appeared to be a failure, but she decided to keep on moving forward seeking contentment and dignity (Apicha.org, Editors).
Looking back at Marsha P. Johnson's life, many people didn't recognize all she did, particularly in the events involving the Stonewall Uprising. In the summer of 1969, members of the LGBTQ+ community were arrested at the Stonewall Inn in New York City (TouchstoneSupport.org, Editors). The Stonewall Inn had a bar, which was welcoming to all people and became a hub for the LGBTQ+ community, as well as many other places in the same area. The riots started after police entered the bar and arrested 13 people for cross-dressing. After this news broke, people in the area began to protest, including Marsha P. Johnson (History.com, Editors).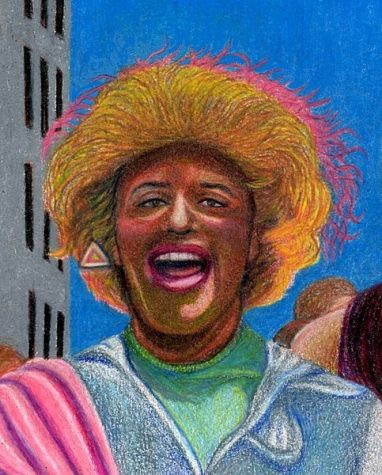 The Stonewall uprising was just the beginning of activism for Johnson. In the 1970s, she co-founded the Street Transvestite Action Revolutionaries which was focused on helping transgender people. During these times of trying to normalize the LGBTQ+ community, people often focused on white cisgender people. Johnson helped to make sure that all were recognized, especially transgender people of color (TouchstoneSupport.org, Editors).
Johnson dedicated her life to ensure that people were not only heard but also treated with dignity and respect. While her activism is found mostly in the LGBTQ+ realm, she has surely made an impact on black lives as well. She is a reminder to all people of color and to all citizens of this world that we should strive to be who we would like to be, and we should fight for what is right (Apicha.org, Editors).
Sources 
Article Title: Marsha P. Johnson Biography
Author: Meredith Worden
Website Name: Biography.com
URL: https://www.biography.com/activist/marsha-p-johnson 
Access Date: February 14, 2021
Publisher: A&E Television Networks
Last Updated : June 25, 2020
Original Publish Date: December 14, 2017
Article Title: Celebrating Black History Month: Marsha P. Johnson
Author: Editors
Website Name: Apicha CHC Blog
URL: https://blog.apicha.org/celebrating-black-history-month-marsha-p.-johnson 
Access Date: February 14, 2021
Publisher: Apicha CHC
Last Updated : February 6, 2020
Original Publish Date: February 6, 2020
Article Title: Marsha P. Johnson #BlackHistoryMonth
Author: Editors
Website Name: Touchstone Support
URL: https://touchstonesupport.org.uk/marsha-p-johnson-blackhistorymonth/ 
Access Date: February 14, 2021
Publisher: Touchstone
Last Updated: October 4, 2019
Original Publish Date: October 4, 2019
Article Title: Stonewall Riots
Author: Editors
Website Name: History.com
URL: https://www.history.com/topics/gay-rights/the-stonewall-riots 
Access Date: February 15, 2021
Publisher: A&E Television Networks
Last Updated: June 26, 2020
Original Publish Date: May 31, 2017
Images:
file name of image: No Pride Without Black Trans Lives.jpg
original source link: https://commons.m.wikimedia.org/wiki/File:No_Pride_Without_Black_Trans_Lives.jpg 
file name of image: Marsha P. Johnson, Joseph Ratanski and Sylvia Rivera in the 1973 NYC Gay Pride Parade by Gary LeGault (cropped).jpg
original source link: https://commons.m.wikimedia.org/wiki/File:Marsha_P._Johnson,_Joseph_Ratanski_and_Sylvia_Rivera_in_the_1973_NYC_Gay_Pride_Parade_by_Gary_LeGault_(cropped).jpg