Scouts, COVID-19, Camping, and Service
The Boys Scouts have been making a positive impact on society for over a hundred years, and in Rochester, the members of Troop 80 Boy Scouts have been working to stay active during these difficult times through community service and camping events. They continue to work hard no matter the circumstances while staying safe, and their impact on the community is as strong as ever.
The Boy Scouts of America, also known as Scouts BSA, is an organization dedicated to teaching middle and high schoolers leadership and life skills that will benefit them well into adulthood. They engage in plenty of outdoor activities and community service work such as collecting food for Channel One or picking up trash on the sides of roads. They strive to better themselves and the world around them through their actions and have fun while working hard to accomplish their goals.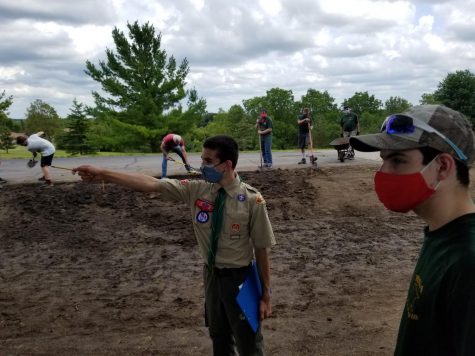 Jacob Arroyo gives directions for his garden project at Good Shepherd Church.
2020 has affected everyone equally with the threat of COVID-19, and the Scouts are no exception. However, many troops continue to stay active. The Scouts of Troop 80 in Rochester Minnesota are a tough crowd of people who don't give up easily. They do their best as they learned to do in Cub Scouts and manage to stay both safe and active by wearing masks, social distancing, and working on community benefitting projects. 
Jesse Arroyo, the Assistant Scoutmaster of Troop 80 said, "We have done our best to stay active throughout this year. Troop 80 has been continuing to meet regularly on Thursdays through Zoom and meet in person at Bear Creek Park once a month."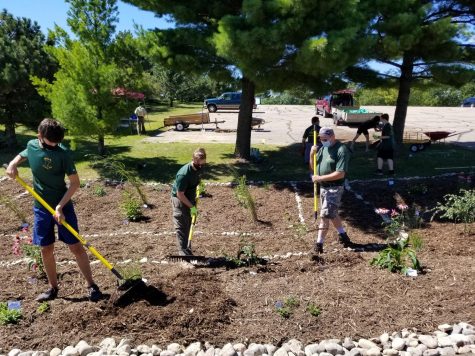 Troop 80 Boy Scouts put their backs into their work but have fun at the same time.
Mr. Arroyo also discussed a couple of community benefitting projects and activities that had been done in September. The first was an Eagle project that consisted of planting a garden in front of Good Shepherd Church. The project was planned by Mr. Arroyo's Son Jacob Arroyo. He came up with the idea himself after he reached Lift Scout, the second highest rank in scouting. He continued to pursue his goal of earning Eagle Scout and knew that this project would be a big step towards it. The garden was completed with many varieties of flowers as well as mulch and rock-outlined pathways.
The completed garden beautifies the Good Shepherd Church property.
Later in September, the scouts participated in their annual Litter Bit Better. While on this project, members of Troop 80 picked up garbage and recycling along 20th Street Southwest, setting a positive example for others in the community while helping to keep us clean and safe.
Regarding future events, Mr. Arroyo stated, "We have been doing well to stay active and safe throughout quarantine. We wear our masks and do our absolute best to social distance. Troop 80 plans to stay active even if they can't do much." He spoke of going camping in late November as well as finishing up the needed popcorn fundraiser. The scouts will not let anything stop them from going on scouting adventures or doing community work.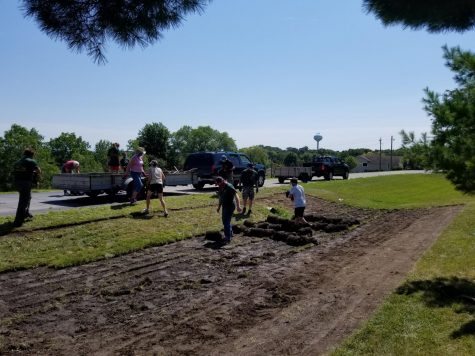 They continue to make large strides in order to sustain their efforts. Scouts BSA is a large organization, and Troop 80 is but a small representation of it. Unfortunately Troop 80 can't plan things out as far as they used to, but they are doing their best little by little to continue to stay active. Throughout quarantine, Troop 80 has set a great example of how Scouts should be handling their safety as well as the safety of others, As far as Scouts go, Rochester Minnesota's Troop 80 is setting a terrific example of how to help others and better their community.