Seniors excited to start last track and field season
Just like every other year, lots of people joined track and field. There are lots of different events to join: running, jumping, and throwing events. Nerves and excitement are coming from lots of people; new and returning athletes.
Jace Short is a senior and a distance runner at Mayo High School. His favorite events are the 1600 and the 3200. He said that he is most excited to run with the team everyday and to compete with them. His goals are to have fun and to make the most of his last season with Mayo. He said "This team is such a close-knit group because we've built the boys team culture up over the past few years and some of our past teammates have helped us build the team culture, we carried it along ever since." Jace Short also mentioned that the best upcoming runner on the boys side of the team is Aiden Linden. He is a freshman who mainly specializes in the 800m.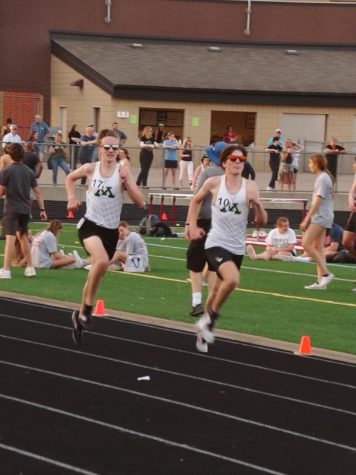 (l-r): Jace Short and Ryan Gwaltney battle it out in the 3200m. Photo courtesy of Addison Short.
Gabi Mutschelknaus is a senior and a middle distance runner at Mayo High School. Her favorite event is the 400m. Mutschelknaus's goals for this season are to have fun her last year at Mayo and to try new things. She's very excited to beat her previous personal bests. She also mentioned that, "This team is so great because everyone always tries their best and everyone always cheers for each other at meets." When considering which athletes were poised to make an impact this year, Mutschelknaus said that, "There are so many amazing upcoming athletes" but that Julia Wanczura, an exchange student from Poland, had been running a lot during the off season, and she's already doing a great job. "It's her first year doing track and field, and she is super motivated." Gabby Buhrow is another rising star who should be spotlighted because she is a jumper. Sometimes jumpers get overlooked because the attention usually goes to the runners. "It's only Gabby's second year in track and field, and she has a lot of room to improve," Mutschelknaus said.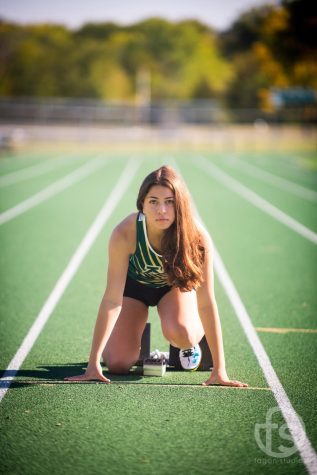 Gabi Mutschelknaus is in the blocks for her senior pictures and ready to battle out her last season. Photo courtesy of  Shawn Fagen.
Julia Wanczura is an exchange student from Poland this year. She has never done track and field before, but she has already been noticed by her talent by many people. She noted that track is "a very versatile sport, and everyone is so welcoming. There are lots of different events to choose from, and I can't wait to start competing." Wanczura is most excited to make the last few months of her exchange year the best. She looks forward to practicing every day, because she can run with her friends. She mentioned that this team is so close because everyone is always open to helping each other and she also loves that the team does things with each other outside of practice.
Trying out new things, making the most of their last season, and achieving big personal bests are the goals for all of our seniors. They can't wait to run their way to sections and state.