Jeriona Marshall: history in the making… make that HER story
Wrestler Jeriona Marshall has made history for the Mayo Wrestling team by being the first woman wrestler since the school began to place in the state competition. Women's wrestling is starting to become more and more popular nowadays, and Jeriona Marshall is at the head of the pack of these outstanding wrestlers, setting records for their schools, and introducing the sport to those who are uninformed.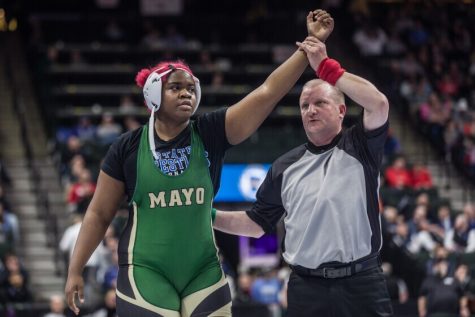 Mayo High School's Jeriona Marshall places third in the 235 pound individual girls wrestling at the Xcel Energy Center. Photo is courtesy of the Post Bulletin.
In the last seven State tournament or placing events, Marshall has only lost once, resulting in her third place at State for women's wrestling. Unfortunately, her season was cut short early last year as her mom struggled with health issues, forcing Jeriona to miss out on wrestling and take care of her mother. "I didn't want to not be able to wrestle that year, but I also wanted to take care of my mom, so being here and competing in sectionals is just so crazy," Marshall said (KTTC).
As her mother returned to good health, Marshall seized the opportunity not only to go to state, but place in it. In the same interview with KTTC sports, she commented that during the pivotal moment in the championship tournament, "I was surprised when the pin hit. I thought I didn't have it, and I was like 'oh my god, I have to do it all over again'" (KTTC).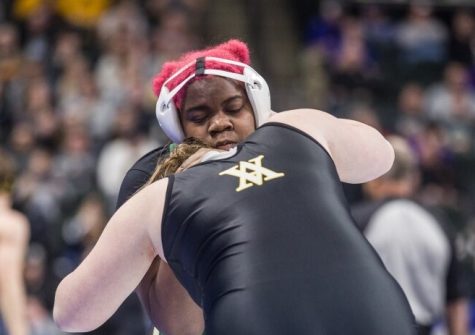 Mayo High School's Jeriona Marshall wrestles against Lily Wolke at the Xcel Energy Center for women's individual State Tournament.

Photo is courtesy of the Post Bulletin.
Women's wrestling has been becoming more and more popular over these last few years, with over sixteen-thousand new female wrestlers in the last two years. In fact, it is one of the fastest-growing sports, second only to college hockey in popularity, with an increase in participation up 71% from 2018 to 2020 (Flowrestling).
Jeriona Marshall is at the head of this group of amazing athletes who are introducing wrestling to thousands of girls and increasing the sport's popularity, along with putting Mayo High School in the books with her placing at state for the first time in the schools history ever. Her coach and mentor, Art Trimble agrees that, "Jeriona is definitely setting groundwork. We have youth wrestlers, female youth wrestlers that are looking up to her and seeing that and they're excited for her " 
On behalf of Mayo High School and the nation as a whole, we'd like to say congratulations to Jeriona Marshall , for her excellent work and leadership, as well as putting Mayo in the records forever.