Great season by Mayo Boys Basketball comes to a close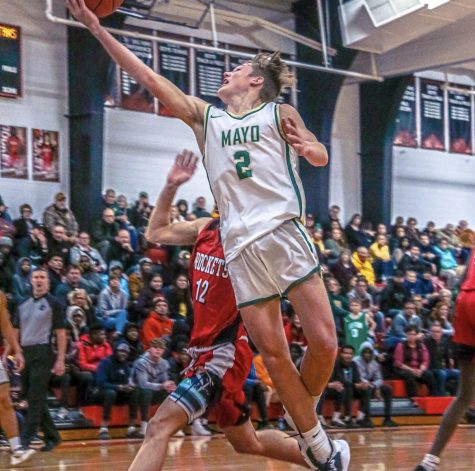 Sawyer Markham drives for a layup against crosstown rival John Marshall.
Mayo Boys Basketball season came to a close on an unfortunate loss to Lakeville South in the first round of sections; however, their season was one of the best the program has had in the last 15 years. 
Mayo Boys Basketball finished with a record of 19-8, and 15-7 in the Big 9. That was Mayo's best record since their 2019-2020 season, when they posted a record of 21-5 led by Mason and Gabe Madsen, and second best record since 2007-2008 when they posted a 25-5 record and a state appearance. Senior captains Isaiah Hanson and Alex Gyarmaty and junior Sawyer Markham led the team. They also got support from Seniors Sam Hruska and Brig Poppe, and juniors Lebron See-Stadstad, Ben Heywood, and Rees Grimsrud.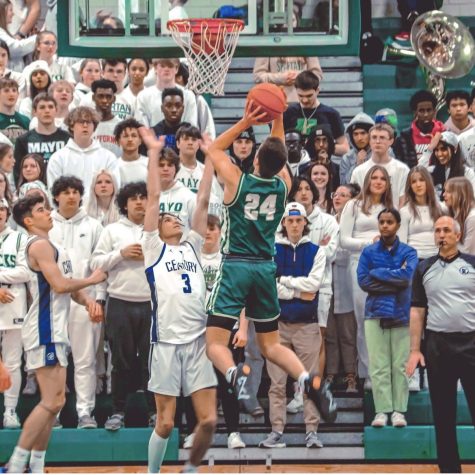 Alex Gyarmaty goes for a layup in a home outing versus Century High School. 
Mayo started off the season hot with a record of 7-0; however, after the undefeated start they would go on to lose four of their next five. During that losing streak, the setback against Century seemed to hit the team the hardest, with Sawyer Markham saying that it was "the worst loss… because they are our crosstown rivals, and I know most the guys on that team." Isaiah Hanson added that "we had too many chances to win." 
Using these tough lessons as fuel to improve, they bounced back from that tough stretch, picking up six straight wins, but again, Mayo would fall to both Owatonna and Century in back-to-back outings. To end the regular season, Mayo had a spectacular finish with a four-game win streak, including major victories against Austin and Northfield. In fact, it was Mayo's first win at Austin in the last five years. Another big milestone near the end of the year came when Isaiah Hanson scored his 1,000 point away at Winona.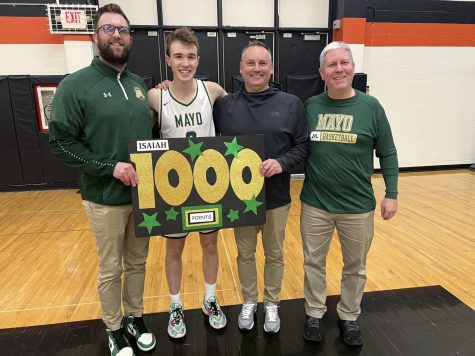 Isaiah Hanson celebrates with (l-r) Coach Franko, Coach Markham, and Coach Brown, after scoring his 1,000 point away against Winona.
Unfortunately, the Spartans' season came to a close in the first round of the section tournament against 3 seed Lakeville South. 
The main thing that led to the team's success was how they interacted with each other on and off the court. Isaiah Hanson explained that the "team chemistry this year was a lot better" than ever before. That chemistry appeared on the court as well, with the team averaging 14 assists a game, up from 11 last year. Additionally, Sawyer Markham said the team "played together well," and there was "a lot more team ball vs me ball." Both players agreed that this new-found chemistry helped achieve success on the court. 
The future of Mayo Boys Basketball is now in the hands of standout junior Sawyer Markham and others like Lebron See-Stadstad, Rees Grimsrud, Will Kipp and Ben Heywood. Some sophomores and freshmen also hope to make an impact as Mayo will look to fill the void that will be left by four graduating seniors. Coach Markham will be entering his third season as a Varsity Head Coach and will get to coach a senior class that he has worked with since they were third graders. Clearly, the team will have a different look than it did in years past. Sawyer Markham stated that the "team will be a lot smaller next year, so our focus will have to be on defense."
Although Mayo's season did not end the way they wanted it to, they still posted a solid record of 19-8, hopefully adding some momentum for the future years of the program. With a coach returning for his 3rd year and some talent and potential at the younger grades, it will be interesting to see how Mayo does in the next coming years.
Photos courtesy of Kevin Mann