School Board considers SRO Contract Options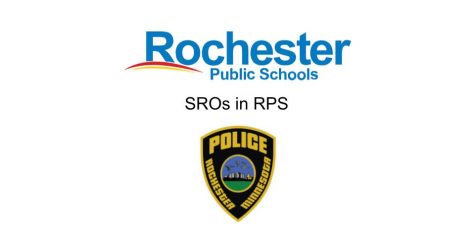 On March 7th, the RPS School Board and Superintendent Dr. Kent Pekel discussed extending the School Resource Officer (SRO) contract but also spoke about possible alternatives to the program. They plan to reach a final decision on the matter by the end of May. One of the proposed options would be to hire outside, contracted employees or use school staff to handle security situations; another option is to have school administrators call the police department in an emergency, and regular police officers would respond.

Image provided by the Post Bulletin, Joe Alhquist
An SRO is a "sworn law-enforcement officer with arrest powers who works, either full or part time, in a school setting" (edweek.org). The Rochester Police Department (RPD) sends their designated officers to receive SRO-specific training, which covers things like building relationships with diverse students, supporting students with disabilities, maintaining digital safety, detecting signs of human trafficking, as well as dealing with school-related interactions that may involve mental health or substance abuse. Beyond that, the officers are trained in de-escalation techniques, behavioral threat assessment, emergency operations planning, and armed assailant response (nasro.org).
The longer an officer is in the program, the more experience and knowledge they gain. In fact, there are avenues of even more education open to them. Officer Smith, an SRO at Mayo High School, explained how RPD is always open to additional training courses and that many SROs, himself included, frequently take advantage of that opportunity, receiving higher training than what is required. When asked about his additional training, he said "I did that because I wanted to, because I wanted to learn more and be better at my job."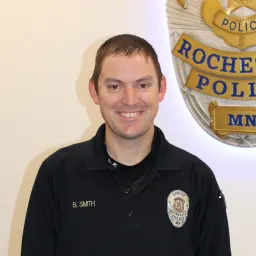 SROs in RPS also frequently participate in classroom presentations throughout the district. Officer Smith explained how everybody on their SRO team has different talents and comes from different backgrounds, "One of our SROs used to be on a narcotics unit, so he's very good when it comes to drugs and vaping… I actually had him come in last year to help give a presentation in a health class because that's his thing; he knows that stuff a lot better than I do." He also went on to explain how he has also given presentations in science classes about the application of physics in the real world, more specifically in crime scene investigation because he is part of the RPD crime scene team.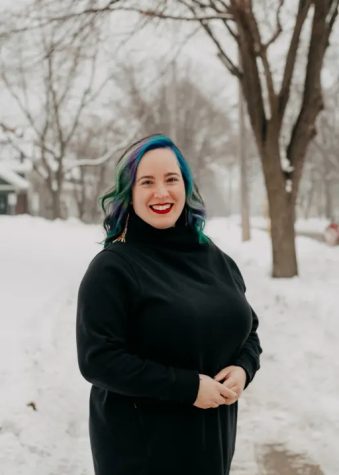 During the recent school board meeting, Treasurer of the Board, Dr. Jess Garcia, acknowledged that SROs are a "special type of person" who "have a deep interest in helping our kids succeed." Notwithstanding that, some present at the meeting were curious about options for how some critical events might be handled at our schools other than with the SROs. Dr. Garcia brought up concerns about SROs and mental-health-related incidents at school, saying, "if it is a mental health issue," she has "a problem with non-mental-health-trained individuals coming in and taking action, and then we're turning it into an incident that occurred at our school, and we're looking at it in this now legal lens."
When Officer Smith was asked about how SROs handle mental-health-related incidents, he was quick to acknowledge that he doesn't always have the expertise, but he does have access to the experts, explaining that he works closely with the school's social workers and counselors, and uses the police department's community outreach specialists for extra support outside of school. He acts as a gateway to a multitude of resources available to all students: "Where I don't have that specific training, I can lean on them and say 'Hey, I think this person needs some more resources, and then they step in.'"
Some may be concerned about how an interaction with an SRO can escalate to a point at which a student may face criminal charges. While it is true that SROs certainly have to uphold the law, arresting a student or intensifying an already fraught situation is not in anyone's best interest; clearly, as their longstanding record with the district indicates, it is not their first choice to do so because they understand the ramifications it can have on someone's life. 
Instead, if an incident necessitates it, they will use services like Three Rivers Restorative Justice. According to Officer Smith, it is an "alternative restorative method where [someone is] still held accountable, but it doesn't go in the system. It doesn't necessarily go on their record." In those situations, a person will still face consequences for their actions, "but they're then not stuck when they try to apply for a job or maybe college… it keeps it out of the judicial system," Officer Smith said.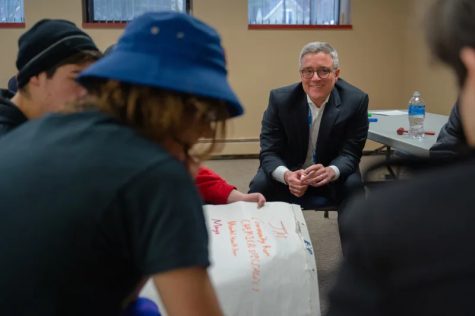 Image provided by the Post Bulletin, Joe Alhquist
As of now, the SRO relationship between Rochester Public Schools and RPD has been successful and beneficial. In fact, Superintendent Dr. Kent Pekel has "never yet in a year and a half being here had a complaint about an individual SRO from any parent, any student, or any staff member, ever, about any action." His recommendation to the Board "would be to extend the contract for another year." 
The SRO contract renewal and alternative options continue to be discussed by Board members behind closed doors and will be presented publicly at their next meeting. They are expected to vote on the matter by the end of May.
Citation Information:
Article Title: School Resource Officers (SROs), Explained
Author: Stephen Sawchuk
Website Name: edweek.org
URL: https://www.edweek.org/leadership/school-resource-officer-sro-duties-effectiveness
Access Date: 3/21/2023
Publisher:
Last Updated :
Original Publish Date: November 16, 2021
Article Title: Training Courses
Author:
Website Name: nasro.org
URL: https://www.nasro.org/training/training-courses/
Access Date: 3/21/2023
Publisher: NASRO
Last Updated :
Original Publish Date: