Mayo Gymnastics: One last victory
With the 2022-2023 Mayo Girls' Gymnastics season at its end, the unity and hard work helped the team earn a victory over the Century Panthers and J.M. Rockets one last time. With a long season from November to February, there were many challenges that they encountered, ranging from physical injuries to mental struggles. Through it, all the girls continued to support each other, cheer everyone on, and work together to find success.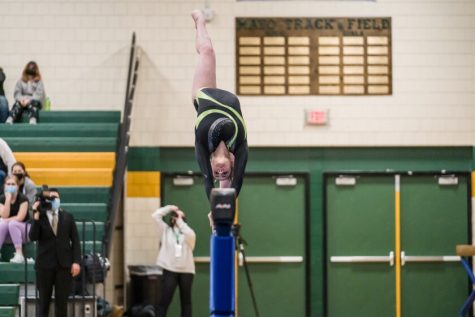 At the 2022 Sections Championship, Maya Nordine performs a back walkover in the beam. 
The Mayo gymnastics team started the season with a second-place finish, losing to the Northfield Raiders, but beating the Century Panthers and the J.M Rockets. Mayo began the season with a full varsity roster with key returner and senior Maya Nordine, who has been on the team for six years, starting her 7th-grade year. Coming into the season, Nordine knew this season was her last opportunity to develop any new skills before competing in gymnastics for the last time. "Because it was my last season it clicked in my mind that this was the last opportunity I had to get any skills I wanted," said Nordine. From here, Mayo went on to beat Century and J.M. three more times in the first half of the season. During those three meets, Mayo's team scores continued to grow from 122.075 to 124.025.
Coming into the second part of the season, Mayo started to hit some bumps in the road. Injuries occurred: many girls began to go down with broken toes, concussions, hyper-extended knees, and pulled muscles, as well as Achilles tendon and ankle problems. Nordine was one of many who went down with an injury when she hurt her ankle as she performed a back tuck on the beam. Nordine stated that "It was frustrating working through that because all I could really do was rest it."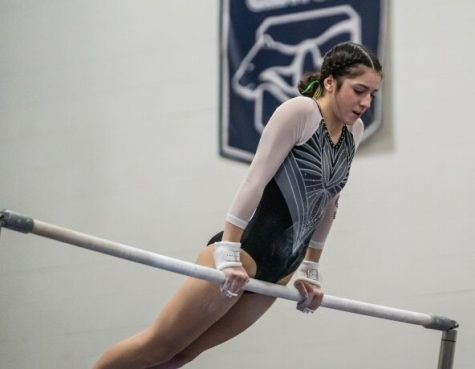 While competing against Red Wing, Kendra Horsman competes her bar routine.
Freshman, Kendra Horsman, who was also one of the injured, said "It made me miss the sport because I wanted to get back into it, but I couldn't because I had to wait for the injury to heal." With this, Mayo's team scores were no longer gaining any progress, and JV gymnasts were pulled up into varsity spots. Century then beat Mayo for the next four meets, as they had their full varsity roster and minimal injuries to contend with during the second half of the season.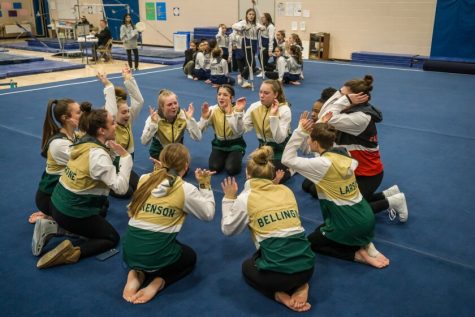 Before competing against Red Wing, the Mayo and J.M. gymnastics teams do their team chant, as a sign of unity and commitment to each other. 
With Century at the top of their game and Mayo trying to recover, the team knew they had to do something to work their way back to the top. Mayo changed their whole mindset at practices to gain a more positive and uplifting energy. Horsman, who commented on the mindset, said "We all cheered for each other while we did routines, and if someone needed help on an event or during a skill, we would help them." As the gymnasts used this mindset and healed from their injuries, their team score jumped almost 4 points from 122.775 to 126.575. 
Going into the final regular season meet of the season against Faribault, Mayo still had two varsity girls out with injuries. Because of this, Century was predicted to beat Mayo and win the meet, but even with all odds against them, Mayo pulled through, using teamwork and their new mindset to come back and win the meet against Century, J.M., and Faribault with a new personal record for the season of 129.125. 
Mayo then went on to compete at the Big 9 conference but unfortunately lost to Century by 1.775 points. They were vindicated and took a victory when they beat Century at Sections with a score of 128.350 against their score of 126.100. Through all the injuries and challenges Mayo faced, they found success and learned how to comeback from adversity for one last victory. 
Photos courtesy of the Post Bulletin's Traci Westcott