Mayo's Period Drive starts on Monday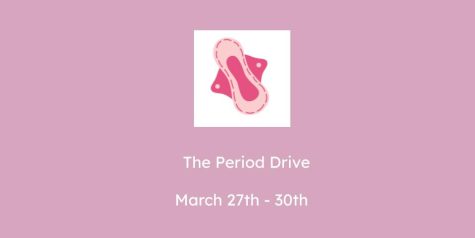 Next week, Mayo High School will host its first "Period Drive," which is an effort designed to increase the amount of feminine products available in the student bathrooms. These products include pads, tampons, and other personal hygiene items. The drive will take place for the entire week, running from March 27 through the 30th. Donations of feminine hygiene products, cash can be dropped off at the S.O.S. room, Door 6, or the main office. If you have more questions you can ask the Equity team. 
The idea for the drive came about when Isha Kappor, a junior, was talking to her friend Nima Dahir about how feminine hygiene products at school and that " it was costing so much money." They both noticed that the school bathrooms "were always running out of supplies and were never being restocked." Nurse Becky agreed, noting that she too has been running out of pads for students. Since the school can't keep up with the students' demands, these two girls decided they would come up with a solution. They were inspired to start "The Period Drive," because March is National Women's History Month. So far, the promotions for the event have been good. Another friend of theirs, Cami Brumbaugh is working with Nima Dahir and the Equity Team to continue this kind of drive in the future, "not just for this month."  
The Equity Team's advisor, Mr. Pierson was all in favor of their idea, so they ran with it. After talking to Nurse Becky they realized that many "students would have to ask for a sanitary pad [or] go to the nurse's office in order to get a pad, and some of the kids were uncomfortable asking in front of other students," Helen Girma said. After all the approvals were done, they started getting the word out, in preparation for next week's drive. The Team realizes that it is a unique kind of event, different from what might be done at other schools, but they showed initiative and are working on a solution to help those who might not have access to these things. Nima Dahir can see their solution growing even more in the future: "it would be a cool idea if we can partner with other schools to make a big impact." Based on the success of this drive, the Equity Team will work to find groups at other schools that might be willing to do the same on their campuses. Although the Period Drive stands to help many students at Mayo High School, broadening the program across the district could help students of all ages and grades across the entire city. 
Students can take advantage of these resources by getting them from the S.O.S. room or in the school bathrooms. It makes it easier for students to access since the products are kept in the bathrooms. They won't need to walk to the nurses' office or the S.O.S. room.  
The Equity Team is doing an extremely admirable and selfless job by developing this drive. Won't you consider taking real action towards helping out your friends, classmates, and members of the Spartan community? They need you to care and will be so thankful for any support or assistance you can provide.