Ella Fitzgerald: The First Black Woman to Win a Grammy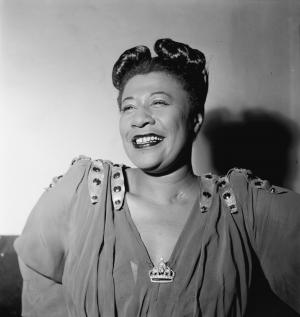 "The First Lady of Song," Ella Fitzgerald was a very talented jazz musician from Yonkers, New York, renowned across the world for her incredible vocal range and clear tone. She was the first Black woman to win a Grammy; in fact, she won 14 (Angelucci).
Ella Fitzgerald was born in Newport News, Virginia, on April 25, 1917 (Britannica). She moved to Yonkers, New York with her mother Temperance Henry when Temperance and Fitzgerald's father William Fitzgerald left them. Her mother met a new partner, Joseph da Silva, and they had Frances, Fitzgerald's half-sister in 1923. Fitzgerald and Frances were very close (Angelucci).
Fitzgerald excelled in school and easily made friends as a young child, playing in the streets of her diverse neighborhood. From a young age, Fitzgerald was exposed to the arts. She loved going to the Apollo theater; however, the majority of her exposure to music was at Bethany African Episcopal Church and from her mom's jazz records. Her mom tragically died in 1932 in a car accident, which was life changing for Fitzgerald (Angelucci).
As a result of her mother's death, Fitzgerald moved to Harlem to live with her aunt. Frances joined her when da Silva passed from a heart attack. Fitzgerald began to misbehave, and her grades were bad. She got into legal trouble because she was associated with certain mafia activities. At 15 years old, she was taken into custody and was sent to Hudson, New York, to attend reform school. They treated her horribly, even going so far as to beat her. She got out eventually and was all by herself during the Great Depression (Angelucci).
In order to get by, she would sing and dance on Harlem streets. When she was 17, she had her first real appearance at Apollo theater (Britannica). It was Amateur Night, basically a contest for aspiring musicians to have a shot at performing shows for a week at Apollo Theater. Fitzgerald was going to dance but decided to sing instead, as many others were dancing, and she felt that she had a better chance through her singing. When the voters and judges finished deciding, she won first place! She was not given her full prize however. They thought that Fitzgerald didn't look neat enough. 
Still, Ella Fitzgerald kept on going, just not at the Apollo. A few months later, she was awarded the opportunity to perform at the Harlem Opera House with the Tiny Bradshaw Band and met Chick Webb (Britannica). He asked Fitzgerald to perform with them at Yale, as they needed a female singer. The experience was incredible for her, and the show was fantastic. Fitzgerald was then paid by Chick at the Savoy Ballroom in Harlem. 
During that time, Ella Fitzgerald's career took off when she recorded "A-Tisket, A-Tasket" and "Love and Kisses," which brought her fame. Chick passed away in 1939, so the band was renamed as "Fitzgerald and Her Famous Orchestra." She had become the leader of the band and recorded more than 150 songs from 1935 and 1942 (Angelucci).
It was not all glamor, however. When her band faced financial struggles, she began to sing for The Three Keys. She loved the new style of jazz that the 1940's brought. Ella Fitzgerald was an inspiration to many, including Louis Armstrong. She decided to go on tour and married bassist Ray Brown. They adopted a child. During the mid 40's, she sang for a concert series that her manager created called the Philharmonic (Angelucci).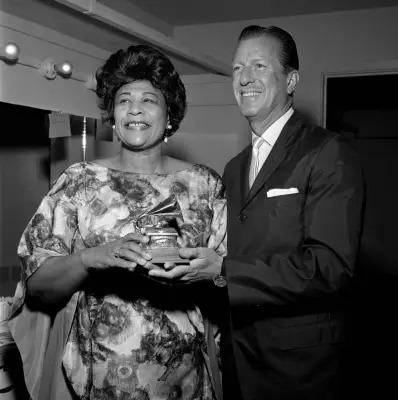 In 1935, she recorded "Flying Home," which is considered to be one of the most influential jazz songs of the 1940's. Her renditions of classic jazz songs brought her even more popularity. She began to appear on a few TV shows; over the decades they included such hits as "The Frank Sinatra Show',' "The Bill Cosby Show," and "The Ed Sullivan Show." Fitzgerald and Brown were both very busy, so it was hard for them and their son, which led to their divorce in 1952, although they remained friends (Angelucci).
Another difficulty that took the shine away from the show business life for Fitzgerald involved the discrimination against for her race while on tour. Her manager Norman Granz really tried to prevent this and protect Fitzgerald, yet she still faced prejudice. While in Dallas, Texas, she was arrested along with Illinois Jacquet and Dizzy Gillespie due to her manager's advocacy. Marilyn Monroe was a huge supporter of Fitzgerald and would personally make sure that venues would book Fitzgerald. 
Verve records was created in 1955 by Granz so Fitzgerald could broaden her genres of music. Fitzgerald has created 8 song books in her lifetime. Her first was "Ella Fitzgerald Sings the Cole Porter Song Book" which she created through Verve. She felt it helped her expand her audience and reach non-jazz fans (Angelucci).
Ella Fitzgerald had become a star across the world and did not give up despite her poor health in her later years. Sometimes, she would perform in two different cities in one day. She performed with Count Bassie and Frank Sinatra for a couple of weeks in 1974 and was put into the Hall of Fame in Downbeat Magazine in 1979. 
Ella Fitzgerald was an advocate for child welfare and would frequently make donations to help (Angelucci). The Kennedy Center honored her with a lifetime achievement award in 1979, and President Ronald Reagan awarded her the National Medal of Arts in 1987 (Britannica). She even received honorary doctorates from several universities including Dartmouth and Yale (Angelucci).
In 1986, she was diagnosed with diabetes and had heart surgery (Angelucci). Nevertheless, she continued to perform (Britannica), Eventually, Fitzgerald had to have her legs removed due to her diabetes, and that is when she stopped performing. She spent the rest of her life with her son and granddaughter in her yard. Ella Fitzgerald was truly revolutionary, earning 14 grammys and creating over 2,000 songs! She passed away on June 15, 1996 at her home, leaving behind echoes of inspiration and incredibly beautiful music (Angelucci).
Citation Information:
Article Title: Ella Fitzgerald
Author: Ashley Angelucci
Website Name: https://www.womenshistory.org/ 
URL: Ella Fitzgerald | National Women's History Museum. 
Publisher: Women's History
Original Publish Date: 2022
Access Date: 2/6/2023
Article Title: Ella Fitzgerald American Singer
Author: The Editors of the Encyclopedia Britannica
Website Name: britannica.com 
URL: https://www.britannica.com/biography/Fitzgerald-Fitzgerald 
Publisher: Encyclopedia Britannica
Original Publish Date: 11/28/2022
Access Date: 2/17/2023
Images:
file name of image: 8809962_web1_1963-10306-0006e.jpg 
original source link: https://www.reviewjournal.com/wp-content/uploads/2017/07/8809962_web1_1963-10306-0006e.jpg?resize=398,400
File name of image: Fitzgerald_Fitzgerald_(Gottlieb_02871).jpg
Original source link: https://www.womenshistory.org/sites/default/files/styles/main_image/public/images/2022-04/Fitzgerald_Fitzgerald_%28Gottlieb_02871%29.jpg?itok=KRAU5nTR