Ruby Bridges: The little girl who changed America forever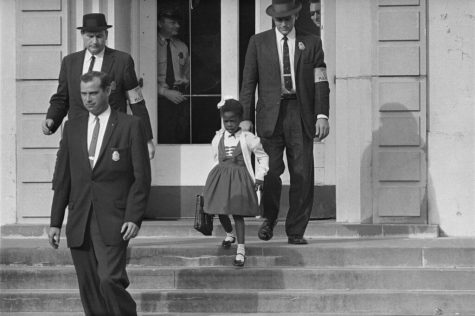 At six years old, and all alone, Ruby Bridges was the first black child to go to an all-white school in Louisiana, the first anywhere in the United States. She calmly walked past hordes of angry racist protestors who shouted slurs and held up hateful signs, unknowingly making history. Her walk to school inspired countless Americans to rethink their views on equality and the treatment of Black people in America. She paved the way for integration and the end of segregation in schools. At the time, the image of an innocent Black child walking to school just to get an education surrounded by so much anger and hate struck a chord within the country. Ruby Bridges went on to be an author and advocate for equality and acceptance. As of 2023, she is only 68 years old, and her decision to attend school can still be seen as a reminder that these events did not happen so long ago (theguardian.com).
Ruby Bridges was born in 1954, the same year that the Brown v. The Topeka Board of Education decision was passed. This was the case that officially desegregated schools in America. Southern states pushed back against integration and wanted to keep their old ways, so Bridges had to go to a segregated kindergarten. A year later, a federal order required the state of Louisiana to desegregate its schools. Still resisting desegregation, the school district enforced exams that African American students had to take to determine whether the children could hold up against their white classmates or not. Six students passed the exam, and one of them was Bridges. Her parents were conflicted about sending her to this new school. Her father worried for her safety, but her mother wanted to give her the opportunities she never had. Unfortunately for Bridges, all five of the other students who passed the exam went to different schools. To protect her as she walked into school, four U.S. marshals escorted her (womenshistory.org).
Bridges' school entry didn't go over well in the all white school. On November 14, 1960, parents and neighbors collected outside William Frantz Elementary School in a massive protest. They screamed slurs and hateful language at the little girl. Bridges now says she never intended for her entry to school to be an act of defiance. She only knew she was joining a new school; her parents never told her about the incredible importance of what she was going to do that day. She thought the crowds were a Mardi Gras celebration. The protests didn't stop for weeks. Every day, crowds would gather and spew hate. One group of protestors held up a tiny black doll in a black coffin, which scared Bridges so much that she had nightmares about it. White parents took their children out of the school, and teachers refused to teach her. Only one teacher was there for her: Barbara Henry (theguardian.com). For the entirety of Bridges' first year at the school, she was taught one on one by Ms. Henry. "We knew we had to be there for each other," said Bridges (theguardian.com).
Eventually the protesters and their hatred receded. A few white children came back to the school, although they were hidden from Bridges. The school even gained a few more African American students; however, the difficulties didn't stop altogether. Both of Bridges' parents lost their jobs due to the publicity. The NAACP even warned her father that looking for a new job would risk his safety.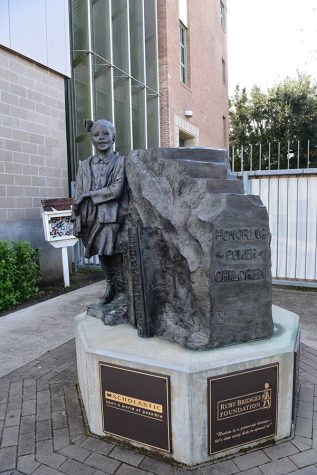 Still, over time, the situation at her school improved. More and more African American students entered, and segregation became a thing of the past. After high school, Bridges knew she wanted to do something meaningful with her life. In 1995, one of her childhood allies, Robert Coles, wrote a children's book about her story. It brought Bridges back into the public eye, and she toured the country promoting the book and talking about her story in schools. Then, Disney made a biopic about her in 1998. Her fame helped her to set up The Ruby Bridges Foundation, and she continued to tour the country with her old teacher, Mrs Henry. She met former president Obama, has authored several books, and even has a statue of herself in the William Frantz Elementary School courtyard (womenshistory.org).
Bridges' story serves as a reminder that the era of horrific racism in America was not so long ago. She should be honored during February as an icon of Black history because of her contributions to equality and her efforts to educate the world about racism. Her first day of school showed a sad representation of the worst of humanity, but her adult life shows the best of it. She is a living representation of a changing America, and a powerful beacon of hope for its future (theguardian.com). 
Citation Information:
Article Title: Ruby Bridges: the six-year-old who defied a mob and desegregated her school
Author: Steve Rose
Website Name: theguardian.com
URL: https://www.theguardian.com/society/2021/may/06/ruby-bridges-the-six-year-old-who-defied-a-mob-and-desegregated-her-school 
Access Date: 02-07-23
Publisher: The Guardian
Last Updated : 05-06-21
Original Publish Date: 05-06-21
Article Title: Ruby Bridges
Author: Debra Michals
Website Name: womenshistory.org
URL: https://www.womenshistory.org/education-resources/biographies/ruby-bridges#:~:text=While%20some%20families%20supported%20her,refused%20to%20sell%20to%20Lucille. 
Access Date: 02-13-23
Publisher: National Women's History Museum
Last Updated : 2015
Original Publish Date: 2015
Images:
File name of image: AP63611230376-1024×681.jpg
URL: https://wtop.com/wp-content/uploads/2021/11/AP63611230376-1024×681.jpg 
File name of image: akili_390.jpg
URL: https://akiliacademy.org/wp-content/uploads/2020/03/akili_390.jpg