Muhammad Ali: "The Greatest"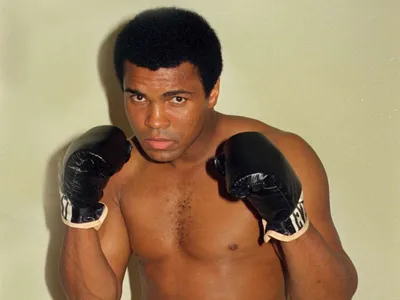 Regarded as one of the greatest athletes of all-time not just for his ability in the ring but also for his courage outside of it, Muhammad Ali was an American professional boxer and a social activist, one like the world had never seen before. His professional boxing record was a whopping 56-5, and he successfully defended his three heavyweight championships 19 times. Ali also received the Liberty Medal for his role in the Civil Rights Movement, humanitarian causes, and religious freedom (britannica.com).. 
Muhammad Ali was born on January 17, 1942, in Louisville, Kentucky. Ali grew up in the American South in a time of widespread segregation. His father, Cassius Marcellus Clay, Sr. worked by painting billboards and signs supporting his family that consisted of his wife Odessa Grady Clay and two sons, Muhammad and Rahman Ali. By the time Muhammad was 12 he took up boxing and rose through the amateur ranks. Ultimately, in 1960 he won a gold medal at the Olympic Games in Rome, after which he started his professional career (britannica.com).
Early in his boxing career Muhammad Ali was more known for his charm and personality than for his ring skills. He made bold assertions claiming that he was "the Greatest." Boxing purists, however, did not feel as strongly about Ali as he did himself. A very unorthodox boxer who held his hands very low, ducking punches in interesting ways, and lacking power, Ali faced his first big match against Sonny Liston, the then heavyweight champion, in 1964. In a stunning upset Ali won when Liston gave up after six rounds. In an interesting and pivotal move, he changed his name after that fight: Muhammad Ali's original name was Cassius Marcellus Clay Jr. but after his victory over Sonny Liston, he converted to Islam and denounced his birth name as a "slave name" (History.com).
From 1964-1967, nobody could touch Ali on the throne in the boxing kingdom. However in 1967 Ali was forced to exit the sport for his refusal to accept being drafted to serve in the military, in Vietnam. Despite those around him advising that he accept the call, Ali stood firm, saying that he "ain't got no quarrel" with Vietnamese forces and also claiming that "If I thought the war was going to bring freedom and equality to 22 million of my people… I'd join tomorrow" (library.louisville.edu). Very quickly, he was stripped of his boxing title and ""convicted of draft evasion, sentenced to five years in prison, fined $10,000 and banned from boxing for three years. He stayed out of prison as his case was appealed and returned to the ring on October 26, 1970" (History.com). At first his popularity plummeted but as the public attitude of the war had changed support for Ali grew (britannica.com).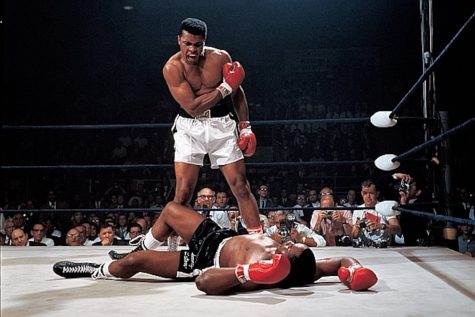 After returning to the sport in 1970 with a third-round knockout of Jerry Quarry, Ali still was very competitive but wasn't the same boxer as he was before (History.com). However, he still picked up key victories against Joe Frazier and George Foreman. Unfortunately, his career took a sharp decline when he lost his title to Leon Spinks in 1978. Ali fought a couple more fights before retiring for good in 1981 (britannica.com). 
During his career, Muhammad Ali gained popularity for his flamboyance outside of the ring along with his brilliance inside of it. Beyond his focus on style and poetry in his words, Ali also advocated for social change. Ali faced racism throughout his life. As he grew more aware of it, he started to challenge it, saying "in an age of Jim Crow laws and brutal lynchings, for a young Black man to stand up and proclaim his greatness, defy convention, refuse to be humble or to know his place, was an incomparable act of bravery and defiance" (britannica.com). 
Muhammad Ali was an inspiration inside and outside of the ring. Not just asking, but demanding for change in many ways in America. He will go down as not just a great boxer but also a great human. 
Citation Information:
Author: Britannica
Website Name: Britannica.com
URL:https://www.britannica.com/biography/Muhammad-Ali-boxer
Access Date: February 12, 2023
Publisher: Encyclopedia Britannica, INC
Last Updated : January 25, 2023
Author: History.com Editors 
Website Name: History.com
URL:https://www.history.com/topics/black-history/muhammad-ali
Access Date: February 12, 2023
Publisher: A&E Television Networks
Last Updated : February 15, 2023
Original Publish Date: December 16, 2009
Author: History.com Editors
Title: Muhammad Ali refuses Army induction
Website Name: History.com
URL: https://www.history.com/this-day-in-history/muhammad-ali-refuses-army-induction#:~:text=On%20April%2028%2C%201967%2C%20with,from%20boxing%20for%20three%20years.
Publisher: A&E Television Networks
Last Updated : May 5, 2021
Original Publish Date: November 16, 2009
Author: University Libraries 
Website Name: University Libraries 
URL: https://library.louisville.edu/ali/SocialJustice_CivilRights
Access Date: February 16, 2023
Publisher: University of Louisville
Last Updated : February 6, 2023
Original Publish Date: 2010
Images:
File name of image: 1368864311465001651-kCMG–606×404.jpg
original source link: https://www.washingtonpost.com/rf/image_1484w/2010-2019/WashingtonPost/2016/06/04/Web-Resampled/2016-06-04/1368864311465001651-kCMG–606×[email protected]?t=20170517
File name of image: Muhammad-Ali-American.webp.jpg
original source link: https://cdn.britannica.com/86/1923  86-050-D7F3126D/Muhammad-Ali-American.jpg