Kenny Washington Breaks History In The NFL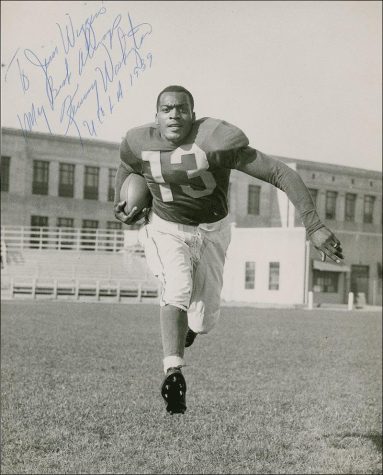 In the history of American football, Kenny Washington broke down barriers and paved the way for upcoming generations of African American athletes. It is crucial to acknowledge and appreciate Washington's accomplishments in the game and African American history since Washington's story teaches us all about the courage and tenacity it takes to reach goals while overcoming significant obstacles. According to the editors at Biography, "Washington was a dominant athlete in school. In his junior year, he led Lincoln High School to the city championship; six months later, in his senior year, he guided the team to the football championship (Biography.com).
Washington, a notable football player at UCLA, was born in Los Angeles, California, in 1918. Washington experienced severe challenges because of the color of his skin while having evident aptitude. Black players were not allowed to play in the National Football League (NFL) at that time since the league was still segregated (Britannica.com). In fact, black football players were prohibited from playing in the NFL during the 1930s and 1940s; there was "a 12-year ban on African American players, a policy that had been steered into place in 1933 by Washington Redskins owner George Preston Marshall" (Biography.com). With that obstacle in his path, while playing for two lower-league teams, Washington rose to fame and was the most adored athlete among his peers and both leagues' fans alike (History.com).
Washington's skill and tenacity on the field though, could not be disregarded. He became one of the first African Americans to sign a contract with an NFL team following the league's integration in 1946 when he joined the Los Angeles Rams. Washington became one of the best running backs of his era and spent three seasons with the Rams (Biography.com).
The NFL's decision to sign Washington was a key turning point in both the development of professional football and the broader fight for racial equality in America. It signaled a turning moment for the game and contributed to the removal of the color line, opening doors for later generations of African American athletes. Washington's talent and hard work on the field have earned him a number of honors and awards. He was inducted into the College Football Hall of Fame and chosen for the NFL 1940s All-Decade Team. He still has a prominent place in black history and continues to motivate both athletes and fans (History.com).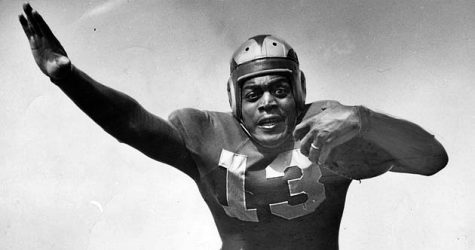 Kenny Washington paved the way for future generations of African American athletes in American football history by shattering barriers. As we mark Black History Month, it is important to recognize and value Washington's accomplishments in the sport and in African American history. His legacy serves as a reminder of the importance of perseverance and resilience in the face of difficulties, as well as an understanding of the impact one person can have (Biography.com).
Citation Information:
Article Title: Kenny Washington Biography 
Author: Biography.com Editors
Website Name: Biography.com
URL: https://www.biography.com/athletes/kenny-washington
Access Date: 2/12/2023
Publisher:  A&E Television Networks
Last Updated : October 15, 2020
Original Publish Date: April 2, 2014
Article Title: Meet Kenny Washington, the first black NFL Player of the modern Era
Author: Dan Jones
Website Name: History.com
URL: https://www.history.com/news/first-black-nfl-player
Access Date: 2/15/2023       
Publisher: History.com
Last Updated : Feb 26, 2019
Original Publish Date: Feb 2, 2018
Article Title: Kenny Washington
Author: The Editors of Encyclopedia Britannica
Website Name:  Britannica.com
URL: Britannica, The Editors of Encyclopaedia. "Kenny Washington". Encyclopedia Britannica, 27 Aug. 2022, https://www.britannica.com/biography/Kenny-Washington. Accessed 21 February 2023.
Access Date: 2/21/2023
Publisher:Britannica.com
Last Updated : March 29,2016
Original Publish Date: July 16, 2004
Images:  
file name of image: Kenny_Washington.jpg
original source link: https://www.noozhawk.com/wp-content/uploads/2022/08/Kenny_Washington.jpg
File name of image: 635895626382658558-KENNY-WASHINGTON-G1 ART 21-1C.webp
 Original source link: https://www.usatoday.com/story/sports/nfl/2016/02/14/coliseum-los-angeles-integration-national-football-league-nfl/77788824/
File name of image: 10100976_1.jpg
Original source link: http://media.liveauctiongroup.net/i/8958/10100976_1.jpg?v=8CD6E843DC27300