Sign-up for the ASVAB ends this Friday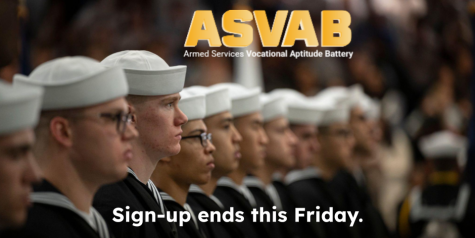 If you are a senior, junior, or sophomore and are considering a career in the military, you will want to consider taking the ASVAB as soon as possible, and the one offered next week has a sign-up deadline in three days, so you need to act fast to take the test.
According to Mrs. Matson, our school is "offering the ASVAB test on Wednesday, February 15th at 9:00 a.m. in the Mohlke Center." She also explained that, "the test takes up to 3 hours, so students could be missing periods 2-5A."
If you sign up and take the test, remember that you are still responsible for any class material that you may miss while testing. However, your absences from missed classes are marked as excused. 
Sponsored by the United States Department of Defense, the "ASVAB CEP is an aptitude test paired with an interest inventory to help you learn about your strengths and plan for a career after high school," Mrs. Matson said. Taking the test is voluntary, and you are not obligated to join any of the branches of the military as a result of the test. You don't even have to speak to a military recruiter.
The ASVAB CEP is a great, FREE, opportunity for those who are not sure about what they want to do after they finish high school. In fact, there are many good reasons for you to take this test. A few of them can be found here:
https://www.military.com/join-armed-forces/5-great-reasons-to-take-asvab.html
……………………………………………………………………..
What do I do if I have not signed up yet?
1. Use this link to sign up for the ASVAB taking place on Feb.15th at 9am; you must sign up by the end of the day on Friday, February 10th. See Mrs. Matson if that is a problem. All students in the 10th, 11th and 12th grades are eligible.
2. You don't have to do any lengthy preparation. The test is best performed using the knowledge you have already gained already. Those looking for practice test items can find them here: https://www.asvabprogram.com/student-program
3. After the test, an optional Career Seminar will be scheduled. You will receive access to asvabprogram.com where you will get score interpretation, complete an interest inventory and conduct career exploration activities. You will have access to this portal for up to two years. 
……………………………………………………………………..
If you have any questions, please reach out to Jamie Matson ([email protected]).
You can also find additional information at this website: https://www.officialasvab.com/.
So don't wait; register now. Like they say in the military, "to be early is to be on time."