Mayo Boys Basketball ready for home opener vs John Marshall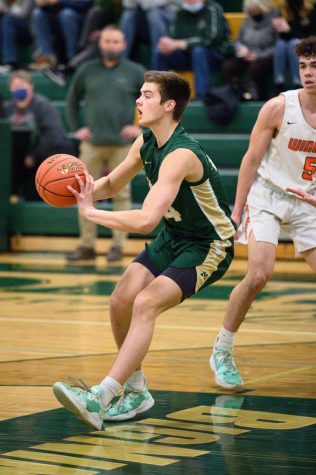 Mayo's Alex Gyarmarty passes the ball to restart against Winona.
Mayo boys basketball prepares for its home opener with the hope of making huge improvements, after coming off wins against Faribault and New Prague. "We are extremely special because we have a team full of exceptional boys," Head coach Braden Markham said. He went on to explain that before the first game, "this year's team leaders got together on the court and plotted expectations and goals for us to strive for this season." It is already looking as if the team members are focused on these things in an impressive way.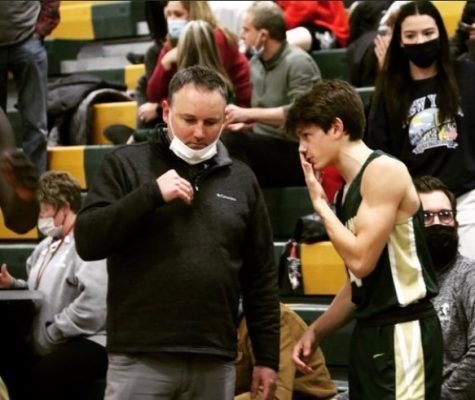 Mayo Head Coach Braden Markham directs his team, helping them stay organized.
Markham always encourages his players to do their best, on and off the court. There are many things head coaches can learn after their first year; Markham stated, "I learned that I couldn't change a whole program's culture in one season; it will take years of work to change habits and get kids to play the way I want them to play. I also learned how I can care so much for boys that I only get to coach for a few months; our time together is short, but our bond will last forever." Markham tries to be the best role model possible for his players, and it is paying off.
Having a goal going into the season is very crucial. Returning senior Alex Gyarmaty noted that, "our team's number one goal is to win the conference this year." Mayo Boys Basketball has not won the conference since 2000 and has high expectations going into this season. Gyarmaty also says, "we feel as though we are better than last year, and the conference is very open this year."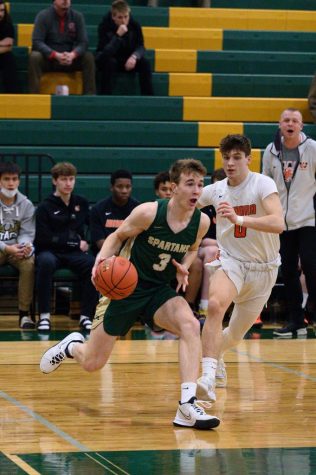 Mayo's Isaiah Hanson drives in against Winona.
Some teams to beat this year are Century, Mankato East, Austin, and Northfield. Another returning senior, Isaiah Hanson explained that the team has "worked on defending well… passing the ball… and making sure everyone is included in the offense." A team that trusts each other can go a long way, and passing the ball and including everyone on the court makes a dangerous team.
Having the right mindset is also crucial when making improvements. Alex Gyarmarty tries to maintain the proper perspective in order to keep everything in balance; he is looking to "have fun and enjoy [his] senior year." As the season begins he is excited about "all the moments with the team, leaving nothing on the table, and having no regrets at the end of the year." 
Hoping to keep things positive, Isaiah Hanson revealed that his focus "going into the season is to work hard in practice and have fun; fun comes with winning games." This is the kind of mindset a player should have when going into the season with high expectations. 
Mayo plays its home opener on December 13th at 6:15 PM against their cross-town rival John Marshall. Mayo had previously defeated Faribault by a score of 57-34 and New Prague 56-39. Mayo hopes to continue its improvements as the season progresses. 
Photos courtesy of Donavon Paulson and Kevin Man.