GOFA Dress up Days
GOFA Dress Up Days Return to Mayo!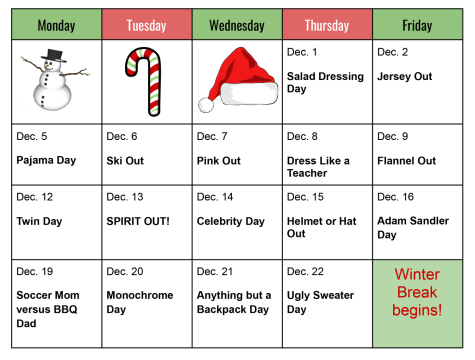 Hello Spartans! During the entire month of December, Mayo High School is hosting the GOFA fundraiser. For all the new students, GOFA stands for "Give one for all," and it's a big fundraiser for the Dorothy Day House. Along with GOFA comes dress-up days, one for every day of the month. The dress-up days this month have some very easy and simple themes, but there are also some more creative ones that could be puzzling for students. 
Kicking off the month, Thursday the 1st is Salad Dressing Day – each class should dress as their designated dressing. Seniors – embody Cesar Dressing by wearing togas. Juniors – wear your best Hawaiian clothes to represent 1000 Island Dressing. Sophomores – rep your best western attire to match the theme of Ranch Dressing. Freshmen – wear as much blue as you can to represent Blue Cheese Dressing. And teachers – wear all spirit wear to bring home the House Dressing!
On Friday, December 2nd, it is Jersey Out. Wear any jersey of your choice and support your team!
On Monday, December 5th, it is Pajama Day. You can roll out of bed and come right to school! Wear your favorite PJ pants, robes, and other sleep attire.
On Tuesday, December 6th, it is Ski Out! Wear parkas, goggles, and anything else that would keep you warm on a cold trip down some mountains!
On Wednesday, December 7th, it is Pink Out. Wear any article of pink clothing that you own!
On Thursday, December 8th, it is Dress Like a Teacher. Choose a teacher's style to copy for the day!
On Friday, December 9th, it is Flannel Out! Come to school wearing your favorite flannel to keep warm during these Minnesota winters.
On Monday, December 12th, it is Twin Day. Pick a person, or a group, and dress alike! If you have no one to "twin" with, do not worry! Simply wear a Minnesota Twins shirt to keep the theme.
On Tuesday, December 13th, it is SPIRIT OUT! Wear your best green and gold to enthusiastically show your school spirit!
On Wednesday, December 14th, it is Celebrity Day. Come to school dressed up as a celebrity – there will be lots of stars in the house!
On Thursday, December 15th, it is Helmet or Hat Out! This day is where you pick any helmet or hat you own and wear it to school. It can be crazy, unique, or simply a classic bike helmet!
Rounding out the week on Friday, December 16th, it is Adam Sandler Day. If you are seeking inspiration, throw on a t-shirt and some basketball shorts and you will fit right in!
On Monday, December 19th (kicking off the last week of GOFA Season), it is Soccer Mom versus BBQ Dad. Dress up as a sporty mom, or a dad who loves to barbecue in his free time!
On Tuesday, December 20th, it is Monochrome Day. Wear an outfit that only has one color – such as a whole gray outfit or a whole blue outfit.
On Wednesday, December 21st, it is Anything but a Backpack Day! This is exactly what it sounds like – carry your school supplies around in anything but a normal backpack.
Thursday, December 22nd is the last day of GOFA! It is Ugly Sweater Day, so come to school dressed in the most hideous sweater that you can get your hands on!
Dress up days are only one example of the many GOFA activities available the month of December. Participate in as many things as possible, and get into the spirit of giving! With everyone's help, we will be able to raise an unimaginable amount of money for those in need!