Mayo beats Austin on Senior Night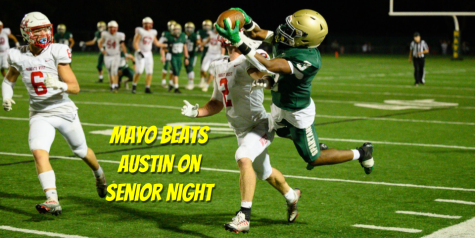 With an impressive display of offensive tactics and solid teamwork, the Mayo Spartan Football Team defeated the Austin Packers by a score of 57-26. 
Carter Holcomb had eight receptions for 113 yards and three touchdowns, and Rees Grimsrud went 15 for 19 on pass attempts with 204 passing yards for three passing touchdowns. The linemen did a great job giving him plenty of time to throw. Ethan Kramer led them to do the dirty work of opening holes for the running backs and stopping the pass rush.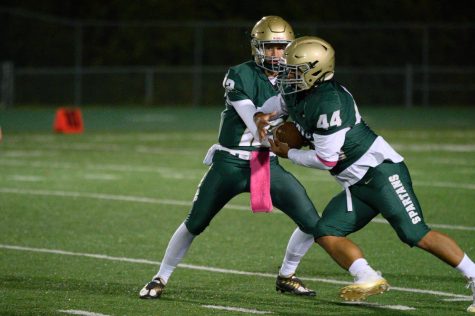 On the special teams, Ethan Post recovered an onside kick on the second kick of the game and inspired his fellow Spartans with his intensely fierce level of play, while on the defensive side, middle linebacker Logan Burger had five total tackles, always sacrificing his body to make a big hit.
All week long, the Spartans' preparation heading into this game focused on hard work; everyone raised the tempo, improved their attitude, and pushed themselves a little more. Each player savored every minute they shared together, realizing that this would be their last regular season home game, made even more special by the fact that it was "Senior Night." Having a 5-1 record coming into this crucial game, the Spartans had been playing with grit and determination, a focus that has been intensifying all season.
Donald Holcomb, the head coach of the Spartans, inspired his team to perform at their highest level on and off the field, urging his players to be more disciplined and to have a winning attitude. This is something that the team has focused on since the summer; Coach Holcomb explained that something that brings his team together is "the friendships and the respect that everybody has for each other." They know their teammates are there for them when the going gets tough. That understanding is built on the knowledge that "every player is under the spotlight to do their job and understand that everybody contributes," Holcomb said.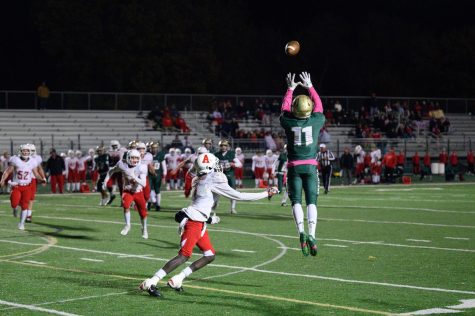 Building on what came before is the key to a strong team that endures season after season. It also involves taking time to determine where there may be shortcomings or areas that need improvement. Senior and captain Ethan Kramer said a challenge for him and his teammates this year was "finding people to fill the gaps from last year, and we filled that challenge very well." Players who filled many gaps include Sophomore Isaiah Beale, who came off a 204 rushing-yard game against New Prague, and Junior Carter Holcomb, who currently has 43 receptions for 879 receiving yards. The season can go by fast, so it didn't take any convincing to get the team to savor the moment and appreciate the time they had together. Kramer explained that, "the last home game of the season – it's a beautiful but sad feeling." All the players hoped to end the season on a good note, but they knew they had to work hard to hit that "good note." The Austin Packers were not going to hand it to them on a green and gold platter.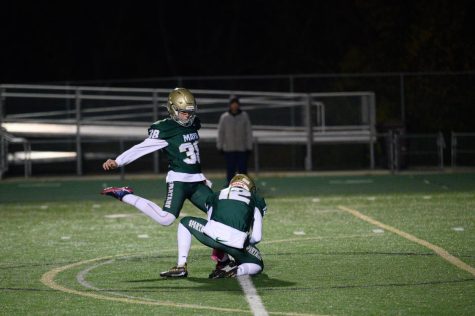 In order to maintain a successful season and keep the momentum building, having the right mindset is very crucial. Senior and captain Tore Papenfuss stated, " My mindset going into the game was to definitely play as hard as I can and leave everything on the field." Papenfuss also stated how he and his teammates progressed throughout the season by saying, "we've all progressed within our positions, within our team… we've all grown as players and I think we're doing great." Having the right mindset as a team shows how dangerous a team can be, particularly as they head into the playoffs.
The Spartans travel to Byron to face the Bears on Wednesday, October 19th at 7:00. This game will conclude the regular season, at which time the Spartans will turn their attention to post-season play, since they have already clinched the #1 seed in Sections.
Photos courtesy of Donavon Paulson