Jesse Owens: The Black Magic
Jesse Owens was a black American track and field athlete who won four gold medals at the 1936 Olympic Games. Jesse Owens should be recognized for Black History Month because his athletic accomplishments made him a hero and inspired others. He won gold medals when WWII was on the verge of beginning, and many didn't believe that black people should compete for the Olympic Games. Owens showed the world that it is not about someone's skin color; it is about whether someone wants to accomplish something. Owens did just that when he joined the Olympic Games (biography.com).
Born on September 12, 1913, in Oakville, Alabama, Jesse Owens was the 10th and last child of a sharecropper; his grandparents had been slaves. Even as a child he worked hard. At the age of only seven, Owens went out into the fields to pick cotton, "so he could provide food for the family and bring money to the table" (biography.com). Owens struggled with health issues as a child, and had to fight against sickness and diseases. Even though he was sick, his family wouldn't let him stay inside the house; instead, they would rather have him pick 100 pounds of cotton a day. At the age of nine Owens and his family moved to Cleveland, Ohio, for better work opportunities and a better education. It was in this new location that "his new school teacher gave him the name that was to become known around the world. The teacher called him J.C. when she asked him to enter the roll book, but then she thought he said Jesse and after that the name got stuck and he would be known as Jesse Owens for the rest of his life" (biography.com).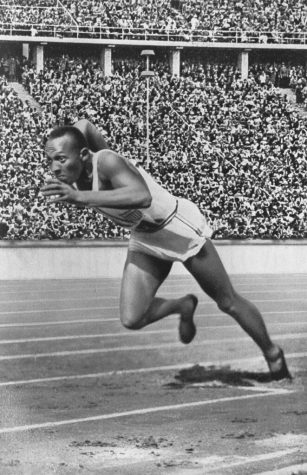 Jesse Owens's athletic career began in high school when he won three track and field events at the 1933 Nationals Interscholastic Championships. Two years later, he competed for Ohio State University, breaking "one world record and… three others… before qualifying and competing in the 1936 Olympics" (biography.com). After developing into a track and field star at a Cleveland high school, Owens enrolled at The Ohio State University. While smashing records for the Ohio State Buckeyes track team, he became known as the "Buckeye Bullet" (history.com). As noted earlier, it was during this time that he qualified for the greatest event in his life, the Olympics held in Berlin, Germany.
1936 marked a very turbulent time for the world with the growing influence of Hitler and fascism in Germany. Europe was headed towards war. Many considered the Olympics a chance for nations to express their political views through the greatness of their athletes. However, when Owens started earning success, he explained, "I wanted no part of politics, and I wasn't in Berlin to compete against any one athlete. The purpose of the Olympics, anyway, was to do your best. As I'd learned long ago… the only victory that counts is the one over yourself" (biography.com).  In fact, he did an amazing job. Owens won four gold medals at the 1936 Berlin Olympic Games. His long jump world record stood for 25 years, and he was the first Black American track track and field athlete to win four gold medals in a single set of Olympic Games (history.com).
In spite of his fame, on his return from Berlin, Owens struggled for money and began to participate in stunt races against dogs, motorcycles, and even horses during halftime of soccer matches and between doubleheaders of Negro League baseball games. Owens would start 40 yards ahead of his equine competitors before sprinting for 100 yards, and he would often win by a nose. "People said it was degrading for an Olympic champion to run against a horse," Owens said, "but what was I supposed to do? I had four gold medals, but you can't eat four gold medals" (history.com).
Owens died at the age of 66 from lung cancer in Tucson, Arizona, on March 31, 1980. He smoked up to a pack of cigarettes a day for a good deal of his life. Four years after his death, a street in Berlin renamed in his honor (history.com).
Sources 
Article Title: Jesse Owens Biography
Author: Biography.com Editors
Website Name: The Biography.com website 
URL: https://www.biography.com/athlete/jesse-owens
Access Date: February 18, 2022
Publisher: A&E Television Networks 
Last Updated : January 7, 2021
Original Publish Date: April 2, 2014
Article Title: Jesse Owens top 10 things 
Author: Christopher Klein 
Website Name: History.com
URL: linked
Access Date: 2022
Publisher: A&E Television Networks
Last Updated : August 30, 2018
Original Publish Date: September 12, 2013
Images:
https://wordpress.org/openverse/image/8d0a3b9b-3f40-4f3c-95d7-73a950f8b6cc