Rosa Parks: The Mother of a Movement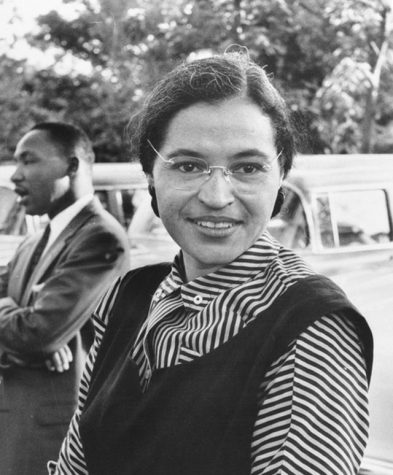 Rosa Parks: I'm sure that you have heard this name before. She is famous for starting the Montgomery Bus Boycott. This crucial event in American history triggered the Civil Rights Movement, so she has been called the "mother of a movement" (History.com).
Born in Alabama on February 4, 1913, Rosa Parks was the daughter of James McCauley, a carpenter, and her mother Leona, a teacher. When she was young, she experienced activism for racism and racial equality. Her grandfather stood in front of his house with a shotgun, while members of the Ku Klux Klan marched down the street (Biography.com). That day remained in her mind, and it became one of many that taught her the importance of standing up for herself and for others.
In 1932, she married Raymond Parks, a barber who was active at the National Association for the Advancement of Colored People (NAACP). Parks joined the NAACP's Montgomery branch in 1943 and became actively involved in civil rights issues by serving as the branch's youth leader and secretary to the NAACP President E.D. (Biography.com).
In the 1950s and 1960s, "Jim Crow laws" were enforced in the southern United States, so blacks and whites were isolated everywhere. Toilets, drinking fountains, schools, restaurant seats, everything was divided into things for white or colored use only. "Separate but equal" was the law of the land. Of course, the bus seats were also separated, and the front was reserved for white people. When the white seats were full, the blacks sitting in the back had to give up their seats, so the white people could sit everywhere (Biography.com).
On December 1, 1955, Parks was arrested for refusing instructions from a bus driver to give up her seat to a white passenger. The bus driver stopped the bus and moved the sign separating the white and colored sections and asked four black passengers to abandon their seats. The other three blacks stood up, but Rosa Parks refused to move, because she was fed up with racism. As a result, Rosa Parks was arrested for violating the city's racist law (Biography.com).
Civil rights leader E.D. Nixon paid for her bail shortly after Rosa Parks was arrested. He thought this would be an opportunity to change the racist law. He gathered black leaders to take action and soon distributed thousands of leaflets across the black community.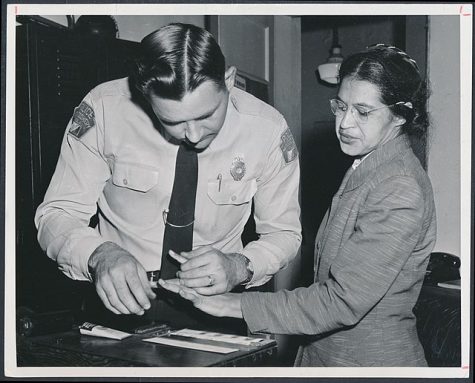 On December 5th, the day Rosa Parks's trial took place, he planned to boycott the Montgomery bus. Black participation in the boycott was much greater than expected, and leaders decided to take advantage of that momentum by forming the Montgomery Improvement Association (MIA). They elected Reverend Dr. Martin Luther King Jr. as the MIA's president. According to Jennifer Rosenberg, her "trial lasted no more than thirty minutes, and she was found guilty. She was fined $10 and an additional $4 for court costs." Although it may seem that her fight for justice was not successful as the result of the court proceedings, the opposite is true: "The one-day boycott of the buses in Montgomery was so successful that it turned into a 381-day boycott, now called the Montgomery Bus Boycott" (Rosenberg).
Rosa Parks and her family faced even more challenges after the trial was over. The boycott led to continued harassment and intimidation from angry white people, so she moved to Detroit. For several years after her retirement, she traveled, eventually writing an autobiography called Rosa Parks: My Story to support the civil rights movement (History.com).
The choice Rosa Parks made teaches us all that every voice matters; everyone has something to contribute to a cause. If an injustice is present, each of us can make a difference in correcting the problem. Rosa Parks is honored and celebrated during this month for her courage and ability to endure the anger and mistreatment of her fellow Americans, leading to significant changes in the ways in which our society behaves today.
Article Title: Rosa Parks Biography
Author: Biography.com Editors
Website Name: The Biography.com website
URL: https://www.biography.com/activist/rosa-parks
Access Date: February 19, 2022
Publisher: A&E Television Networks
Last Updated : March 26, 2021
Original Publish Date: April 2, 2014
Article Title: Rosa Parks
Author: History.com Editors
Website Name: HISTORY
URL: https://www.history.com/topics/black-history/rosa-parks
Access Date: February 19,2022
Publisher: A&E Television Networks
Last Updated : January 19, 2022
Original Publish Date: November 9, 2009
Article Title: How Rosa Parks Helped Spark the Montgomery Bus Boycott
Author: Jennifer Rosenberg
Website Name: ThoughtCo.com
URL: Linked
Access Date: February 28, 2022
Publisher: The Dotdash Publishing Family
Last Updated : September 1, 2019
Original Publish Date: August 27, 2019
Images:
File name of image:Rosaparks.jpg
original source link:https://commons.wikimedia.org/w/index.php?search=Rosa+Parks&title=Special:MediaSearch&type=image
name of photographer: Unknown author
date of photograph:1955
file name of image:
Rosa Parks being fingerprinted by Deputy Sheriff D.H. Lackey after being arrested on February 22, 1956, during the Montgomery bus boycott.jpg
original source link:https://commons.wikimedia.org/w/index.php?search=Rosa+Parks&title=Special:MediaSearch&type=image
name of photographer: Adam Cuerden
date of photograph:22 February 1956