John Ware, "the best rough-rider in the North-West"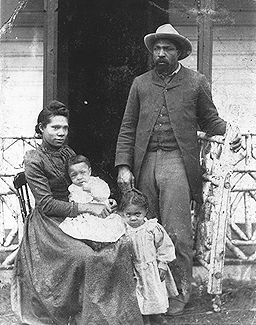 At the start of the Canadian ranching industry, a slave from Texas by the name of John Ware, took center stage as "the best rough-rider in the North-West" according to Edward J. F. Hills, a fellow cowboy (biographi.ca).
Born into slavery circa 1845, Ware, moved westward after he was freed during the Civil War. Eventually settling in Texas, he scored a job with a rancher who professionally raised horses for a living. This job gave him the necessary knowledge to hone his skills as a cowboy (blackpast.org).
In 1882, he met Tom Lynch, originally from Canada, Lynch traveled to Idaho to purchase a large herd of cattle for the Bar U company and needed experienced ranch hands to move the herd back to Alberta. Ware, an obvious candidate for the job was then hired by Lynch (biographi.ca). Finally, in May, they were off to the races to get the herd to the foothills of the Rocky Mountains. In September of that same year, they arrived in the Hay River area of the District of Alberta, officially ending this grueling cattle drive (biographi.ca).
Ware stayed with the Bar U company till 1884, eventually leaving to join the Quorn Ranch on Sheep Creek that was just recently established at the time. The ranch primarily focused on raising expensive horses for the English market. It was here that Ware grew his reputation in the ranching community (biographi.ca).
In May of 1885, Ware registered his own cattle brand known as 9999 (or walking-stick brand) before taking off on another cattle drive that consisted of over a hundred riders and 500 horses that would comb the foothills from Montana to Calgary. Multiple cowboys on the drive gave their respect to Ware, with one, Edward J. F. Hills who wrote home saying that Ware was "the best rough-rider in the North-West" (biographi.ca).
Three years later, Ware started his own Ranch, settling on the North fork of Sheep Creek. He then met his wife Mildred Lewis and started a family on their small homestead. He later sold his property to move his operation, as new railroad construction was quickly eating up the limited grazing land. He then settled in Deer River. Unfortunately his dream of running a ranch came quickly to a close when his wife died in 1905 from typhoid and pneumonia. In September of that same year, Ware was killed in a ranching incident when his horse tripped and landed on him, killing him instantly. Ranchers from all over traveled to mourn the death of a beloved Cowboy and one of the most respected cattlemen. In 1943, Ware Creek was officially recognized (biographi.ca).
John Ware grew to be one of the most beloved and well known cowboys in Canadian history, loved by pretty much everybody. He proved through his life that no matter where you start, as a slave or a free man, if you put your heart into what you are passionate about, you are truly living your life to the fullest. 
Sources 
1. Article Title: JOHN WARE (1845?-1905)
Author: Roger Hardaway 
Website Name: Black Past
URL: https://www.blackpast.org/global-african-history/ware-john-1845-1905/
Access Date: 2/8/2022
Publisher: Black Past
Last Updated : 1/27/2007
Original Publish Date: 1/27/2007
2. Article Title: WARE, JOHN
Author: David H. Breen
Website Name: Biographi
URL: http://www.biographi.ca/en/bio/ware_john_13E.html
Access Date: 2/8/2022
Publisher: Biographi
Last Updated : November 2021
Original Publish Date: 1994 (specific date not given)
Image:
file name of image: lubr_John-Ware_0204_1
original source link: https://commons.wikimedia.org/wiki/File:John_Ware_and_Family.jpg