#Black Lives Matter: a movement that changes lives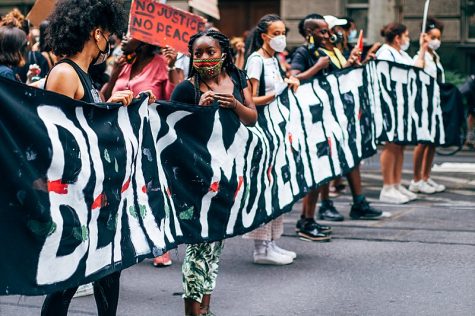 The Black Lives Matter movement became a symbol for Black dignity and has been used for protests about the injustices the black community faces (History.com).  Although it started in 2013, the movement never blew up until 2014, when a police officer shot and killed a black teen and left his body on the ground for four hours. The hashtag was brought up again with over 50,000 tweets under it. Later on in the week, it reached 1.7 million tweets (Biography.com).
The movement would become very impactful in the years to come, fighting against police brutality and moving towards racial justice. Black Lives Matter had a turning point in 2020 when a black man named Geroge Floyd was brutally murdered by a white police officer in Minneapolis. After his murder, the movement traveled around the whole world through protests and social media. The movement helped spread awareness on today's horrible racism and the many ways it manifests itself. It opened the eyes of millions of people and also united us (History.com).
Following the murder of Geroge Floyd and the movement blowing up, the name "Black Lives Matter" is something we hear more often now. Although the movement is trying to combat a horrible thing, it's good that we hear about it more often. Black Lives Matter's mission is to bring light to all types of racism and oppression experienced by black people. So far this movement has impacted many lives through education about racism and the fight for justice for people like George Floyd, any who have been wronged by the system. It's important to talk and learn about the Black Lives Matter movement this month because of all that it has accomplished and because of the social awareness it brings to the problem of police brutality towards black people.
Sources 
1, Article Title: The hashtag #blacklivesmatter first appears, sparking a movement.
Author: HIstory.com editors 
Website Name: HIstory.com
URL:https://www.history.com/this-day-in-history/blacklivesmatter-hashtag-first-appears-facebook-sparking-a-movement
Access Date: February 7, 2022
Publisher: A&E Television Networks
Last Updated : February 2,2022
Original Publish Date: July 10,202
2. Article Title: How Patrisse Cullors, Alicia Garza and Opal Tometi Created the Black Lives Matter Movement
Author: Jordan Zakarin
Website Name: Biography.con
URL:https://www.biography.com/news/patrisse-cullors-alicia-garza-opal-tometi-black-lives-matters-origins
Access Date: February 7, 2022
Publisher: A&E Television Networks
Last Updated : 
Original Publish Date: January 27, 2021
Images:
file name of image:  Marin City Black Lives Matter-George Floyd Protest
original source link: https://www.flickr.com/photos/[email protected]/49965993481/
file name of image: Black Lives Matter, group of black demonstrators holding Black Movement Austria flag
original source link: https://www.flickr.com/photos/[email protected]/50115372492/