Penny for your thoughts on Penny wars?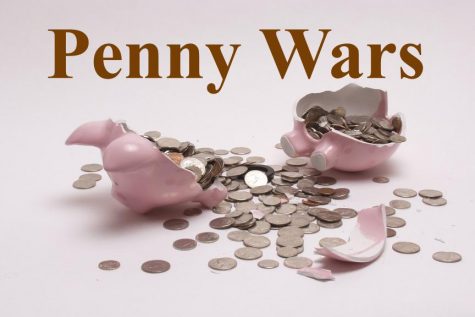 To be a Spartan is to be a warrior, and during GOFA season, it is time to prepare for war: Penny Wars. 
This enjoyable fundraising event is a competition through which you put pennies into a tube connected to your grade's box at the top of Door 6. Each grade tries to earn the most money by the end of the GOFA fundraiser. It's a really simple competition and goes throughout the whole month. Each time someone puts a penny into their grade's box, that grade gets a point, but if anything bigger goes in, like a nickel, dime, quarter, dollar, or more, that amount of points will be deducted from the grade's tally. For example, if a nickel goes in to the juniors' tube, 5 points are deducted. If a dime goes in to the freshmen tube, 10 points are taken. 
So remember, anything bigger than a penny, whatever it's worth, is how many points get deducted. If you do have anything bigger than a penny, don't put it in your own grade's tube, or you will cause your class to fall behind. Instead, use that kind of dough to make the other grades fall behind and help your grade be victorious in battle. 
Another cool thing about this competition is that you don't have to sign up for it like bingo or paranoia; everyone in every grade is already part of the game. Anybody can drop some coins or bills at any time during GOFA. It's a small but effective way to contribute to the fundraiser. Grab all the pennies you can and help your grade to win.
The tubes are at the top of Door 6. Let the battle begin!