Hockey is here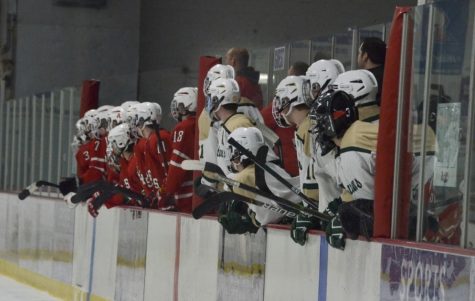 Mayo players on the bench watch in anticipation during the final minutes of the game against Austin HS. Photo courtesy of Donovan Paulson
Thanksgiving has now passed, signaling the beginning of Winter, which to most people means cold and slippery roads, shoveling snow, and freezing at the bus stop, but to a small group of Mayo students, the change in weather represents the upcoming Boys Hockey season. 
Preparing for this season since June, the team has been working hard, sharpening their blades, improving through summer skating sessions, even waking up to skate at 6 a.m. before school. Team members have been getting stronger in the weight room, participating in captain's practices, and stick-handling in their garage until their hands blister. Without a doubt, everyone on the team is working hard, waiting impatiently for the season to start.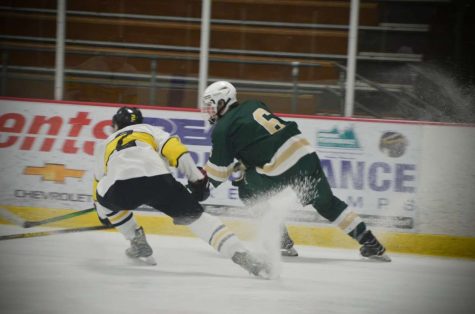 Spartan forward Javan Hodge escapes around a defender. Photo courtesy of Donovan Paulson
Last year, despite it being strange due to Covid-19 restrictions, the team had a successful season, going 13-4-1. So this year, the team wants to build on that success and continue to improve the program. Assistant Captain Tate Cothern echoed that sentiment, saying that "last season's success will carry over, because we are only adding 2-5 guys to our varsity roster, so we are not losing many players."  According to Cothern, "we had a lot of success last year, and our younger guys got a taste of high school hockey and really thrived." He added that they "have great leaders and are solid in all aspects of the game."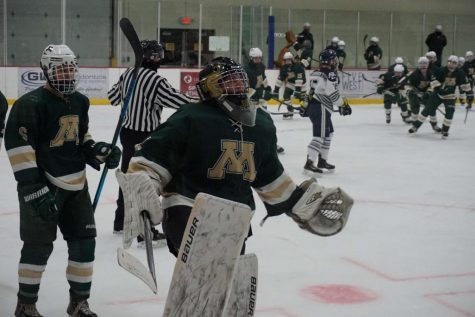 Spartan goaltender Tate Coethern celebrates after a crosstown rivalry win against the Century Panthers. Photo courtesy of Madie Sweeney
The team has already participated in a couple scrimmages against Lakeville North (losing 2-1), Burnsville (Winning 6-2), Red Wing (Winning 10-0), and Hastings (Winning 2-0). Some takeaways from these scrimmages include the outstanding goaltending by Tate Cothern (#1) and Nick Weick(#30), both of them being standout players, greatly impacting the outcome of these games. Other factors that led to success during these scrimmages is the Spartans' formidable offense that picks apart opposition.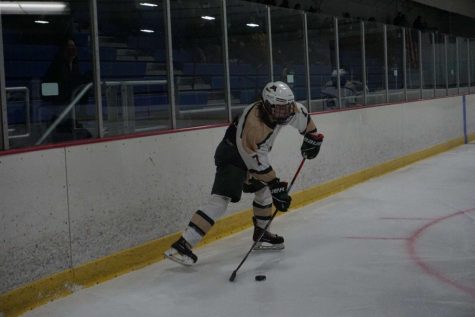 Mayo forward Chandler Dennis passes the puck to a teammate offscreen. Photo courtesy of Madie Sweeney
Some players to look out for this season are Chandler Dennis (#7)  and his brother Ethan Dennis (#9), Sam Jacobson (#14), Cohen Ruskell (#27), Matthew Siems (#21). Each of these players had notable performances during these scrimmages. Assistant Captain Tate Cothern says that the team "doesn't really have that one superstar," and that they "are a team of depth… all four lines will contribute this year."
The Spartans' strengths include being a closely-knit group that has been skating together for years. The chemistry in this team is noticeable, truly a big part of what makes them effective. The Spartan's are really wanting to make an impact this season and prove that they can be a competitive team that can dig deep and win games. 
The Boys Hockey Team encourages you to come to the games and show your support. If you cannot make it, then follow along on the teams' Instagram page (@mayohockey) where they post updates on scores and other news.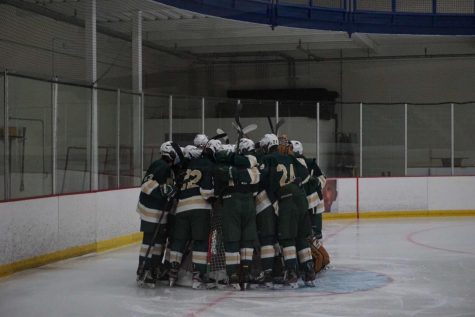 Mayo Spartans gather around the net before the start of the game. Photo courtesy of Madie Sweeney