Inside Elle Smith's last season of Mayo Soccer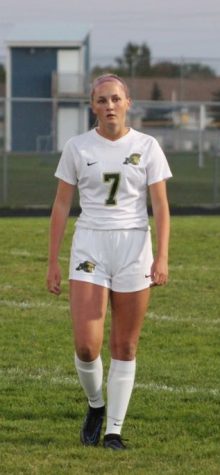 Just a couple weeks ago the Mayo Girls Soccer season came to an end. When any sports season concludes, it can mean a great deal, but for seniors it could be the last time they ever play competitively in the sport they love. Mayo had a very successful season, finishing third in the Big 9 conference with a record of 8-4-2 overall.
Senior Elle Smith is among those seniors who just wrapped up their Mayo soccer career. Smith, who has been playing with many of her fellow seniors since she was very young, isn't just close to her teammates in the fall season. She explained that her "relationship has been really close with everyone. Not only do [they] play Mayo soccer in the fall, but [they] also all play club soccer in the spring and summer together." This amount of time together creates more strong bonds; real chemistry is developed: "we are all friends and can connect well on the field together," Smith said. Without a doubt, these things helped a lot this season as the Spartans made it a good one.
In sports one of the biggest things to balance is dealing with challenges that come up throughout the season. In the long weeks of competition, it can be hard to remain consistent game in and game out. In matches against lower level teams, Mayo was able to stay focused and not play down to the level of their opponents, while in matches against stronger teams, they trusted their focus and teamwork to lead them to success.
This season the Spartans were able to overcome some long-standing obstacles and win games against teams that they hadn't defeated in the past. Smith viewed this as a sign of the value of their mutual dedication: "A big turning point was when we beat [or] tied teams that we had lost to in years past. This showed everyone how hard we worked for it."
Looking back on playing with the same people for such a long time brings back great memories. This season was a special one for the seniors and most of them savored every moment, even the grueling parts of practices. Smith reminds us of the importance of not taking anything for granted: "My senior year was made special by playing every game like it was my last, and it's going to be super sad to move on because I have played with all these girls for years."
A lot of times good things come to an end. For this Mayo Girls Soccer team, the 2021 season will leave them with lots of great memories going way back when they were younger, right up to the final whistle of this very successful campaign.