Officer Smith: a normal person just like you and me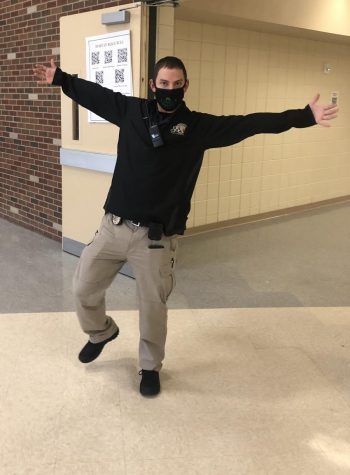 With Officer Kelly's unfortunate departure, Mayo Spartans were left wondering who would greet them with smiles while also ensuring school safety in the coming year. Fortunately, a young, outgoing Officer Smith applied to be a local officer and has become a part of the Spartan community, but who actually is Officer Smith?
Born and raised on the south side of Minneapolis, Officer Smith gained experience working with people of all different backgrounds and cultures. Moreover, he believes this made him an outgoing person who easily relates to others. 
Six years ago, Officer Smith moved to Rochester, which he finds to be very different from where he grew up. He went on to say "It is funny because it is a large city, but it feels like a small town to me." One of the advantages of a place having the feel of a small town is the sense of unity and friendship that it affords: "It seems like a lot of people know each other around here, almost like a neighborhood." In fact, he chose to move to Rochester because he had heard many good things about the city. Beyond that, it was a good distance from family; he could return to Minneapolis any time he needed to. Additionally he had gotten to know people from Rochester and has settled into the community well. 
When Officer Smith was young, he decided he wanted to become a police officer but still had reservations. In middle school, he had changed his mind about it, until his cousin became a police officer. This reignited his desire to become one too; moreover, in his senior year of high school, he took a class on "street law," which led to his pursuing a degree in criminal justice.
However, even then his career choice was still not set in stone. He worked in Dispatch for a time, which made him consider becoming a dispatcher rather than a police officer. However, the opportunity to work in a school was much too alluring. He had always wanted to be both a teacher and officer, so when his application got accepted, he jumped on the opportunity. 
Speaking of school in general, Officer Smith had a love-hate relationship with it when he was younger: there were times when he loved it, but there were times he hated it. He loved interacting with his fellow students and teachers; however, he hated the anxiety and stress that came along with the expectation to perform well on tests and graded assignments. Still, he persisted and worked to find success, graduating from Saint Mary's University in Winona with a four-year degree in criminal justice. Then, over the summer joined a ten-week program called Skills which certified him to become a police officer.
When asked what his one message to the student body would be, Officer Smith said "I'm a human being just like everyone else. I like to have fun, and I like to interact and talk with people, so I encourage others to reach out to me and talk with me because I love learning from other people." 
Ever the outgoing type, Officer Smith said he was interested in getting involved on campus with clubs, running, and sports, so if you, the reader, would like him to visit your club, do not hesitate to ask. Additionally he said he was interested in rock music, so recommend to him some of your favorite rock bands, and he'll probably share some of his.