Technician To Teacher
Mayo's and John Marshall's newest auto shop teacher
After announcing his retirement at the conclusion of the 2020-2021 school year, Mr. Komaniecki left a big hole in the automotive departments of Mayo and John Marshall.  The thought of who would take over entered everyone's mind who knew him and the big shoes he left to be filled. 
The fact is, before Mr. K left, he had already started the hunt for his predecessor, which is typical for him – not wanting to leave the school in a bad position. He called upon his friend, Mr. Nathan Rego, who quickly became the candidate of choice. Now after one quarter of the year as a new member of the Spartan family, Mr. Rego has settled in nicely, and as we see why Mr. K thought he would fit the role the best. 
Mr. Rego is from the area, growing up in Pine Island. Having four little children may limit his free time, but he does spend time in his yard with his wife, making their place even nicer. He also is an avid golfer and has been known to play on softball teams over the years. 
It was going to be a new challenge stepping into the education field, but with Mr. Rego's many years of experience and credibility convinced the administrators that he would fit the mold perfectly. His students, too, quickly developed a respect for him due to his vast knowledge and friendly way of dealing with everyone. 
His mechanical experience started years ago; Mr. Rego began his career at Jim Lupient Automotive in Golden Valley, Minnesota. After many years there he moved to Rochester and started at Vikings Automotive, where he worked for eight years, before moving on to Firestone, then finally Park Place BMW. At each new destination, his knowledge of vehicles increased, as did his ability to work with customers. He has always wanted to be helpful, so making the move to the education-side of the business was one of the most helpful things he could do.
As far as teaching Mr. Rego is very well suited for the job: "I found I really enjoyed [teaching] most at my old job… I still enjoy… helping out the new technicians, and getting them acclimated and up to speed in their career."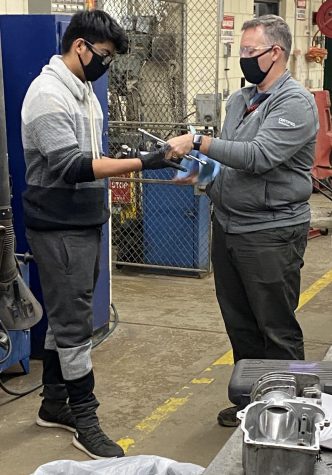 Getting him prepared for his next task, Mr. Rego hands Luis Gomez the right tools for the job.
Over his time here at Mayo, he will do just that: help young students grow their mechanical skills and develop their knowledge and expertise, from rebuilding small engines to aligning and balancing tires in the shop.
He feels comfortable being in the building and the same for JM. He loves Mayo and the chemistry of the building. "I really like the atmosphere," he said. Obviously, a new atmosphere was going to be different for him, challenging him to adapt to the culture and the traditions of the high school ecosystem; however, he noted that, "the other teaching staff are fantastic; there is a lot of help for [him], and the students are great." 
Mr. Rego is already making an impact on the Spartan community and the same for the Rocket community at JM. Hopefully, this will continue for years to come. It's a fresh start in the shop but also in his career, and glad to see him among us.