From fullback to full-time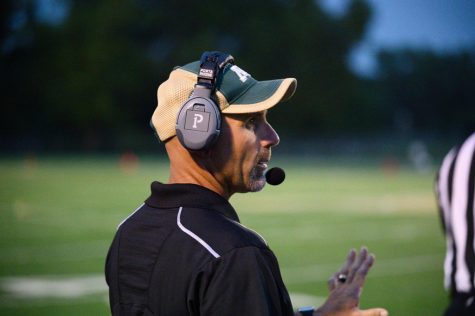 He is new to Mayo High School but not new to most Spartans who may remember him from middle school. Mr. Holcomb is one of our first-year teachers, working with multiple gym classes. He has always loved Mayo and as soon as he saw a position open up here, he jumped right on it. 
Born in Menomonee Falls, Wisconsin, Mr. Holcomb spent part of his life in Waukesha, WI. Throughout high school, he stayed in Delafield, WI., explaining that, his "favorite thing about school was sports… sports and friends, not really classes." After high school, Mr. Holcomb decided to leave Wisconsin to go to Rochester, Minnesota, so he could attend RCTC. 
While at RCTC he studied and finished their two-year program and earned his AA degree. Mr. Holcomb knew while he was attending RCTC that he wanted to become a gym teacher. While he was at RCTC he played fullback and was number 33 for the Yellowjackets football team. 
After college, Mr. Holcomb had started his teaching career at Bamber Valley and Washington Elementary here in Rochester, Minnesota. He later went over to John Adams and Kellogg, eventually making it to Willow Creek. His favorite part of teaching at Willow involved, "just getting to know these kids when they're young and keeping that relationship throughout high school." When it comes to the students at Mayo, he wanted to tell them something: "Number one, just respect everybody and focus on learning about themselves, to be a better person and not to worry about what other people think so much." 
Outside of the classroom, Mr. Holcomb currently coaches football and track for Mayo. In fact, he has been in the coaching game for 22 years. In 2012 he became the head coach of the football team, and that same year, the track program won the conference, which according to him has been the closest to a "golden year."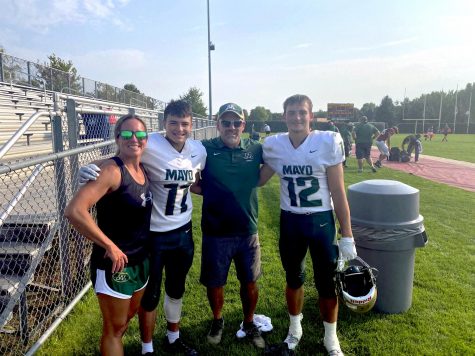 Mr. Holcomb's family includes his wife, who works as a 1st grade teacher in Pine Island, as well as his two sons that go to Mayo, Cayden (senior) and Carter Holcomb (sophomore). 
When he is not at work, Mr. Holcomb stated that he "would like to learn more about mechanics and love to be able to play the guitar or the drums, rather than the air guitar or air drums." He also said that he's only really into working out and hanging out with family. He loves any kind of music that he is able to understand the words to. A few of his personal favorite bands are Metallica and Guns and Roses. 
Mr. Holcomb is definitely someone you should make time to talk to, and he is usually located in the boys locker room, between doors six and five, if he does not have a class at that time. He goes out of his way to strengthen and make new connections with a bunch of students. Even if you say a brief "hello," it makes his day ten times better.