The green and gold are back and bold!
With all of the Homecoming festivities wrapping up, you may think to yourself, "I really loved all of the various pieces of spirit wear that my peers were sporting." Lucky for you with this year's official reopening of the Mayo High School Spartan Shack, it has never been easier to acquire such goods! There is a whole host of new and never before seen products that have entered our local spirit wear store, all at extremely competitive prices! There is truly something for everyone at the Mayo Spartan Shack!
Want to prepare for the cold season that's right around the corner? Stop by the Spartan Shack and pick up a Fleece Lined Beanie for just $25! Still want to get warmer? A whole host of sweatshirts and sweaters await you, coming in all of your favorite Mayo High School colors. All prices range from $20 – $40.
Looking for some comfy lounge wear? Good thing the Mayo Spartan Shack can fulfill all your needs with sweatpants for just $25! There is also a whole menagerie of T-shirts, all for $10! Did you sleep through your alarm and need to roll straight out of bed and head to school? The Mayo Spartan Shack has the comfiest spartan pajama pants for just $25! 
Are you going to support our football team as they prepare for the postseason? Come down to the shack and pick up a Spartan football jersey for $20. Have none of these clothing articles sounded enticing to you? Do you want something more unique than a T-shirt or hoodie? Fortunately, the Mayo Spartan Shack has a ludicrous amount of accessories, whether that be gloves, pop sockets, or anything in between.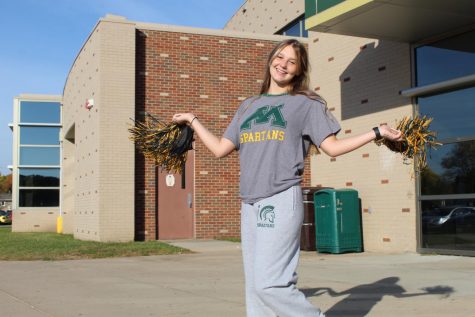 When it comes to spirit, nobody does it like Mayo High School. But when it comes to spirit wear, nobody does it like the Mayo Spartan Shack! Pop by the concession stand by door 1b. They will also be open at all of the home football games through the rest of the year. The store will reopen again on October 18th, so don't hesitate to stop by the Mayo Spartan Shack for all of your green and gold needs! Also be sure to check the Mayo Spartan Shack Twitter and Facebook for updates on hours and dates, as well as the Spartan Shack website itself for product pictures and more information. 
Twitter : https://twitter.com/Spartan_Shack/with_replies?lang=en
Facebook : https://www.facebook.com/pages/Mayo-Spirit-Wear-Spartan-Shack/373597372705690?fref=nf
Website : https://sites.google.com/isd535.org/thespartanshack/home