Mayo Football gathers attention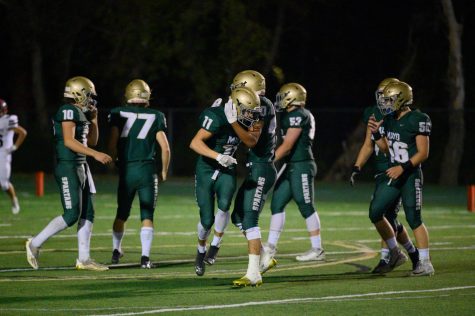 How has Mayo's Football team performed this year? As the Spartans approach week eight they stand 6-1 and are currently ranked #2 in the Big Southeast – Red Conference. Mayo appears to be extremely strong and united this year, even breaking a variety of records and making significant accomplishments throughout the regular season. 
The first of these involved beating the Owatonna Huskies for the first time in years. The entire team had a good mindset before the game and a winning mentality. Although many people didn't believe the team had the potential to win, the Spartans, in fact, took the victory soundly, 58-31 in week 1. 
Running back Noah Smith ran for a total of four touchdowns on offense and averaged nine yards per carry against the Huskies. On defense he went on to get one of the two pick-sixes created by Mayo's defense with an outstanding catch: he initially reached for the ball with one arm and brought it into his body to gain full possession. It was quite an athletic feat. The other pick-six was made by Free Safety Cayden Holcomb who was in perfect position to attack the pass. He managed to avoid a diving tackle and shift to the left side of the field. Seconds later he crossed the field again to score.
Smith is surrounded by hard working teammates at practice, but to him one stands out: "The person on the team that pushes me the most is probably Joel [Wehyee]. He plays similar positions as me and is always on me, and we are always trying to make each other better." In fact, that is something many others on the team have tried to do.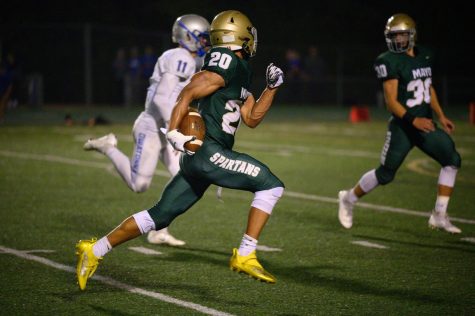 Helping to defeat the Owatonna Huskies, Noah Smith runs into the end zone.
Riding on that momentum, the Spartans traveled to Northfield to defeat them on their field for the first time ever (49-22 in week 2). Quarterback Bennett Ellsworth threw a staggering 390 yards. A couple of his most notable plays were his 68 and 62-yard touchdown passes in the first half. Ellsworth is humble about being an offensive top performer candidate for the MN football poll, as he focuses more on team values, stating, "I think it was cool, but ultimately it means nothing. The only thing that matters is our team performances. We linemen, receivers, running backs, and defense stepped up and got the job done."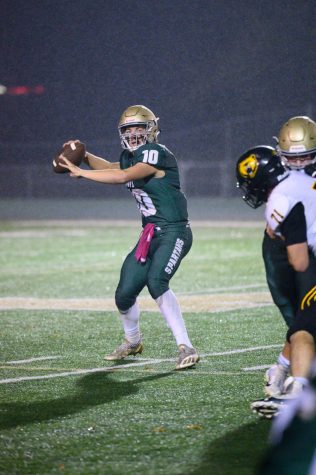 Picking apart the Byron Bears' secondary, Bennett Ellsworth finds an open receiver.
Heading into weeks three and four, the Spartans were going to face their rivals Century and John Marshall for the battle of the Jug. The Spartans were able to beat Century (42-0 week 3) and John Marshall (53-6 week 4) to keep the Jug for the second year in a row, which was something they hadn't done in six years. Wide Receiver Cayden Holcomb averaged 17.4 yards per reception with eight receptions and two touchdowns against Century. Then next week, he averaged 21.4 yards per reception with eight receptions and two touchdowns, again, against John Marshall.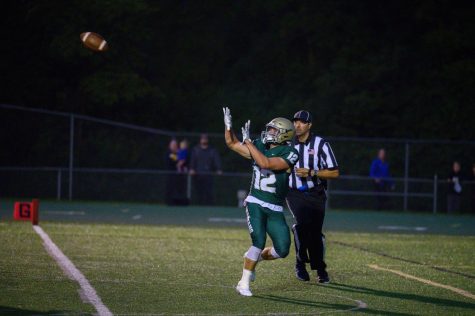 Cayden Holcomb receives a pass in the end zone against the Owatonna Huskies.
Holcomb prepares for a game in a unique but routine way, stating, "I go to Noodles, get myself some mac and cheese, and drink a bunch of water, then get to Mayo and get locked in with the guys in the locker room." Cayden's younger brother Carter Holcomb has also played phenomenally and made outstanding plays on special teams; one example involved Carter's receiving Century's punt, which he returned for a touchdown. This ultimately became KTTC's "play of the week."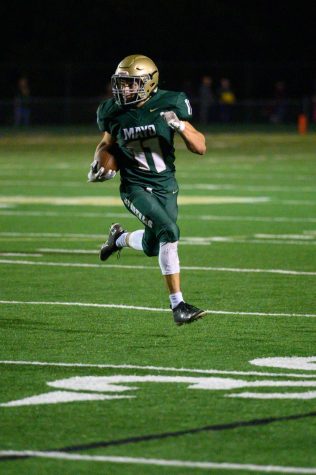 Carter Holcomb catches the ball against New Prague.
As the Mayo Spartans faced #1 ranked Mankato West in week five, they unfortunately lost while putting up a tremendous fight and having an outstanding performance on defense (30-6). Still the lessons learned helped them improve and intensify their efforts.
Not devastated by the loss, the Spartans kept their heads up and were locked in for their week six game against 4-1 New Prague. The Spartans dominated play that night and finished the game by putting up 45 unanswered points on the scoreboard and shutting out the Trojans.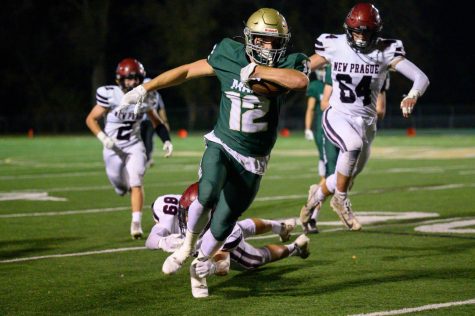 Against New Prague, Cayden Holcomb breaks free from a diving tackler and gains more yardage.
Approaching week seven, the Spartans faced Austin. On offense, the Spartans dominated and scored points on every drive of the game. Noah Smith had an astonishing four touchdowns on offense and a touchdown on special teams. In terms of success Smith says, "My team, and having to play good [sic] for others is something that helps me be the best player I can be." Noah averaged 9.9 yards per attempt with 13 attempts and averaged 49.7 yards per return. Acting as the counter to our amazing offensive performance, our defense had a large number of mistakes. The team learned from them and is moving forward to the next big thing. 
Afterwards, the Spartans went against the Byron Bears in week eight and won (41-15). Mayo had an incredible night which was awesome because the game meant a lot sentimentally for the seniors since this was going to be their last high school football regular season game. Senior Night went according to plan, and the Spartans are now 7-1 and have a bye week and are headed to the semi-finals.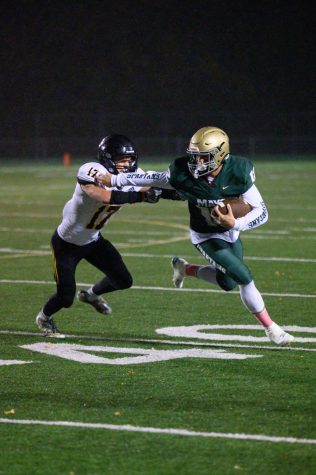 Attempting to stiff-arm a potential Byron tackler, Cayden Holcomb creates separation to gain more yards.
If you are planning on going to the game, some notable players to be on the lookout for include, on offense, Noah Smith (RB #20), Bennett Ellsworth (QB #10), Cayden Holcomb (WR #12), and Carter Holcomb (WR #11). When the defense takes the field, look for Noah Smith (MLB #20), Jamal Beale (CB #8), Ayden Messmer (OLB #7), and Ethan Kramer (DE #56). Next, the Spartans will be facing Century at home (Saturday, October 30th). Mayo hopes to continue performing at a top level. At this point in the season every game is extremely important, as a loss means the Spartans are eliminated. The team is seizing every opportunity at hand to take advantage of the position they are in by working relentlessly in the weight room, at focusing intently at practice, and prioritizing recovery when at home.
All photos courtesy of Donovan Paulson