Senior Prom: COVID-19 Style
The senior class of 2021 has missed out on a lot of their high school "lasts," but prom wasn't one of them. Just as the COVID-19 pandemic has put a damper on everyone's lives, the members of Mayo High School's Class of 2021 were unable to enjoy their last Homecoming dance and all of the games, competitions, GOFA activities, and three quarters of in-person school. With prom season approaching, many seniors anxiously awaited news about a school dance, hoping that things would be different, hoping they'd be closer to "normal."
Since there were many unknowns for prom, a Mayo senior's parents, the Lillises, took matters into their own hands to plan a prom. The dance was announced via Facebook. Seniors had to hop on this opportunity quickly, as only 150 tickets were allowed to be sold due to COVID-19 regulations. Stephanie Lillis, the senior parent who graciously planned this, said that other COVID-19 regulations had to be put in place as well. This included complying with the Minnesota mask mandate; as a result, the doors of the venue remained open all night to provide air circulation, reducing the chance of spreading the virus.
Prom events began at 3 PM at Mayo High School with a Grand March. It was held in the cafeteria, where attendees could walk while their name was announced, take pictures, and watch others walk with their friends or dates. The doors at the Mayowood Stone Barn opened at 5, and the grounds were open for everyone to walk around, take pictures, and socialize with friends they may not have seen in awhile.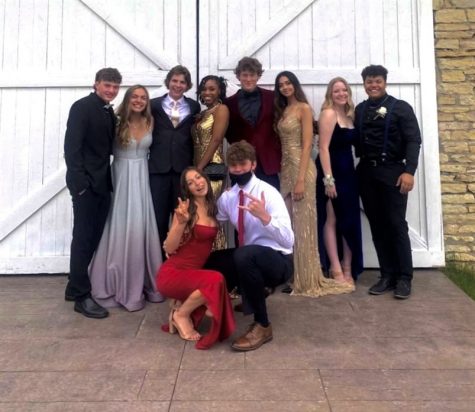 Friends gather before the Prom to remember the night in photos.
Back row: Abe Gauthier, Zoe Kurup, Josh Hanson, Destiny Whitehorn, Mario Magnotto, Joman Yousif, Caroline Henderson, Ian da Silva
Front row: Kayleigh Olson, Hayden Jones
Dinner began at 6. Guests were served a salad with a dinner roll, and were able to choose between an assortment of soda or water to drink. The main course was steak, chicken, mashed potatoes, and other cooked vegetables. The meal was finished with cake for dessert. This part of the evening was filled with conversation and laughter with much anticipation for the dancing and good times to come.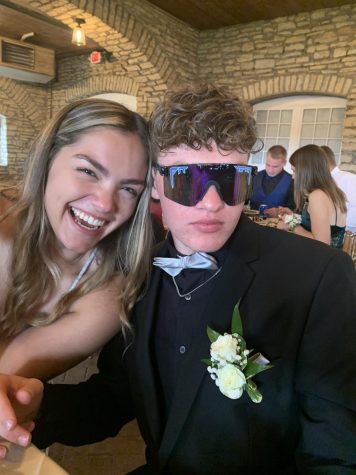 Enjoying the dinner at Prom, Zoe Kurup and Abe Gauthier look so cool that they don't even need an air conditioner!
After dinner, when those who attended moved upstairs, they saw a large section for dancing, as well as an area for sitting, taking more pictures, and a place to grab a snack and a sip of water or lemonade. Throughout the dance, guests had free reign to walk outside for some fresh air, or to be inside, upstairs or downstairs. At 10 PM, gifts were handed out to those who were still there. The gift included a Mayo Prom 2021 tumbler with goodies inside, such as gift cards to Moka and Taco Jed, a free bundt cake from Nothing Bundt Cakes, and more. As the last song played and the dancers made their way back to their cars, everyone was filled with a sense of happiness about having shared a night of fun together, finally.
Although this prom season hasn't been normal, seniors were happy to share a memory that would help finish off their final year at Mayo High School on a positive note. Senior Ben Magambo said, "I'm thankful to even have [prom] for our senior year because this year is probably the worst one we've ever had. It gives us one last hurrah before graduation." The night was filled with music and laughter, if not a sense of normalcy, but it was definitely a prom like no other, one unforgettable evening.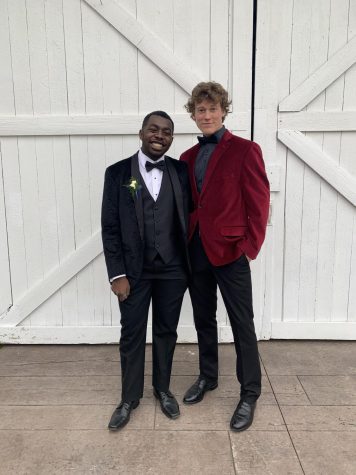 Looking sharp and handsome, Ben Magambo notices that Mario Magnotto is so excited he's ready to burst at the seams.