How are Rochester schools' borders changing?
This year has been crazy, and the craziness probably won't end for a while. To make matters worse, it appears there might be changes in where you can go to school. Many people are wondering if they will have to go to a different school; they're wondering which areas are changing, or what's even going on? An explanation is easy if you know where to look.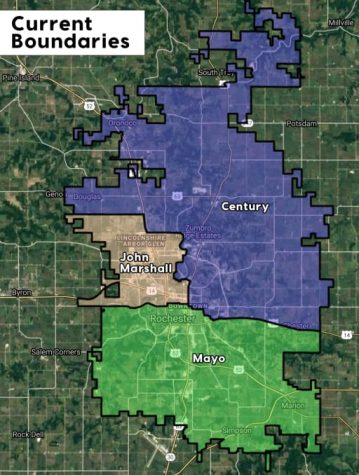 What is going on?
Starting back in November of 2019, district voters approved a $180.9 million bond for the building of four new schools. The school building process is projected to take three years, and because of the construction of the new schools, the boundaries of where people can go to school need to change. The boundaries themselves have not been fully planned out yet, but the District has two options and are working towards a final recommendation to be announced by September of this year, with the measure going into effect during the 2022-2023 school year. As a result, people have a full year to adjust to the boundary changes. The next meeting of the District committee regarding this matter will be May 5th.
Why do we need more schools?
If you've been to a school recently and walked the halls during passing time (even with reduced numbers), it's crowded and filled with students trying to get to their next classes. According to data collected from the Facilities Task Force work "Elton Hills, Franklin, and Jefferson Elementary Schools and John Adams and Willow Creek Middle Schools were above 105% of capacity. The average elementary school was at 98% of capacity and the average middle school was at 99%". Schools are considered to be at full capacity somewhere between 90 and 93%, so the need is urgent. So far Rochester Public Schools (RPS) has plans to build two new elementary schools and one new middle school. There is no plan for a new high school currently, but existing high schools will still have their boundaries changed.
What do we do going forward?
Going forward we can expect at least one more school and many more changes to the boundaries determining where students attend school. The committees are still meeting and listening to public feedback by sending out surveys and by also asking people for their input. The boundaries will be finished in May and reviewed and revisited until September at the latest. 
As previously mentioned, the effect of the change of boundaries will take place in September of 2022. There will be the new elementary school opening up for the 2021-2022 school year, and the others are set to open during the 2022-2023 school year. If you want more information you can visit RPS website and find the locations of where the borders are moving for you.
Source
Boundaries. (2020, May). Retrieved April 28, 2021, from https://www.rochesterschools.org/about-us/referendumprojects/project-progress/boundaries