George Washington Carver: The Innovative Peanut Man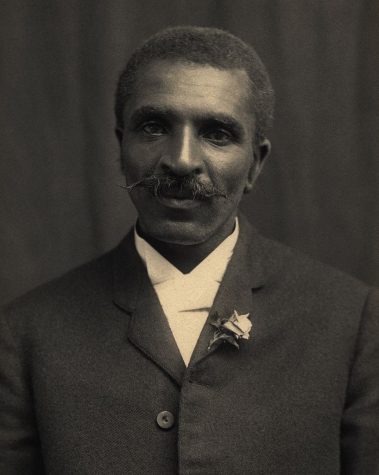 When we think of the greatest scientists, people like Albert Einstein, Isaac Newton, Charles Darwin, and Stephen Hawking come to mind. However, there is one scientist who is one-of-a-kind, someone who should truly be revered: George Washington Carver. His influence on the improvement of human prosperity is much broader than many realize.
After the end of the Civil War, George Carver's owners, Moses and Susan, wanted him to remain in their household, so they could raise and teach him. His body was not suited to work in the fields, so he was taught by Susan to do household duties, making medicine, and gardening. His experiment with plants caught his attention to seek more knowledge at a young age (Biography.com).
Going to a different town to attend an all-black school, Carver found it underwhelming and wanted better. He became determined to find a better school and attended many different ones until he earned his high school diploma in Kansas.  Later he applied to Highland College and was accepted, until the admissions director figured out that Carver was black; as a result, he was denied entrance. Later in 1890, he became interested in the arts, making botanical sketches at Simpson College in Iowa (Onion). His professor noticed that his artistic talents were not worth being at that school, so he recommended that Carver enroll at Iowa State Agriculture College. He did so, and became the first Black student studying there (Biography.com).
Once he graduated with a Masters degree in Agriculture from Iowa State in 1894, Carver moved on to pursue research and teach agriculture at the Tuskegee Institute in Alabama, where he met Booker T. Washington and applied his last name to his own, becoming known as George Washington Carver (Onion). His struggles at the Tuskegee Institute were apparent and many problems arose. The classes he taught were unpopular with the students, and his colleagues envied his high salary. His main focus turned more and more toward a devotion to research to help poor farmers instead of teaching and his difficult relationship with Booker T. Washington (Onion).

The research that Tuskegee's laboratory created introduced useful methods of agriculture. His research into crop rotation helped the poor farmers get better yields for cotton. By using other crops with nitrogen-producing plants like peanuts, sweet potatoes, and soybeans these crops help the soil to restore nutrients (History.com). Carver also created the Jesup Wagon as a mobile classroom to teach farmers in 1906. Knowing that farmers didn't have the time to leave their fields to come to a classroom, he decided to bring the classroom to them, hauling tools, experiments, and samples out among the crops to help them learn and improve their agricultural operation (Biogrphy.com). 
Gaining better yields of peanuts, the farmers now found themselves with a new, unexpected problem: extra crops with no known use for them. That dilemma plagued Carver's mind, so it became the catalyst for his creating over 300 new products from peanuts, even though many of them never succeeded in widespread use.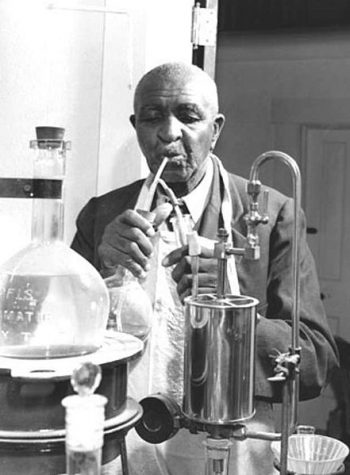 Carver's influence in this area of agriculture took him to the U.S. House of Representatives' "Ways and Means" Committee, where he was asked to testify on behalf of the Peanut Industry to earn tariff protection. He introduced the committee to the many uses of this delicious staple. His efforts led to the approval of the protections sought. As a result, he became known as "the Peanut Man" (History.com).
In the later years of his life, George Washington Carver traveled around the South, seeking racial unity. During that time, he met Mahatma Gandhi, with whom he discussed nutrition for developing nations. President Theodore Roosevelt stated his admiration for the Carver and sought his advice on agriculture (Biography). 
From 1893 to 1943, Carver released bulletins of his reports on his research on cultivation for farmers, teachers, and household wives to use. 
Tragedy struck on January 5, 1943, when George Washington Carver died from falling down the stairs at the age of 73. After his death, President Franklin D. Roosevelt signed the legislature to build a monument to this renowned scientist, an honor only granted to presidents (History.com). George Washington Carver's effort in agriculture helped the South's economy grow. His knowledge of agriculture and quest for improvement in this field helped impoverished farmers across the globe earn a better living and produce even more crops to feed a hungry population.
Sources 
Article Title: George Washington Carver
Author: Onion, Amanda; Sullivan, Missy, and Mullen, Matt
Website Name: www.history.com
URL: https://www.history.com/topics/black-history/george-washington-carver 
Access Date: February 17, 2021
Publisher: A&E Television Networks
Last Updated: February 1, 2021
Original Publish Date: October 27, 2009
Article Title: George Washington Carver Biography 
Author: Biography.com Editors  
Website Name: The Biography.com website 
URL: https://www.biography.com/scientist/george-washington-carver 
Access Date: February 17, 2021 
Publisher: A&E Television Networks
Last Updated: February 4, 2021
Original Publish Date: April 2, 2014
Images:
file name of image: George Washington Carver c1910 – Restoration.jpg
original source link:
https://commons.wikimedia.org/wiki/File:George_Washington_Carver_c1910_-_Restoration.jpg
file name of image: Carver1web.jpg
original source link:
https://commons.wikimedia.org/wiki/File:Carver1web.jpg
file name of image: Tuskegee Institute panoramic photograph 1916.jpg
original source link:
https://commons.wikimedia.org/wiki/File:Tuskegee_Institute_panoramic_photograph,_1916.jpg