Opt for TOPS
Mayo High School tries its best to have a friendly community, with many different resources for students to go to. If you are looking for a place to go to talk to someone, get help with anything you need, and leave the room knowing everything you talked about is between you and the person you talked to, the Teens Offering Peer Support (TOPS) room is a great place for you to go. 
The members of this group are student Spartans, moderated by Mrs. Burget. They are very committed to having a safe and supportive community for everyone and will do everything they can to help you with whatever you may need help with. Their goal is to provide an ear to every student that may be experiencing difficulties with tough decisions, low self-esteem, relationship issues, bullying, home life, and even your homework! Their overall goal is to support you with whatever you need, and they will do what they can to make sure you leave the room in a better mood than you entered. 
Why should students choose TOPS?
TOPS is a great place for you to go to, to connect with people who truly care. With all of the challenges in life with the pandemic, everybody could use an extra support system whether it has to be with your school life or home life. Many students also build relationships with each other, creating an even friendlier environment, and making high school a fun place to be at. Receiving support will help you decrease your stress levels with their mindfulness activities, movies, games, arts/ crafts, and even sharing your feelings in a larger group.
All students who have become peer supporters with TOPS have said that they love meeting new people, building relationships with students, and later connecting with those same students in the hallways, causing friendships to commence. Many peer supporters find a passion in themselves when talking to those who need support, and realize how much being a supporter has developed their social skills, hospitality, happiness, and even decreasing stress levels. To become a supporter, you have to be in 10th, 11th, or 12th grade, with an open hour in your schedule.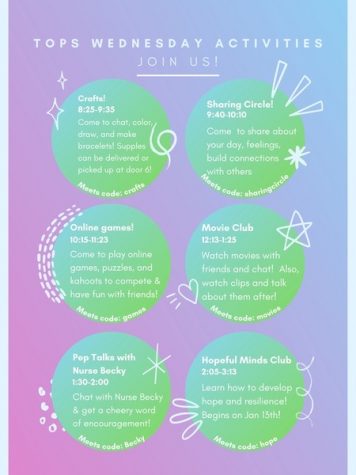 What is TOPS involved in?
Tops is involved in several things throughout Mayo High School, mainly focusing on Mental Health Awareness. They are involved in Hope week, inviting speakers to talk about Mental Health. Beyond that, one of the most stressful times for high school students involves final exams. TOPS has activities to do over the lunch periods such as coloring, bracelet making, games, and other opportunities to allow your brain to calm down between your finals. TOPS offers activities every Wednesday such as coloring, online puzzles, games, and movies. One of TOPS' newest additions is a group called "Hopeful Minds," which is a group focused on learning about resilience and building hope. This group will be hosted every Wednesday at 2:05 pm. TOPS also utilizes Instagram and Twitter pages and posts about mental health and awareness information.
Can you book appointments? Do you have to book appointments?
Fortunately, the room is open to all students every period of the school day. For those who enjoy waking up early and drinking a nice, warm cup of coffee, and coming to school before the first class period starts, the TOPS room will not be open (same goes for after school hours). However, many peer supporters will show up to school early, or stay after school, to chat with friends, or do other activities, or sports and clubs inside of school. Therefore if you see a supporter free, with time to talk, go ahead and talk to them. You'll be glad that you did.
In-person learning does not require an appointment throughout any period of the school day. You can walk right in the room; help will be on the other side. For distance or virtual learning, you can just show up in the Google Meet during periods 4, 5, and 6. If it is outside of those hours, you have to schedule an appointment online.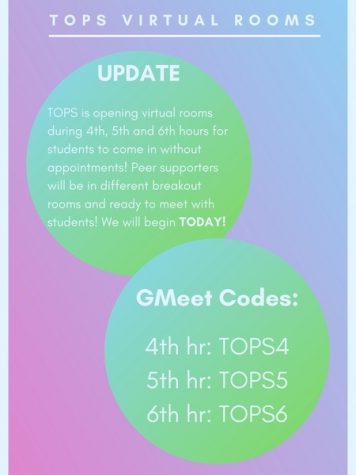 How long can you stay in the TOPS room?
The TOPS room has no restrictions stopping you from how long your stay is in the room. Their main goal is to provide support and relieve stress. The length of your stay can be as long as you need. Their biggest concern about allowing no limit to the length of your stay is that you are not going to their room just to skip class, and making sure you are not missing any important information or tests in your classes.
What happens when there are too many students inside of the room at once?
Due to the fact that there is no limit on the length of your stay, the room may be crowded. It's set up to have one peer supporter at each side of the room, allowing there to be at least four students in the room at once. You will talk in lowered voices, to ensure everything is kept between the two of you. Since everybody will be engaged in their own conversations, there is no chance of others hearing confidential information. If there happens to be more students wanting support at the same time, peer supporters will take you down the hall and talk to you there. If there are not enough peer supporters for you to talk to somebody at that time, take a couple laps around the school, and somebody will be with you shortly. 
Does anybody check up on you?
Peer supporters don't check up on you after your visits, unless you ask otherwise. However, most peer supporters will notice you in the hallways at school and ask how you are doing. If you happen to build a relationship with the peer supporter, along with Mrs. Burget, they will check up on you here and there. It's great to know that a group like TOPS will always have your back.