It's not a bunch of gossip – Mayo One Act Team Section 1AA Champions!
Rochester Mayo High School's Mayo Stage Door is proud and honored to announce that Mayo Stage Door's production of Gossip: Virtual Edition by Brian Hampton, produced by special arrangement with Pioneer Drama Service, Denver, Colorado is the 1AA Section Champion in the MSHSL One Act Play competition.
The cast and crew  from Mayo Stage Door will advance to the MSHSL State One Act Play competition during the week of Feb. 8-13. Due to the current pandemic, this year's state festival will be held virtually. This is Mayo High School's first time qualifying for the state competition. This production was completely created in a virtual format.
The cast includes (in order of appearance) Alyssa Keller, Tripp Dow, Logan Ackerman, Emma Bransford, Will Laudon, Darien Hilmerson, Rocco Ruggeri, Mya Baker. Erin Stoeckig is the student director, Julia Couch is the assistant student director, and Jake Gifford is the tech master. Rochester Mayo Stage Door's One Act Play program is directed by Kim Hill. The cast and crew would like to thank their volunteer student publicists: Ally Week, Olivia Hafeman, and Monica Robertson for supporting this production.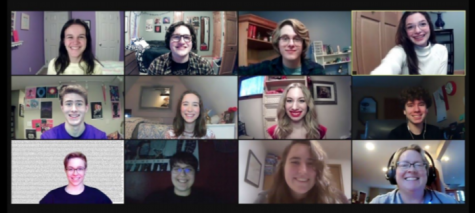 Cast and Crew of Mayo Stage Door's production Gossip: Virtual Edition
Bottom Row (L-R) Jake Gifford, Julia Couch, Erin Stoeckig, Kim Hill
Middle Row (L-R) Logan Ackerman, Emma Bransford, Darien Hilmerson, Rocco Ruggeri
Top Row (L-R) Alyssa Keller, Will Laudon, Tripp Dow, Mya Baker