Another successful tennis season, cut short from COVID-19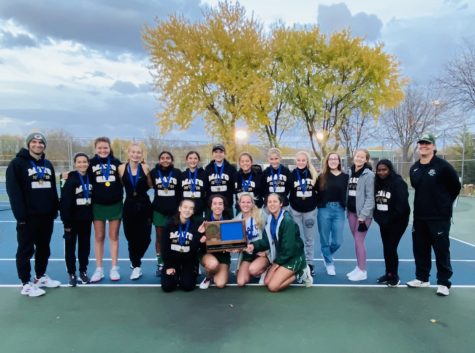 As Mayo Girls tennis celebrated their 23rd section title out of 24 years, players could not help but feel robbed of their chance at winning the State Championship. During the middle of the season, the team was told that there would be no further competition after the 1AA section tournament. Senior captain Taylor Julsrud said, "When I found out, I was heartbroken because it was our last chance as seniors to win a state championship. Our team had worked so hard, and it was sad to realize that we wouldn't get a chance to compete past sections." 
It was no doubt that the team had worked hard. Every player on the varsity competed and trained year-round at the Rochester Athletic Club, one of the best tennis facilities in Minnesota. Many top players would travel for out-of-town tournaments during the off season as well.
Mayo was more than ready for the 2020 State tournament. With four senior captains, and many talented, hard-working underclassmen, Mayo had one of the best teams in the state. One underclassmen, not even a high schooler yet, played 1 singles for the team. 8th grader Claire Loftus said, "I knew that over the past year our entire team had worked very hard and that with our successful season our team and especially our captains truly deserved to go to State."
Loftus was one of the players who would travel for tournaments and compete during all twelve months of the year. She proved herself to be quite the young tennis star, winning many tournaments throughout the off season. After playing 1 singles as a 7th grader last year and competing in the individual draw at State in 2019, Loftus would earn the 8th seed as an individual for this year's State tournament and had high hopes for the individual draw. It was truly disappointing for Loftus and the whole team not to get that chance this year.
After learning the news, the whole team was devastated. However, there still was a title to claim. Senior Captain Grace Ackerman said, "There were a lot of emotions – anger, sadness, confusion, but I knew I couldn't let that get in the way of finishing the season strong and continuing the Mayo Girls Tennis legacy of section titles. I wasn't going to let this bring my team down and distract us from winning that title." Ackerman held true to that promise. She led and encouraged her team through every practice and every round of the section tournament, reminding everyone that they were not done yet, tht they still had a title to win. 
Mayo won the first 3 rounds of sections, beating Farmington, Hastings, and Owattonna handily. It was time to face Lakeville South in the finals. It was a cold and windy day for the Spartans, definitely not favorable weather to play in, but they did not let the conditions distract them. After a team huddle, words of encouragement from the captains and coaches, and a cheer, the Spartans were ready. 
On Mayo's home courts, the Spartans topped Lakeville South 5 wins to 2 loses. It was a bittersweet moment for the Spartans. They were happy and proud to have won yet another section title for their school, but they felt sad and disappointed as this was the end of their promising season. Nevertheless, the Spartans had much to be proud of. They came out on top as Big9 Conference champions as well as 1AA section champions once again (more than 20 times each), two legacies that no other sport team at Mayo comes close to. They did what they set out to do at the beginning of the season, even with all of the challenges put before them.