Local family leads charge for refugee relief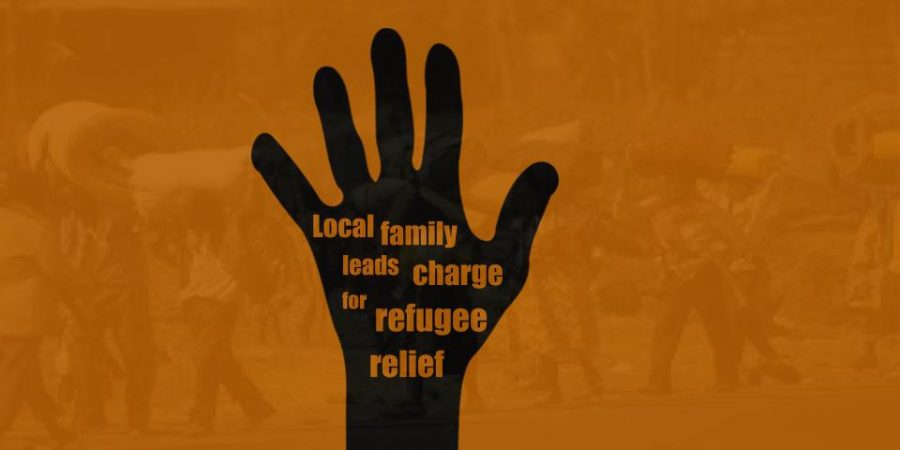 Dominic Presa, Editor
January 5, 2021
Within the last few weeks, a local family has started an effort to provide aid to a people in need. In response to learning of a refugee crisis in Tigray, Ethiopia, Yezi Gugsa and her father Asmelash set to work raising money and collecting food, clothing, and other essentials. Soon after, donation bins were set up at three local high schools – Mayo, Century, and John Marshall, with support flowing in from all across Rochester and the surrounding area. After about a week of spreading the word, organizing, and taking some time to go through a few closets, Gugsa reports "my basement is full of stuff right now."
Inspired by and grateful for the response from their community so far, the Gugsa's efforts haven't slowed down. Their plan is to continue the drive until the 15th of January, when they will assess their stock and, with some luck, begin to ship supplies overseas. Even past that date donations will be welcome. As long as there is a need, donations will make a difference in the lives of many, and Gugsa has resolved "we're not going to stop there."
Many of the refugees forced from Tigray are elderly, women, and children. Facing scorching days and freezing nights, harsh living conditions, and the damage that comes from losing one's home and possibly one's loved ones as well, there are many donations that can make a difference. Monetary donations are extremely helpful, and useful physical contributions include the following: clothing, especially for young children aged 3-10, but greatly beneficial regardless of size and gender determination. Blankets, for cold nights. Non-perishable foods, diapers, hygiene products, and shoes are also needed. Mr. Gugsa also stressed the importance of over-the-counter medications. These items, along with any others, can be dropped off at donation centers located at Mayo, Century, and John Marshall high schools.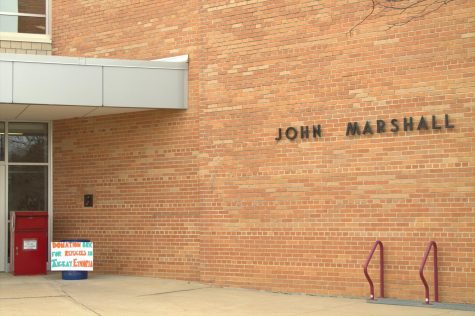 A welcoming donation box can be found just outside the main entrance at John Marshall High School.
For those unable to make it to those locations, Gugsa has said that she is willing to pick up donations from homes. 
Awareness is another key part of this effort. Acknowledging the tough times we're currently facing, Gugsa stated "right now, it's super difficult to be able to give… the biggest thing that we wanted to focus on is making sure that people know about this and know that this is happening." She encourages anyone touched by the news of this crisis to spread awareness to others, and to make use of powerful communication tools like social media, or a newspaper, to educate and inform. 
The Gugsas' passion for this cause is evident in the work they've done. Mr. Gugsa stated his pride in his daughter's efforts, saying he had shared news of the crisis with her, only to inform her, so this result wasn't what he expected to come out of their exchange. The family's connection to the refugee crisis stems from more than just worldly awareness. For the Gugsas and others around the country working to send relief to refugees in Tigray, it is a matter of community, and family. "I was seeing the pictures of those children and the women, in those refugee camps… 30 years ago that was me," recounted Gugsa. 
As an immigrant all too aware of what life is like in such a situation, having been born and raised in a refugee camp, Mr. Gugsa expressed a deep concern for the refugees, frustration over the conflict and hurt continuing around the world, and pain tied to worrying about family still living in the area. This worry won't just go away, he says, but there are seemingly two things helping the Gugsas cope. The first is their relief effort, knowing that they're making a difference for those affected by the conflict in Tigray. The second is unity, the connection and love that comes from sharing vulnerability and passion with a daughter, or a father, and coming together for a cause that matters. 
With an extremely positive response from the community so far, the Gugsas have been able to accomplish more than they had expected to when starting their relief effort. Through their avocation they've not only reached many in our immediate community, but connected with relief efforts based in cities around the country like Atlanta, Seattle, and Minneapolis. With extreme gratitude for the support thus far, many people are anxious for these relief efforts to move forward. They all seem to be facing one last problem however, and that lies with finding a means to get donations overseas. With the situation in Tigray still very uncertain, activists like the Gugsas are working hard to stay informed, appeal to the government for the ability to ship donations affordably and effectively, and seize the moment the second it arrives.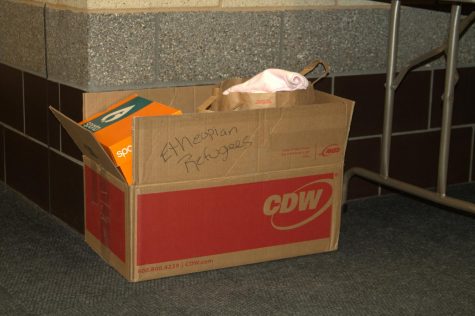 The donation box at Century High School is located in the main office.
There is still time to support the Gugsas' effort and aid those in need, as their first deadline for donations is set for January 15th, one month after the drive's conception. Donations of any sort are welcomed, from food, to clothing, to medication. Donations can be made by dropping off items at Mayo, Century, or John Marshall high schools. Those wishing to donate can also reach those closely involved with the drive at [email protected]. Monetary donations can be made in the donation section of the Rochester Community Initiative website, rochinitiative.org.
Whether in a time of need or emerging from apparent peace, a wonderful amount of change can come from small beginnings. For those in need in Tigray, while there is much to be done, there is also much being done. For those facing hardship, or inspired to lead a charge, as Yezi put it, "take action about the things that you're passionate about, and you'll find the people around you who are willing to support you and back you up… don't be afraid to use your passion to ignite the tiny little fires in other people."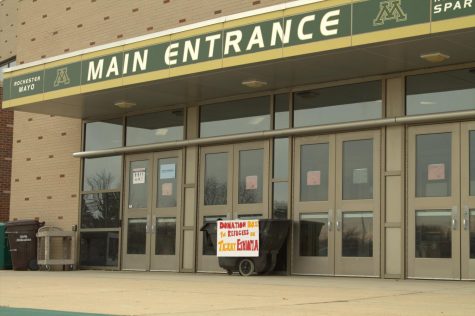 A colorful donation box is waiting for your contributions outside of Door 6 at Mayo High School.