"Covid19 fails to put a damper on 2020 GOFA traditions"   http://linktr.ee/2020GOFA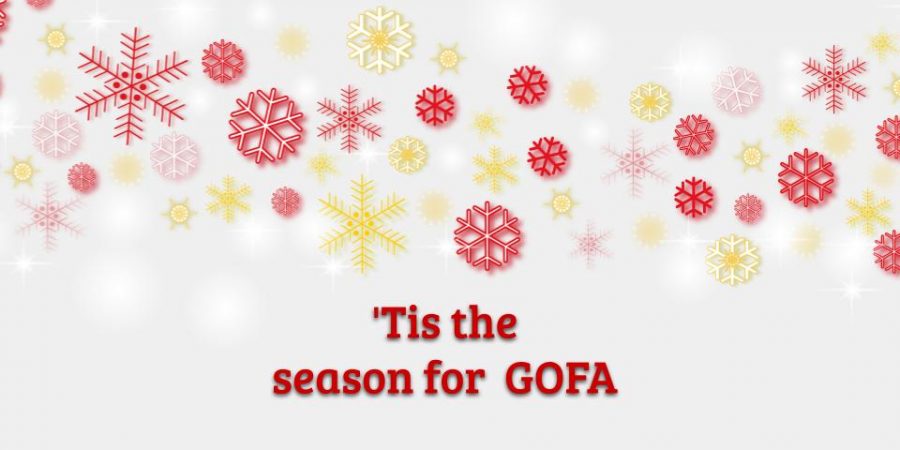 COVID-19 has put a damper on many school activities; however, Mayo High School's yearly GOFA fundraiser is one thing the pandemic will not stop. GOFA (Give one for all) is a fundraiser Mayo spartans and staff participate in every year. All proceeds for the fundraiser go to the Women's Shelter and to the Dorothy Day house.
Even though this school year has been behind a digital screen, GOFA festivities and options to donate are still going on. Student Government member Yezi Gugsa states that it is actually easier to donate to GOFA this year: "In previous years you would have to track down a student government member to buy candy canes, but this year Mayo Spartans can donate from home." All anyone has to do is go to http://.www.4giving.com/donation/BBA6. The website gives a total of how much has already been donated. It is extremely easy to donate through this website, just scroll down, press donate, and fill out the information. 
Because the Corona virus has forced us to stay home, some GOFA traditions had to be canceled, but many are still alive, and there are new ones. Some activities that are still continuing this school year are the GOFA talent show, the Beatnik Cafe, and Rent-a-Senior. The GOFA talent show is underway, and the video is almost ready to go out to Mayo Spartans. 
As previously stated, Beatnik Cafe is still happening, but it will be online, and a video is being prepared to be sent out to Spartans as well. Rent-a-Senior is also up and running this year too! Seniors can register to be rented by underclassmen for a day. Renters and rentees can figure out a time to meet and get together in a safe Covid-friendly way. Sign ups for seniors to participate inRent-a-Senior end on Wednesday the 16th of December at the end of the school day. The price to be rented is $5. The link to sign up for Rent-a-Senior has already been sent out, so if you are a senior and interested in being rented make sure you check your email and sign up before the 16th. Seniors will begin to be rented on December 17th.
There are some new GOFA activities that have been created this year due to the circumstances, including a scavenger hunt, online game night tournaments, and a TikTok rendition of Dancing with the Spartans. The best part is all of these activities are still underway. Any students interested in participating can go to http://linktr.ee/2020GOFA. This link provides information for all the activities that are going on, ways to donate, and links to buy specially made GOFA treats. All GOFA treats are being made in a safe way and include contactless delivery! Treats range from oreo balls, cookies, fudge, cotton candy, to cupcakes, and much more! All you need to do is fill out an order form, and your yummy treat will get delivered to your doorstep. 
Despite not being able to participate in GOFA in person this year, Mayo High School and the student government have made amazing efforts and have worked really hard to keep our GOFA traditions alive. Even though we are all going through some rough times, GOFA is still able to bring us Mayo Spartans together during these times of uncertainty. GOFA ends on December 22nd, so if you plan on donating and participating in GOFA 2020, now is your chance!