Mayo Boys Basketball looks forward to a new season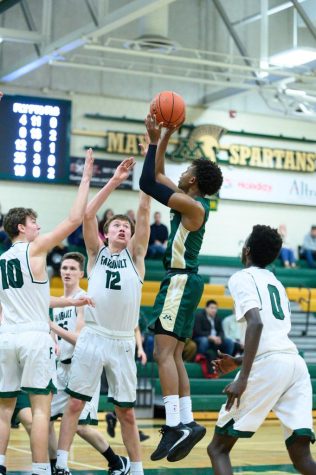 Mo Hammadelniel prepares for victory again this year with the Spartans.
Basketball is set to return this winter after a great deal of speculation about the future of all sports programs at the high school level due to the ongoing pandemic. At Mayo High School, this basketball season brings renewed hopes after a devastating ending to last year because of the cancellation of nationwide playoff tournaments due to the COVID-19 outbreak. Of course the effect of the pandemic will shape this season interestingly. Changes are day to day with restrictions increasing, as cases still remain high throughout the country. Even this week, Governor Walz is set to make another announcement about the pandemic restrictions on Wednesday, December 16.
Recently, the announcement was that the season will begin towards the end of December, with the worst case scenario being a start in January. If restrictions are relaxed, then fans would still be limited to only family members. This is a large factor to the game, as there will not be the student attendance to fill the gym and provide the extraordinary atmosphere. 
More responsibility will fall on the seniors who were their supporting cast as juniors last year. Mayo has bright talent found at all grade levels though. The younger players have untapped potential that will be vital to this team now and in the future. The largest addition to the program this season was not a player but a coach, Kevin Landrum. Under a brand new head coach, the team is presented with a different game plan and playstyle. This squad looks to be extremely focused after an extended pre-season. After a long awaited start, the pressure will be on to catch fire out of the gates.
Two senior guards explained the team's focus on the upcoming season: Mo Hammadelniel, who has been playing basketball for 12 years and has been on Mayo's varsity since his freshman year, and Andre Crockett, who began playing basketball when he was in the third grade. "I just grew up around it, and it's been a part of my life ever since," Crockett said.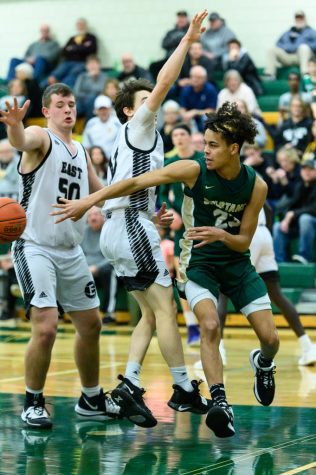 Andre Crockett beats two defenders with his pass.
Before the shutdown that kept students from taking part in activities at the school, the team was very focused – new season, new coach, new leaders, and new goals. "We were having open gym workouts as much as the state legislators would allow us to. We also had strength and conditioning workouts with Ethan Logsdon," Hammadelniel explained. His own inspiration for why he pushes himself so hard with the sport reflects the way many on the team feel: "I love basketball because no matter what I have going on in my life, I can always rely on [it]. The moment I pick up a ball, every negative emotion from the day is instantly forgotten."
The preseason work has involved establishing a solid foundation that has grown out of the development and success of the previous year. Besides these two senior guards, many other players will have the chance to help the Spartans succeed. Michael Sharp had one of the top three shooting percentages from the field last year, according to iTouchStats.com. Makuei Riek was second on the team in free throw percentages at 92.3%. Those two, along with several others will build upon their performances and make other teams take notice. Hammadelniel agrees, stating, "we have a lot of guys who are ready to step-up and take on roles that will maximize our success. Some younger guys like Isaiah Hanson could have a huge impact on our team this year. We also have some older guys who haven't had the chance to play varsity yet, like Mason Greseth, who will add a lot of really positive things to our team, and then, we have the returners from last year… We have played together for a long time, and I know that we play really well with each other and will give other teams lots of problems." 
Who are those teams who will have to deal with the problems that the Spartans create? "Mankato East, Owatonna, and Austin," Crockett said. Each of those teams has a large number of returning starters, so that makes for an experienced side to play against. That said, Crockett agrees with Hammadelniel that, "every single one" of the games is important in its own way, and the Spartans will have to be prepared for all of the teams.
With that kind of preparation and focus, the team will do well if they are able to make it to the Section Championship, maintain the title of being the best team in Rochester for another year, compete for a conference championship, and get as good as they possibly can by progressing every day, according to Hammadelniel. Crockett's goal for himself and the team is more immediate: "just to be able to play." 
Both Crockett and Hammadelniel are excited to work with their new coach, Kevin Landrum. "He's a good fit for us," said Crockett. It's clear that Coach Landrum is dedicated to his team and to basketball. According to Hammadelniel, "I met him [when] he landed [at the airport], He came to some of my games in Minneapolis with my summer team. Since then, we have built a really good relationship, and we are both eager to get the season underway.
Coach Landrum has a great amount of experience under his belt, coaching high school ball in the past. Regarding the changes this season will bring due to COVID-19, he responded, "Some of the main changes have and will be around sanitizing. Such as the balls, chairs on the bench. Changes will be made in our travel and the number of people allowed on the bus. Coaching in a mask. Everyone on the bench in a mask. Things don't change when you are on the court, just everything else around the game is different." 
Moving on to his main plan this year, Landrum stated that he wants, "to get to know the guys as people and as players, then [mix] what I want to do with what the talent level allows us to do. I believe I have a fun style to play that can also be successful in the Big 9 conference." 
His goals for this season are straight forward: "To stay healthy, play as many games as possible, and continuing to improve, but ultimately, go 1-0 every day and add things up at the end." As supportive as this Mayo community is, with the ball being passed to a new leader, it looks like there will be no problem with the team putting full faith into Landrum's ideas and creating a successful organization around him.
Photos: courtesy of Donavon Paulson; mayospartans.org
Leave a Comment