Pandemic orders make taking orders much harder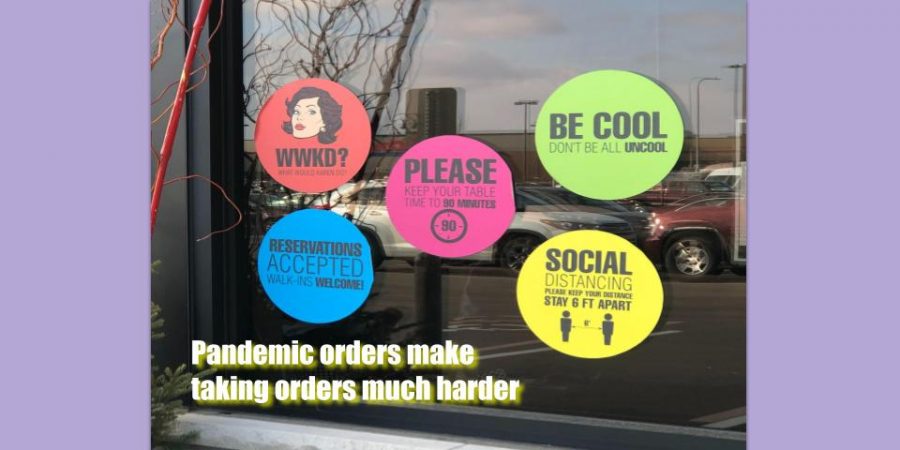 COVID-19 has led to many restaurants and local businesses shutting down or closing during this time; however, some restaurants have been able to keep sales up and put together some great pandemic safety precautions to keep their businesses going. Many restaurants have been doing a great job of keeping everyone's safety in mind during these times of uncertainty, such as the Tap House West End, Victoria's, and Wildwood. 
The Tap House West End is a newer restaurant that was opened in March, 2020, a couple weeks before the first pandemic shut down. During that time, Tap House West End continued to offer a take-out option in order to gain some sales after just opening. They did pretty well, but it was definitely not the way that a business wants to start out.
Once the stay at home order was lifted, Tap House and Victorias, both run by the same owners, started implementing safety precautions straight away. Tap House West End and Victoria's Ristorante and Wine Bar wanted to keep their guests in mind, so they had outside and inside seating available. Co-owner Christine Stahl states, "Our patio needs to always be an option. If people want to sit out there, [we] accommodate them. People are still not 100% comfortable sitting inside due to COVID-19, and we need to be able to give them the option of doing so."  
Not only is outdoor seating always available, but indoor seating is set at 50% capacity for guests safety. Tap House West End demonstrated this rule by placing circular mats on tables that are not within the six feet social distancing rule. Those circular mats simply said "Do Not Sit."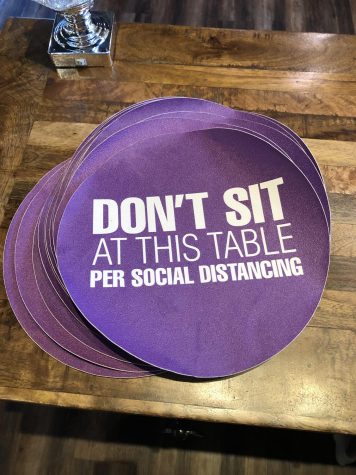 Bar seating also was changed to fit social distancing guidelines. Two seats must separate one party from another if seated near each other. More "Do Not Sit" signs were placed on chairs, so people who decide to "belly up" know not to sit at those specific spots due to social distancing. 
Another precaution that both restaurants took into account is a 90 minute table time limit. Every available table has a sign placed on it asking patrons dining-in to limit their table time to a maximum of an hour and a half. Owners Christine Stahl and Natalie Victoria decided to enact this measure since many customers decide to sit at their table for quite some time, visiting or socializing. This rule allows parties to enjoy their dining experience but also keeps capacity down to a minimum.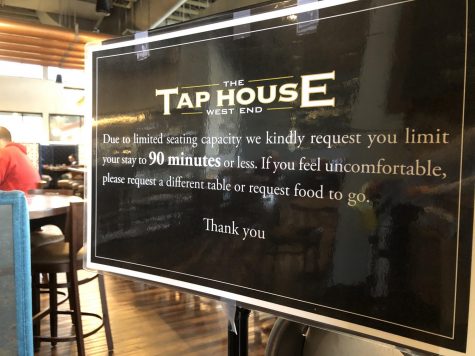 With all these precautions in place, Tap House West End and Victoria's continue to come up with more safety rules to keep employees and customers safe when eating at the establishment. Both restaurants also supply free masks in case someone forgets or is missing a face covering. Their hard work in keeping the public safe during this time hasn't gone unrecognized. Local Guide, Gregory Miller left a review for the Tap House West End stating, "Tap House West End seems to be taking reasonable actions to respond to the COVID-19  situation." 
Another local restaurant is also practicing great safety precautions. Wildwood Bar and Grill, with locations in Byron and Rochester is also taking precautions for its customers. Masks are absolutely required unless you have a doctors note. If you do not have a mask on and refuse to put it on, you will be asked to leave. Tables at Wildwood are also spaced out six or more feet apart and are wiped down with a high content bleach solution after every guest. Menus are now available via QR code to reduce the travel of menus between guests. 
Unfortunately now that cases are rising again, Minnesota governor Tim Walz issued another shut down for restaurants. After hearing this news, co-manager of Tap House West End Miguel Aguilera sent out a message to all employees, stating, "As unpredictable and as crazy as things have been this year, I want to say that we stand with you 100%. No matter if you've been here since the beginning or just came on board within the last month, everybody that works here is just as important. We are willing to do whatever it takes and whatever is asked of us to help you guys. We are all in this together."  That message offers hope for many people and employees connected to Tap House West End. 
After seeing how bad the first shut down was, Tap House and restaurants across the city are making sure their employees are taken care of and are helped through yet another shut down. Not only does it show that these establishments are trying their best to combat this horrible pandemic through placement of safety precautions to protect their customers, but they also care immensely about their workers and are doing what it takes to get through yet another shut down.  
Due to this newly-announced shutdown that starts Friday, November 20th at 11:59 pm, Tap House West End and Wildwood Bryon will be doing take out only; that way the community can still get some delicious food without being at high risk of exposure to the virus. Stay safe, Spartans, and support your local restaurants; show them you care about them as much as they care about you.