2020-2021 Boys Swim and Dive Team's season delayed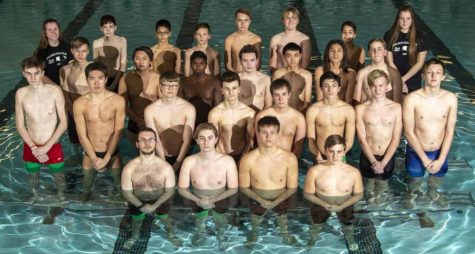 The 2019-2020 Boys Swim and Dive Team
The Boys Swim and Dive Team's season has been postponed due to rising number of COVID-19 cases, but that hasn't dampened their hopes, which are alive and well as the team continues to stay focused and fit in their effort for success this year.
Ethan Yao, who has been swimming for ten years and doesn't look like he's slowing down soon, is one of the leaders on the team, helping everyone concentrate on their goals. Ethan was a part of a relay that went to state last season, broke a team record, and is one of the senior captains this season along with Ignacio Michelena.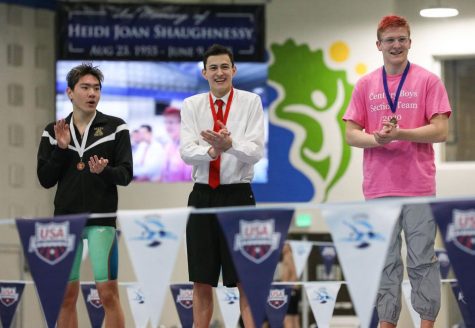 Ethan Yao (left) gets third place in the 50 free at Sections last year.
Yao returns to swimming year after year "because although it is extremely competitive, it fosters good sportsmanship." He goes on to explain that over the years he has "developed an unbreakable bond with my fellow teammates, most of which have swam with me for 8+ years." Ethan says that when they can get back in the pool, practices will obviously look very different from how things normally run. "We will most likely have multiple practice groups, and we'll have to limit the number of swimmers per lane while maintaining a certain distance while in the water."
Akhil Kollengode, a member of the team for five years, shared some insight on the starts and stops of the upcoming season. Kollengode, originally from Kerala, India, moved to Rohester when he was two years old because his parents had jobs at Mayo Clinic. He has been swimming since he was five, and in discussing his commitment to the team, he explained, "I choose to continue with the Mayo boys swim and dive team because it is such a fun sport and the boys are like a second family to me."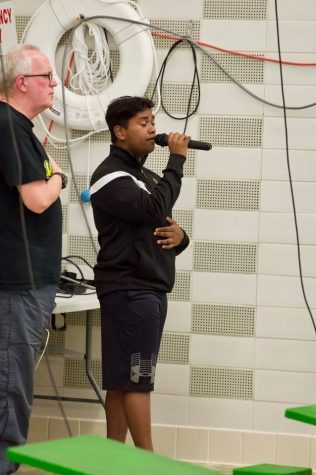 Akhil Kollengode sings the National Anthem at every meet.
Akhil Kollengode is very talented in and out of the pool, especially when it comes to music. He sings the National Anthem at every home meet and is a part of school-based singing groups. Akhil says he hopes that in the current delay, the team can do a few socially distanced activities, so everyone can get a sense of how the team will work together in the upcoming season. Being together, Akhil says, is how the new swimmers, their team, and sometimes alumni meet up to get to know one another. 
There is hope that with the smaller team sizes, the boys might be able to have at least one in-person meet. Like all athletes, Kollengode is hungry to compete: "The temporary shutdown worries me about how much of my junior year season I will get. This was the year [we] juniors would be upperclassmen, so we would be given more responsibility, but hopefully the shutdown will end soon, so [we] can get back to doing what we love most."
That passion for the sport is not only felt by Kollengode but by every member of the team.
Kaybree Ernste, the manager from last season, remembered the good times, stating, "My favorite moment from last season was when the boys made their first state cut and everyone was cheering. I'm excited to make more memories this year, and have another unforgettable season."
Last season was very successful. Ethan Yao, Ignacio Michelena, Alec Wood and Jake Walz all set a pool record and went on to the state meet last season in the 200 freestyle relay with a  time of 1:28.26. State participants were Ethan Yao in the 50 free, a relay team for the 200 free relay, and a relay team for the 200 medley relay. Also last year Mayo had six All Conference awards winners, which included Jake Walz, Alec Wood, Ignacio Michelena, Ethan Yao, Bryan Chen and Alonzo Montori. While two of the recipients were seniors, this still leaves the team with plenty of potential in and out of the pool. Stay on the lookout for more information, as the season progresses and Go Spartans!
Photos courtesy of Mayo Boys Swim and Dive Facebook Page.