Mayo Bowling rolls into an unprecedented season
The Mayo Bowling team approaches the season from different angles while still maintaining their mighty Spartan spirit. Like most things in our lives, bowling has changed due to the ongoing battle against COVID-19. Although the pandemic and quarantine rules have impacted the Mayo Bowling season, the players persevered through the challenges brought on by this season of play.
Teams of five or more players is the norm for the Mayo Bowling team, but this season is different. These teams were led by coaches Scott Jacobson and Marlys Ohnstad. The varsity bowlers were split up into two teams that have been limited to three or four players on each squad. Mayo 1 consists of Team Captain Jared Dalluge, Mandy Week, Robert Dawson, and Co-Captain Jordan Timbeross, while Ben Condon, Dalton Omarro, Isaiah Sample, and Dawson Haag make up the Mayo 2 bowling team. Mandy Week and Isaiah Sample were nominated by Mayo High School Varsity coaches and received awards for the most supportive team players because of their constant encouragement and positive attitudes.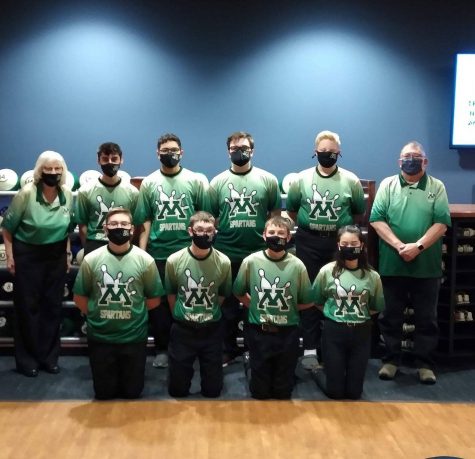 The 2020-2021 Mayo Bowling Team: Front Row (l-r): Dalton Omarro, Dawson Haag, Isaiah Sample, Mandy Week – Back Row (l-r): Marly Ohnstad, Jordan Timbeross, Robert Dawson, Jared Dalluge, Ben Condon, Scott Jacobson.
Goal setting and bringing the team together was a major focus this year as Jordan Timbeross states, "Our hope this year was to bring everyone together and make everyone feel like they belong so in the coming years we'll be unstoppable." Due to many seniors leaving last year, they felt this was something that was needed because of their young team. Goals set by the team include winning their conference, practicing with a purpose to better their individual games which would lead to better games when bowling as a whole, and supporting each other on every shot that was thrown. 
Captains Jordan Timbeross and Jared Dalluge constructed practice plans that would improve each player's area of struggle when in competition. These practices involved spare shooting, line drills, and exercises that made players work with each other. Even though these practices were very helpful in the maturing of the team, Timbeross believes that there was something missing that would've helped the team even more. Despite this, Jordan was very happy with how open-minded the team was and their willingness to try new things. 
Both of the varsity bowling squads competed in the conference roll-offs on November 7th at the Colonial Lanes bowling alley looking for their ticket to the conference championship. Although neither team advanced into the top four, they were still proud of their performance and progression throughout the season. "Unfortunately neither one of our two varsity teams advanced into the top four to compete for the title of conference winners, but we were still proud of how we did and how well we worked together throughout the season," says Jordan Timbeross. This would end Mayo Bowling's fall season of competition. There was no state championship this year for the teams that won their conference, but there was a state tournament that was dependent on each team's average. Mayo Bowling did not compete in this tournament, as the fee to enter was above the fee required to bowl for the regular season.
As this season of bowling is over, the Mayo Bowling team is looking forward to next year, with the intention of winning it all. With the 3-man season over, this leaves time for players to improve their bowling skills during the off-season. During that time, Mayo bowling wants to practice more on the basics and fundamentals of bowling. Advanced things like reading oil-patterns and how to use spare systems are also an important thing that they want to cover in their time during the off-season. The pandemic has not only affected this season, but also the future seasons of bowling. The normal 5-man season in the spring and the normal girls season of bowling is all determined by COVID-19. This means that they may or may not have a season in these coming months. We can only hope for the best, and we know that these Spartans will bowl their best.