HBCU hosts virtual college fair this Saturday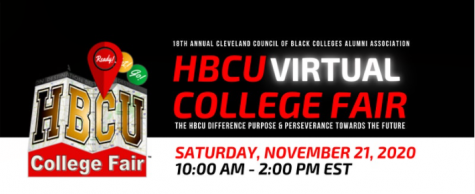 On Saturday November 21, the Historically Black Colleges and Universities Alumni Association (HBCU) will be putting on a virtual college fair showcasing historically black colleges and universities. 
This event normally takes place in Cleveland, Ohio, but because of the pandemic, it will be virtual this year. The event starts at 10:00 am and ends at 2:00 pm; "during this time there will be four [hour-long] time slots where you can choose what college you want to attend," says Mrs. Jamie Matson, a guidance counselor at Mayo High School. 
"You will likely get to view four colleges, but some will overlap. These sessions will include the student representatives giving information about the school and answering questions. They will be talking about things like admission, majors, extracurricular activities, and anything else that gets brought up.  During this time you will be able to ask the representative any questions you have about the school," added Mrs. Matson. 
According to the HBCU page on Eventbrite, the goals of this event are to "increase college enrollment in under-served and under-represented populations of the community." The organizers are trying to help people that don't usually get an opportunity to continue their education after high school to attend college and help them succeed in life.
One of the goals of this organization is to "educate the community about the value of historically black colleges and universities." Some very famous people have attended historically black colleges. Oprah Winfrey started her broadcasting career while at Tennessee State University, and Samuel L. Jackson was a student at Morehouse college. Many more famous people attended these academic institutions, and you can as well. Join the online presentation to find out how. 
One of the goals at the presentation is to "allow participants to become familiar with a variety of financial aid programs and educational resources." Not everyone is able to afford college, and that's why these colleges provide a variety of financial aid programs that can help those who want to go to college, but cannot afford the full cost.  Beyond that, attendees can "connect [their} post secondary education to a …career, internship, [or]vocational interests and opportunities." The presenters want to connect students to long-term jobs that they will have in the future, jobs that will one day provide for the students' future families. 
There is no fee to attend this fair, just go to this link to register. You can also get more helpful information about the fair on this website. To see all the schools participating in this year's college fair, go to https://www.destinationhbcu.org/ to find the list and you can also register there. After registration you will be sent a Google Meet link that you can use when the event starts. 
You should expect to be greeted with many options that might interest you. To make the picking process easier, you could research colleges online beforehand, to see if any really stick out to you. Then when the fair comes around, you will know exactly what colleges to look for. However, don't just have a strict list of colleges in mind; if there is a school that looks interesting to you, check it out. It might be the perfect school for you. Finally, before you go, talk to your parents if you see a college online that you really like and see what they have to say about it. 
If you are looking to stay local with the University of Minnesota, RCTC, or Winona state University, as one of your main choices, then our school's guidance department will have separate college visits that you can attend. The University of Minnesota has an online virtual tour on their website: https://admissions.tc.umn.edu/visit/.
RCTC has forms that you can fill out on their website for group visits. They ask for a request minimum of three weeks in advance. The visit will consist of a tour, an informational video, and a representative answering any questions that you have. You can find this and more information on their website: https://www.rctc.edu/apps/previewday/user_app/. 
Winona also has an in-person campus tour similar to RCTC's. You have to register on their website at https://www.winona.edu/admissions/undergraduate/visit.asp. 
If you have any other questions about something not covered in this article, then you can ask one of the Mayo HIgh School guidance counselors. You can view their contact information and find out more information about some of the things going on at Mayo by going to the guidance department's website: https://mhs.rochesterschools.org/student-support/school-counselors.